12 small desks for the bedroom, living room, or home office
The best small desks add work-from-home versatility without compromising on aesthetics; here are our top choices for stylish design with a small footprint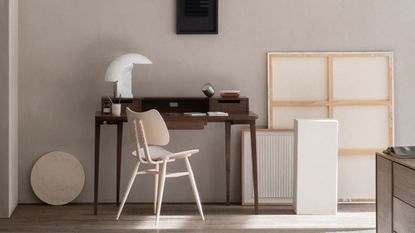 (Image credit: L.Ercolani)
The best small desks will transform your work from home set-up, offering a dedicated workspace, a useful storage solution, and – thanks to some well-crafted design – make for a stylish addition to the interior to boot.
As more of us embrace hybrid work types that no longer mean five days a week in the office, making our homes work harder to reflect shifts in lifestyle is high on most of our agendas, whether that's swapping out a guest bed for a sleeper sofa so we can transform a spare bedroom into a home office, or utilizing every square inch of our apartment space to create designated zones for socializing, relaxing, and yes, working.
Whether you need to go super-low footprint with a desk shelf or desk ladder, have the space to combine some hidden storage with a hideaway bureau desk, or just need an option that comes in (well) under the 50" width mark, there is a desk out there for you, with options from MENU, L.Ercolani, Nikari, and many more, providing the answers to small space working.
As such, we've rounded up the best small desks on the Livingetc team's radar; proving you don't need to have acres of floor or wall space to conjure the type of workspace that will make you eager to open the laptop.
(opens in new tab)
---
12 small desks for the bedroom, living room, or home office
Why you can trust Livingetc Our expert reviewers spend hours testing and comparing products and services so you can choose the best for you. Find out more about how we test.
Image 1 of 2
1. MENU Rail Desk
Size: H8 x W36 x D18" | Finishes: natural or dark veneer-coated oak
If floor space is at a premium then MENU's wall-mounted Rail desk is about as low footprint as you can go, although the 18" deep surface still offers a good amount of space for a laptop or notebook. Available in a light or dark veneered oak finish, you can hang this minimalist number at any height you like to get the right level with your most comfortable chair, and, when the workday is done, just clear the decks and turn it into a place to display your favorite objet.
---
(opens in new tab)
2. Nikari November Ash Desk
Size: H32 x W47 x D25" | Finishes: oiled ash wood
Finnish brand Nikari is known for its well-crafted furniture and simple Scandinavian style that combines modern design with traditional Finnish craftsmanship. In keeping with the brand's preference for honoring the natural beauty of its sustainably-managed timber, the November desk allows the ash wood grain to shine through, with the clean lines, straightforward structure, and simple design details – like the extended tabletop and handleless drawers – letting the material do the talking.
---
Image 1 of 3
3. L.Ercolani Treviso Desk
Size: H34 x W48 x D23" | Finishes: oak or walnut
Founded by Italian-born furniture maker, Lucian Ercolani, L.Ercolani is today guided by an appreciation of wood in its most natural form and a commitment to sustainable design and the highest standards of environmental stewardship in its production processes. The solid wood Treviso desk is the perfect example of this, offering a timeless design that combines elegance, heirloom status, and modern functionality, with multiple storage drawers, carefully thought out cable management and plenty of well-considered details that make it a joy to use.
---
(opens in new tab)
4. Jonathan Adler Bond Desk
Size: H31 x W45 x D20" | Finishes: mappa wood and acrylic
Whilst its size isn't insignificant, the clear acrylic side panels of Jonathan Adler's Bond desk offer some visual-trickery that helps the piece to almost disappear, with the burled mappa wood desk top appearing to float in mid-air; the perfect way to eliminate furniture 'bulk' in a smaller living space. And the design tricks don't stop there, with concealed drawers and hidden pulls offering useful storage space that doesn't disrupt the clean silhouette. Stash your work-from-home essentials away when the workday is finished, and it transforms back into a statement console.
---