8 sleep gadgets to encourage smarter sleep
Turn to tech and cutting edge design to help you fall and stay asleep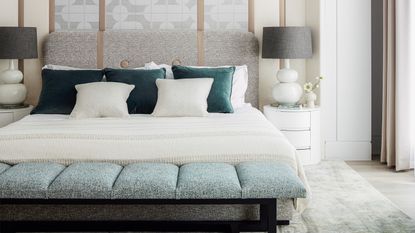 (Image credit: Mary Wadsworth)
We're on a mission for better sleep, but sometimes that's easier said than done. After all, the query of how to sleep better sounds is a loaded question: From sleep apps to styling tips, we've tried them all, even equipped ourselves with the best mattress, but the answer is so much more than a straight solution. Using technology to optimize our sleep is already being viewed as one of the biggest smart home trends of 2022. And we're on board, with these innovative sleep gadgets specifically designed for improving your sleep hygiene. They encouage deeper sleep, combat insomnia, manage comfort using cutting-edge technology and processes to help you get some very necessary rest.
1. A mattress pad that regulates temperature
Chilisleep DockPro Sleep System
Not your typical mattress pad. We've reached a new era of temperature control with the ChiliSleep Dock Pro, the latest innovation to the ChiliSleep lineup. The most advanced model yet is new and improved with a tubeless design that is quieter, offers nearly double the cooling potential of previous models, and introduces Wi-Fi integration, which adds the abilities to control from your phone, set a sleep schedule, and a wake-up feature. Plus, it's easy to maintain with removable water reservoirs and air filters. Soon, it'll be integrated with the new sleepme Insight sleep tracker for even more data and sleep training.
2. A pillow customized to your needs
A pillow built just for your needs? Smart! With over 35 variations, Pluto uses an algorithm based on questionnaire answers to helps design your perfect pillow. It asks demographics like your height, age, and weight as well as questions about your current pillow, how satisfied you are with it, whether your head gets hot, sleeping position, ideal filling, and more. Real people see your notes and any special requests about how you sleep to get you to your perfect match. The pillow itself is a hybrid design constructed with a foam inner core and an outer plush pillow, with materials chosen according to your pillow profile. Once you receive it, you have a 100-night trial period, too.
3. A look at thermal therapy
Originally to help women experiencing hot flashes, Embr found a secondary use in its Wave 2, with a new Fall Asleep Mode to help you fall and stay asleep as well as manage stress symptoms through hot and cold sensations to your wrist.
During sleep mode, temperature sensations are delivered in a slow, soothing rhythm to provide a sensory anchor to calm the mind and body while falling asleep with a 30-minute fall-asleep pre-set, or an All-Night mode that stays on all night.
4. A Bedside smart assistant
You may already have your pick of the best smart speakers around your house to control the lights, keep track of tasks, and update you of the news with just your voice, but few can track your sleep to the degree the Google Nest 2 can.
The Nest smart display comes equipped with Google's proprietary Soli sensor in order to provide users with sleep insights including sleep efficiency, respiratory rate, and sleep disturbances (such as coughing or snoring), as well as notes on environmental factors like light and room temperature for a better night's sleep. Beyond the sleep tracking, the Google Nest 2nd Gen features Google Assistant and functions as a smart home hub.
5. Combat snoring without a wearable
If the idea of wearing various patches and guards to inhibit snoring doesn't sit right with you, Smart Nora will be your new favorite side-kick, or perhaps your partner's who won't have to hear you snore anymore. A small device on your nightstand, called the pebble, listens for early signs of snoring that signals to a base (placed under the bed) that silently pumps air into a pillow insert (that fits within your existing pillow) to gently shift your position. This movement stimulates the throat muscles, allowing for natural breathing to resume.
Smart Nora also gives you access to a 30-day trial and a sleep coach, to get fully acquainted with the device.
6. A sleep improvement platform
Wesper Sleep Improvement Platform
Designed for people who have concerns about specific sleep issues like snoring, Wesper lets you record a lab test from the comfort of home. A full FDA-cleared test is being launched this summer for medical diagnostic use, but in the meantime, it offers up a ton of insightful data and ways to help you improve your sleep.
Consisting of two patches that stick below your breast and above your belly button, it measures over 300,000 data points on metrics related to sleep quality, sleep stages, sleep latency, snoring hygiene, breathing quality, respiration, pulse, and motion.
After the one-night test, Wesper connects you with a sleep specialist to go over the results, and they can provide actionable solutions as to how to improve your sleep, such as working on a different sleeping position or switching out a pillow. The two-month plan gives you time to go back to retest and track your progress.
7. Declutter your nightstand with this four-in-one sound machine
KeySmart CleanLight Snooze Sound Machine
Compact in size, mighty in nature, the CleanLight Snooze moonlights as a sound machine, diffuser, nightlight, and an air purifier with H13 HEPA Filter and a UV-C Light to kills 99.9% of airborne germs & captures 99.95% of allergens, smoke, dust & other harmful particles. It unobtrusively sits on your nightstand, ready to purify the air around your bed, be a source of light, and help you fall and stay asleep with five sounds and five-volume options.
8. A thoughtfully designed sleeping mask
The Tempur-Pedic Sleep Mask incorporates Tempur-Pedic's cutting edge Tempur-material that gently molds to your face's shape, providing a comfortable fit and the gift of total darkness. Oh and ah, for anyone looking to minimize disturbances and light pollution.
The Livingetc newsletter is your shortcut to the now and the next in home design. Subscribe today to receive a stunning free 200-page book of the best homes from around the world.
Jaclyn is an eCommerce editor at Future Home Interest, and scouts out the best of the best for buying guides to help you fill your home with housewares you will love. She joined the team in January 2021. She has previously worked with sites like Apartment Therapy, The Kitchn, The Spruce, The Spruce Eats, and MyDomaine, but got her start in trade magazines, which fueled her excitement for innovation in the home category, seeing the newest launches, and interior design.