The best French presses for rich, delicious coffee on demand
Our pick of the best and most beautiful french press coffee makers for your kitchen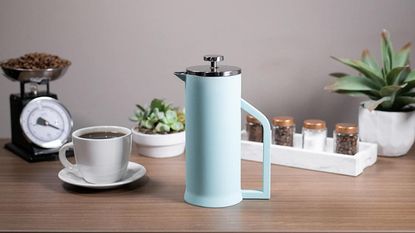 (Image credit: Lafeeca)
If you're anything like us, the process of making your morning (or afternoon) coffee is a little sacred, with particular touches added over the years to achieve the perfect brew for your tastes. The best french presses are a great way to get rich, strong coffee every time without needing a fancy machine or taking a trip to the local overpriced coffee shop.
If you've yet to make the jump to french pressed coffee or are just dissatisfied with your current option, we have assembled some of the best options below for a combination of style and function.
Read on to see what we picked, and head over to our best coffee makers guide for more ways to get barista-quality coffee in your own home.
---
---
French press vs pour over: which is better?
Why you can trust Livingetc Our expert reviewers spend hours testing and comparing products and services so you can choose the best for you. Find out more about how we test.
A question as old as coffee itself, the difference between french press and pour-over coffee makers may be small, but the methods produce distinct results.
French presses like the ones in this guide are popular with those who like their coffee strong and rich, obtaining all of the lovely oils and flavor from the ground beans that have been steeped in boiling water and pressed by the filter.
Pour-over coffee makers involve adding boiling water to coffee grounds and leaving the water to filter through the filter into a receptacle below. This results in a slightly lighter taste and means you can dispose of the grounds before pouring your coffee.
The French press is easier to take with you around the house without making a mess but is trickier to clean afterward because of the remaining grounds at the bottom. For pour-over, however, you will likely need to regularly purchase additional filters, which can lead to waste if you can't find reusable options.
Both have their fans, and your choice will likely come down to the type of richness and taste that you prefer. And if you truly want to upgrade your coffee experience, take a look at our guide to brilliant coffee bar ideas for your home.