When to plant the best bulbs for Spring flowers (clue: some should go in during October)
Find out the best time to plant your favorite spring bulbs to ensure the brightest start for your flower growing next year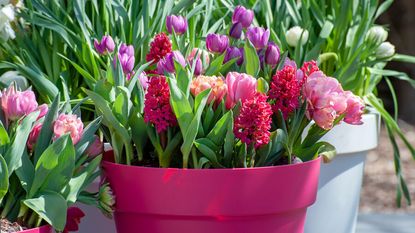 (Image credit: Wouter Koppen/iBulb)
If you're a little hazy on when exactly you should be planting bulbs for spring you're in the right place. Overall it's pretty straightforward but there is a slight variation between different types of bulb according to which ones you decide to plant.
All spring bulbs need a period of winter cold if they are going to grow and flower the following year, which is why they're planted in fall when temperatures start to get cooler. The exact month in which you should plant them will largely depend on the type of bulb you've chosen and your USDA planting zone. Roughly speaking, the warmer it is the later you should plant your bulbs.
Late fall, or even early winter in some cases, is the optimum time for planting spring flowering bulbs in your backyard. Then come spring you'll get to enjoy lots of sumptuous early color. These flowery powerhouses really come into their own if you plant them in flower beds, and we also love the little bursts of color they add to pots around the porch or in window boxes.
You'll need lots of spring bulbs to make a great display, which is fine as they're not expensive. You can either plant one variety en masse or mix them up, which also means you'll get a longer flowering season as different bulbs bloom at different times in spring.
Now follow our easy guide on when to plant spring bulbs then look forward to enjoying plenty of vibrant home-grown color.
1. Crocus
Crocus are so easy to grow and if you plant them in the right spot they will increase nicely into sizeable clumps over time. Ideal for a low-maintenance garden. Although fall is the prime time for planting crocus, you can plant them up to late November or even the first week or so of December before the first hard frosts arrive. In zones 4-9 they will flower in late winter and early spring.
Widely available spring flowering crocus are sold in fall as dry corms. A sunny spot in well-drained soil is suitable for crocus, but avoid anywhere that can become waterlogged. Always plant in groups for the best results, with each corm buried 2-4 inches deep and the same distance apart, with the pointed tip facing upwards. Then apply some general fertiliser, carefully working this into the soil, making sure you don't disturb the corms.
These early spring flowering bulbs are great for scattering through flower beds and colorful spring containers either on their own or together with other spring bulbs.
2. Hyacinth
Like other spring-flowering bulbs, hyacinths should be planted in fall, between the end of September and early November as they do not start rooting until then. In zones 4-8 they will flower in March–April time the following spring.
Hyacinth bulbs are available in late summer and fall from garden centers and online. Choose either the spring flowering varieties for flower beds and containers, or prepared bulbs for Christmas. Prepared bulbs should be planted in September for an earlier display, as they require 2-3 months to flower for Christmas. Alternatively they can be grown indoors in special bulb vases.
Hyacinth are easy to grow both in pots as part of your container gardening plan and in the ground. Always wear gloves when handling hyacinth bulbs as they can irritate the skin. Whether planting in the ground or in a pot, plant your bulbs, pointy bit facing upwards, at a depth of around 4 inches, with around 3 inches between each one.
These beauties need a sunny spot with well-drained soil. If your garden has heavy soil but you still want to plant hyacinths in the ground, add a handful of grit to the bottom of each planting hole before placing the bulb. This will help to improve drainage.
3. Daffodils (narcissus)
One of the most popular spring bulbs, easy to grow daffodils (narcissus) are best planted in September.Though there are work-arounds if you've missed this deadline. Most are hardy, low maintenance and long lived, and they grow well in containers as well as in the ground. Just be sure to plant them at the correct depth in the ground, which is three times the bulb's height, and less deeply but more closely together in containers.
Daffodils bulbs are available to buy from late summer. Due to their popularity, they are widely available in garden centers and online, and there is a huge range to choose from. They grow in a wide range of soil types, but ideally prefer a sunny spot in fertile, well-drained soil but some cultivars will even cope in light shade.
They are best planted en masse for the greatest impact. If you plant a selection of different types, you can have flowers from February through to early May in zones 3-8. You can also plant 'forced' bulbs such as fragrant paper whites indoors in September to get flowers at Christmas.
4. Allium
These easy bulbs should be planted in early to mid-fall for flowers in spring and early summer in zones 3-8. They take so little effort, as you simply put them in the ground and they magically return spring after spring. Bulbs are widely available in garden centers and online in fall, and there's a huge variety of sizes and colors to choose from.
Plant taller varieties in the ground to lend an architectural quality to your planting scheme. Use a good amount of bulbs planted together to create a drift. For best results plant alliums in well-drained soil in a sheltered site that gets plenty of sunshine. Plant bulbs at a depth of about twice the depth of the bulbs. Taller species need at least 8 inches between the bulbs.
Alliums can also be grown in containers, and they do best in deep pots. Despite their tropical good looks alliums are hardy so there is no need for any special winter care. If you're growing them in containers, you can move the pots to a sheltered spot to stop the compost becoming waterlogged in the event of heavy rains.
5. Tulips
One of the last spring flowering bulbs to go in the ground, it's time to think about planting tulips when cooler weather is definitely on the way. Tulip bulbs go in later than other spring flowering bulbs as colder temperatures help to guard them against viral and fungal diseases such as tulip fire (also known as tulip blight). Tulip fire rots the bulbs and causes the leaves to look scorched.
You will see tulip bulbs on sale online and in garden centers from early fall. But the best time to plant them out is later in the season, say November or even in early December. So if it's still a bit early to plant them, store them in a cool, dark place until it's time to stop them spouting.
These versatile spring flowers are happy in both pots and borders, and will bloom in mid-spring in zones 3-8. Space bulbs at least twice their width apart, and at a depth of two to three times their height. The pointed end of the bulb should be uppermost. If you live in an area with very cold winters, tulips benefit from deeper planting to protect them.
The Livingetc newsletter is your shortcut to the now and the next in home design. Subscribe today to receive a stunning free 200-page book of the best homes from around the world.
Lifestyle journalist Sarah Wilson has been writing about flowers, plants, and garden design and trends since 2015. Having already studied introductory garden and landscape design as well as a course in floristry she is currently adding to her list of qualifications with an RHS Level 2 course in the Principles of Plant Growth and Development. In addition to livingetc.com, she's also written for homesandgardens.com, gardeningetc.com, Modern Gardens and Country Homes & Interiors magazines.