What is luxury minimalism? 8 easy rules to help you create elevated schemes that will calm and uplift you
The latest wave of minimalism is redefining luxury to create spaces that are better for people and the planet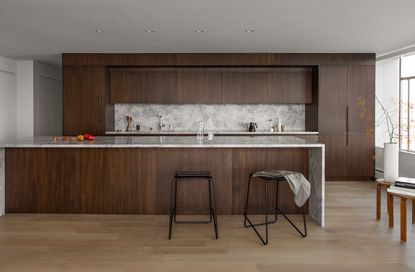 (Image credit: Soldi. Design by Wittman Estes)
Minimalism, or the idea of 'living with less', has reappeared throughout history in different forms. In his 2020 book, The Longing for Less: Living with Minimalism, Kyle Chayka explains that as a discipline, minimalism can be traced back to the Stoic philosophers of ancient Greece. The founder of the school was a wealthy merchant called Zeno, who decided to give up his material goods and dedicate his life to studying philosophy.
It's easy to draw a parallel between Zeno and today's leading voices in minimalism. Take Joshua Fields Millburn and Ryan Nicodemus for example, who in their Netflix show 'The Minimalists: Less Is Now', explain how ditching their worldly possessions has brought them spiritual freedom and happiness.
So if minimalism is about a rejection of material things, is the idea of 'luxury' minimalism contradictory? It depends on how you define luxury in the first place.
In the latest wave of minimalism in interior design, often called 'soft minimalism', luxurious spaces are ones that bring us a sense of wellbeing. "Simplicity can sometimes be laborious and luxurious," writes Jonas Bjerre-Poulsen, a Founding Partner of Norm Architects and author of Soft Minimal: A Sensory Approach to Architecture and Design. Spaces and furniture should be crafted with a high degree of skill, he says, where "every joint, connection, and detail is intentional and finely tuned, each playing a specific role to serve a larger whole that engages us on an emotional and practical level."
8 principles of luxury minimalism
To find out more about luxury minimalism and how it can guide us as we design our own spaces, we spoke to leading designers about what the term means to them and their practice.
1. Exercise restraint
Whereas traditional ideas about luxury might be associated with excess and indulgence, luxury minimalism is about designing with restraint. "Importantly, we have found that minimalism, when well-executed, evokes a sense of luxury through its restraint and cultivated simplicity," says Mark de Reus, Founding Partner of De Reus Architects.
He references the Masterclass definition of minimalist architecture, which states that its key characteristics are "emphasis on utility, lack of ornamentation, open space and simple geometric forms."
De Reus believes these characteristics have an "ever-increasing appeal" with both clients and designers today. He continues: "The reasons for an increasing appreciation can be traced to an awareness that design has intrinsic value, and that minimalism has meaningful integrity that runs deeper than superficial decoration."
So when it comes to decorating your space, the key is for any ornamentation to have a purpose. For example, in the minimalist bathroom design above by De Reus Architects, the decoration comes through beautifully crafted functional objects, like the curved bathtub, marble worktop and gleaming silver tapware.
2. Prioritise quality materials
As Bjerre-Poulsen explained previously, minimalism is about selecting carefully crafted objects and materials. This doesn't mean they have to be expensive (although realistically, they often will be), but the emphasis is on quality rather than trends or exclusivity. Look for vessels in timeless materials like stone, concrete, porcelain and wood.
"Luxury minimalism strips back décor to a minimum, allowing us to concentrate on what is truly necessary," says the team at the Salvatori brand. "It is based on the functionality and aesthetic of objects, seeking to enhance them, often by using sought-after materials and innovative technology".
3. Choose natural materials and colors
One of the ways luxury minimalism can enhance our wellbeing is by reconnecting us with the natural world. We all have "neurological preferences" for materials and colors found in nature, says Norm Architect's Bjerre-Poulsen, as they have consistently represented "safety and sustenance".
He explains: "Our relationship with color has developed over millennia and is rooted in the natural world. After all, we have spent most of our existence there, while the built environment is relatively new to us. Beyond its beauty, nature's spectrum serves physiological functions. The chlorophyll of green flora signifies nourishment and thus invites contentment. When night falls, we're instinctively lulled to sleep by barely perceptible black light, whereas the bright white light of day stimulates us into action."
So when choosing your scheme, follow the lead of this minimalist kitchen, above. Prioritize furniture and finishes made of wood, stone and metals, and natural hues like forest greens, warm beiges or earthy browns and terracottas.
4. Work towards simplicity
Designing a space that's simple can, ironically, be complicated. "True luxury is when something takes an incredible amount of detail, thought, materiality, and structure just to get something simple and purposeful," says Tommy Zung, Principal Designer at Studio Zung.
Every element of your space should be thought through - this is why minimalism is a better way of life, as it stops you getting bogged down wit things you don't need. For each item of furniture, material finishing or decorative flourish, ask yourself: what is its purpose? If you can't think of one, it probably doesn't belong in your luxury minimalist space.
5. Include negative space
When it comes to luxury minimalism, you need to think just as carefully about keeping areas of your space empty as you do about filling it.
"To me, luxury minimalism is all about focusing on quality over quantity in a design, and creating dramatic balance through areas of negative space," says Jessica Earp, an interior designer at Cushing Terrell. "While it may be tempting to fill every nook and cranny, Leaving places for your eye to rest really elevates a room and allows for you to celebrate the pieces in it."
Earp also recommends allowing time for your space to come together "organically", rather than designing it all at once. She says: "When purchasing something for your home, thinking of it as an investment will help guide you to curating a space that comes together slowly and organically, creating an end result that you'll love for a long time."
6. Focus on achieving a sense of calm
One caveat when it comes to ornamentation, is that a decorative object can be fit for purpose in a luxury minimalist space if it helps achieve a sense of calm. This is because if spaces are to "truly serve us", says Bjerre-Poulsen, they must nurture our "bodies and emotions".
Among the easiest ways to make your space sanctuary-like is through using neutral shades - color palettes for minimalist living rooms tend to be very pared back. "Harmonious combinations of neutrals that work with the specific light conditions of a space culminate in emotional harmony," says Bjerre-Poulsen. "Monotone or monochromatic spaces are especially good at instilling peace. They're not only effortless on the eye, but they mimic a natural ocular process which regulates the gradual variation in color from morning to evening—a mental construction of order and simplicity."
7. Take inspiration from Japanese Interior design
Many of the ideas we've explored in luxury minimalism are key features of Japanese interior design. The Salvatori brand explains: "Japanese-style interior design pulls together art and philosophy to transmit a sense of calm and tranquility in any space. However, it also implements a traditional way of thinking that aspires to strike a perfect combination of purity and elegance in order to create a soothing, welcoming atmosphere.
The brand celebrated this approach in its collections by Piero Lissoni and Kengo Kuma, two renowned designers who have embraced minimalism and incorporated it into much of their work. "The Japanese Collection, Stone Tatami texture and the Ishiburo Collection are each a homage to Japanese minimalist traditions focusing on a neutral color palette, clean lines and natural materials," says the Salvatori brand.
8. Aim to be timeless, not trendy
Finally, the goal of luxury minimalism is to create a space that will stand the test of time. This means avoiding any interior design trends that are likely to pass—whether it's the wavy-edged Ultrafragola mirror that's currently all over social media, or cheaply reproducted terrazzo tiles. In this way, luxury minimalism is a more sustainable approach to interior design, encouraging us to avoid waste and excess.
"Luxury minimalism is a classy and simplified design that encourages timelessness and is not trendy," says Danielle Krieg, an Interior Designer at Studio AM. "It doesn't need to have flashy items to look luxurious. The design needs to stay focused on the function of the room and remain well built to endure the rigors of long-term use."
The Livingetc newsletter is your shortcut to the now and the next in home design. Subscribe today to receive a stunning free 200-page book of the best homes from around the world.
Kate Hollowood is a freelance journalist who writes about a range of topics for Marie Claire UK, from current affairs to features on health, careers and relationships. She is a regular contributor to Livingetc, specializing in reporting on American designers and global interiors trends. Based in London, Kate has also written for titles like the i paper, Refinery29, Cosmopolitan and It's Nice That.