5 things people with uncluttered entryways always do - tricks to be tidy where it matters most
These 5 tricks are what people whose entryways never get cluttered do, and are what design experts use to help make this space the perfect entrance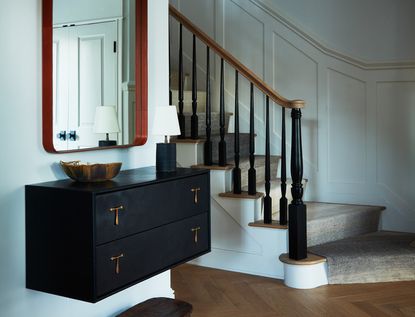 (Image credit: Tim Lenz Design: Analisse Taft-Gersten from The 1818 Collective)
The Livingetc Newsletter
For style leaders and design lovers.
Thank you for signing up to LivingEtc. You will receive a verification email shortly.
There was a problem. Please refresh the page and try again.
If, like me, you often have a pile of clothes on the chair in your bedroom, or on bad days a floordrobe, then beware of the clutter that will soon mount up in an entryway that has not been carefully considered. As a space that is intended to be a transitional room where you will be, more often than not, taking off or putting on coats and shoes, thoughtful storage and layout ideas are essential.
The designer, Nina Garbiras from Fig NYC advises "the more you treat the entryway like another room, the less it will feel like a mere passthrough. Walking in and dropping the weight of everything we carry throughout the day feels great, but if you take the time to tuck it away, your entry stays free of clutter and becomes a meaningful transition between you and the mean streets."
Here are five simple decluttering suggestions from renowned designers to help you do just that.
1. Pair hooks with built-in storage
It doesn't matter how pretty the hooks are, if you have lots of people in the house, or indeed visiting, that volume of stuff will overwhelm a space. If you have the option to have built in storage, jump at the chance. You can put everything in there that you don't want on display. If this isn't an option for entryway storage itself, perhaps consider giving up some storage space elsewhere in the home to hide the chunkier or more unsightly items (read ugly waterproofs and boots), leaving you with an edited selection that can be kept in the entryway.
The designer Nina Garbiras explains further, "'if you cannot avoid having coats, shoes, bags, and stacks of newspapers - make it pretty. Put up a couple of chunky oversized hooks for your coats, scarves, extra totes, etc, but edit the space frequently. I'm not talking about being neurotic; I'm saying don't be lazy. If there is a closet for the big stuff, use that, for goodness sake."
2. Treat a tray as sacred
Designer Laura Stephens explains how ideally you would have built in storage but if budget or space doesn't allow "pretty baskets work really well. A drawer in a console is a life saver for hallway clutter such as keys and wallets. Otherwise a slim tray on a hallway table helps to contain the clutter! If floor space is limited you can add baskets with hooks on the wall for gloves, hats etc." Just be religious about using it - all your things go in it immediately you get home.
Essentially finding ways to order the chaos in the most aesthetically pleasing way possible is key. That way, even if you still need those items to be on display, they will look considered. It also has the added benefit that in doing so everything will have a place and will mean you aren't desperately rummaging for 20 minutes everyday to find your car keys!
3. Add extra shoe storage
Even if you are lucky enough to have significant in built storage, it is worth considering additional shoe storage that is on display. These could be large baskets underneath a bench in the entryway or, as Kate Guinness suggests, a console with shelves below for shoes.
These solutions can be handy for occasional use - perhaps when you are in a rush and don't have time to store your shoes away properly in the cupboard, or when a guest visits. As long as these are regularly edited (so the shelves aren't full to the rafters with dozens of wellington boots and garden shoes), it can be an attractive, and practical solution to making sure shoes stay off the floor!
4. Wall hang a console with drawers
Entryway console tables are never a bad idea. They can: create a focal feature; anchor a a mirror; soften the space with a vase or a lamp; and store essentials like car keys. Finding one with drawers takes the function of this hero piece of furniture up another level.
Analisse Taft-Gersten from The 1818 Collective explains how "if you can fit a long console in the hall and you need to declutter, try to choose one that has drawers. You can hide small items and accessorize on the top. For instance, I chose this floating leather cabinet as I didn't want to eat up the floor space in the small area." For bonus points, a wall-hanging one takes up even less space.
5. Give the space a proper function
Clutter can often accumulate when a room or a space doesn't have a clearly defined function. It is always worth thinking creatively about the entryway and what you need from it. Perhaps you could use it to solve a problem elsewhere in the house. Maximizing the use of the space will increase dwell time, and this increased attention and focus should help to streamline unnecessary clutter.
A brilliant example of this is how Sophie Rowell from Cote de Folk created a desk space in an entrance into a house that was previously used as a dumping ground. She explains further "we elevated the space and made it work really hard by doubling up as a second working from home spot, looking out onto the front yard on the left. Shelving and under bench drawers help to keep things tidy."
For style leaders and design lovers.
Charlotte Alldis started her interiors Instagram account Thrifted Abode nearly five years ago. Since then she has renovated two properties and has been passionately learning about interior design along the way. She has just launched her interior design consultancy whilst also continuing to work as a Marketing Director for a hotel. Her work as a marketeer over the last decade has given her great foundations to appreciate good aesthetic design and the power of fantastic photography. She is beyond excited to finally kick start her interior design business.