6 tricks to make a small outdoor dining space feel bigger and function better
A small outdoor dining space can have a big personality – all you need are the right design elements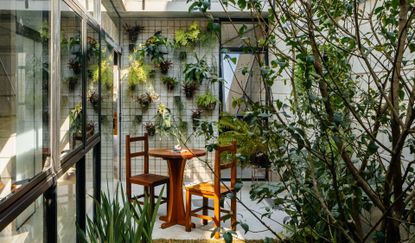 (Image credit: Pedro Kok. Studio credit Terra e Tuma)
The Livingetc Newsletter
For style leaders and design lovers.
Thank you for signing up to LivingEtc. You will receive a verification email shortly.
There was a problem. Please refresh the page and try again.
Dining outdoors is a special feeling, even if you don't have the hugest of outdoor spaces to do it in. Even the smallest spaces can be made into a cozy, charming and well-equipped spot if you use the right ideas to decorate your space.
Whether you want to boost the dimensions of the space or give this small nook a big personality, it's all possible with the magic of color, texture and other interior design tricks. Take a look at these expert-recommended ideas, and give your small backyard dining space an overhaul.
1. Add mirrors to boost the space
Mirrors are a great addition to small outdoor dining spaces, especially if you place these next to or close to the eating space. Not only do these add a wonderful glittering touch to the area, but mirrors also create the illusion of boosted space.
'In the right climate, mirrors are a great choice to open up an outdoor space by giving the illusion of hidden vistas,' says Eddie Maestri, principal architect and creative director of Maestri Studio. 'We grounded the expansive look with aluminum chairs painted boldly in Benjamin Moore's Cactus Green and upholstered in a simple stripe fabric, but a little more masculine. Paired with the turquoise cooler, the two colors allude to water and leaves, which bring in a sense of calming energy.'
Outdoor mirrors are also great for smaller courtyards and patios as mirrors reflect natural sunlight into the garden, and around it. Their reflection can essentially double up your plants and greenery as well.
2. Dress it up with greenery
Whether you have a small porch, a courtyard garden, or a terrace, a great way to make it a lovely, whimsical, and inviting spot is with plenty of greenery. As the plants and flowers cover the space with their leafy beauty, the small dimensions of the space will become unnoticeable. After all, everyone loves to spend time in the lush outdoors.
'This house belongs to a maid who throughout her life has saved her savings and at one point needed them to invest in a new safe and healthy home,' say Danilo Terra, Pedro Tuma, and Fernanda Sakano, founders of Terra e Tuma. 'The house she previously lived in had structural and infiltration problems. This central courtyard was designed to be the lighting and ventilation space of the house, sheltering the plants that the resident had such an affinity for. The courtyard can be used in different ways, but its primary function is related to the environmental comfort of the residence.'
If your small dining area is close to the periphery of your home and you want to give it a cozy feel and also privacy, you could consider planting tall varieties that give the space shade and keep it away from prying neighbors.
'Ficus is popular for creating a lush, tropical feel around your outdoor dining area,' says Richa Kedia, gardening expert and founder of Simplify Plants. 'It prefers bright, indirect light and well-draining soil. Yucca is a tall, low-maintenance plant that can add a sculptural element to your outdoor dining area. It prefers well-draining soil and full sun to partial shade. And finally, Canna Lily is a colorful option for adding a pop of color to your outdoor space. It prefers well-draining soil and full sun to partial shade.'
3. Be bold with color
Add color, charm, and interest to your outdoors with colorful modern outdoor furniture. Don't be afraid to mix and match!
'We love to mix and match pieces to create a space all your own,' says Dan Mazzarini, principal and creative director of BHDM Design and ARCHIVE by Dan Mazzarini. 'To keep your space from looking too mix-matched, start by honing your style. Whether it be California cool or bright and bold, hone a style for your framework and pick pieces within it.'
'One thing to remember is, if you have small outdoor space, it may be best to place the dining table in the middle to create a nice focal point and make the space feel larger than it is,' says Linda Hayslett, founder of LH.Designs.
'Keep in mind that your chairs need enough space to be backed away from the table,' says Dan. 'Leave 3-4 feet of room to allow people to walk around the table freely as well.'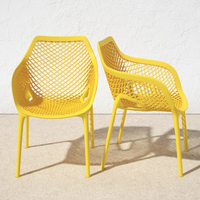 Patio dining armchair, Wayfair
Choose this mid-century-inspired design, with a mesh strap-style construction for your outdoors. It dries quickly, is lightweight, and easy to move around.
4. Add lighting overhead
Lights have that unmatched quality that can take a space from dull to dazzling. Use these to dress up your dining spot and add depth to the outdoors. Consider backyard string lights that do not overwhelm but spread even illumination.
'To up the ante of the outdoors and to make it more welcoming, consider string lights in different colors that add a fun pop of hue to your dining,' says Sheva Knopfler, co-founder of Lights.com. These can also be hung on the fence, or draped between trees or on poles. 'I also love the look of string lights hung in lines above a patio for 'overhead lighting'. The multicolored LED lights create a warm look and are great for parties.'
5. Zone your space with an outdoor rug
Add layering, softness, and tactility to your outdoor seating space with a carpet. In a small outdoor dining area, a carpet can be immensely beneficial. Not only does it add color and style to the slim area, but it also creates a sense of zoning, making the dining a focal point.
'For fabrics, water-and-sun-resistant is best,' says Jane Lockhart, founder of Jane Lockhart Design. 'Be sure to select from a fabric provider that indicates this specifically on their label or catalog, as not all fabrics are made for the outdoors.'
'Some companies make full carpets from recycled acrylic, which can be hosed down, while others use different types of plastics that look and feel like carpet but are made for outdoor wear,' says Jane.
6. Choose statement furniture pieces
A big outdoor furniture trend at the moment is to give the exterior pieces as much love, care, and consideration as you would to your indoors. This means, investing in statement pieces and choosing unique materials to give the outdoors an edge.
Consider bespoke pieces made in teak wood, metal, or enhanced with gold leafing, dining tables with a marble base or inlay work, chairs with mirror backs and carved legs, and more. No matter the size of the dining, the luxe pieces will give the garden or terrace a high-end look, also making it the heart of the home.
For style leaders and design lovers.
Aditi Sharma Maheshwari is an architecture and design journalist with over 10 years of experience. She's worked at some of the leading media houses in India such as Elle Decor, Houzz and Architectural Digest (Condé Nast). Till recently, she was a freelance writer for publications such as Architectural Digest US, House Beautiful, Stir World, Beautiful Homes India among others. In her spare time, she volunteers at animal shelters and other rescue organizations.