10 ideas for small gardens on a budget - how to maximise style for minimal cost
Small gardens on a budget are still easy to make look good. Especially with these clever ways to make the most of your outdoor space without a big spend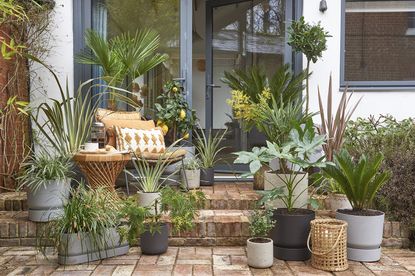 (Image credit: Beards and Daisies)
When it comes to small garden ideas every inch of outdoor space counts. Even more so if you're working with small gardens on a budget. But it doesn't matter how small it might be or how limited your funds. All you need do is see the potential and how to make the most of it to transform your garden into a place where you can relax in style. With just a little attention your precious patch of green can become your favourite new place, stamped with your very own design aesthetic that doesn't involve a big outlay.
You don't need to throw money at a landscape gardener either. Sometimes all it takes is a few inspirational budget-conscious ideas to create the garden setup of your dreams. Always be realistic about what you can achieve in the space and within your budget though. Keep your design simple, usable, practical and affordable, and you can't go wrong.
Keep reading for our ideas how to max up the magic in your bijou space without stretching your budget.
1. PAINT INSTEAD OF REPLACING
Revive boundaries such as walls and fences with a fresh coat of vibrant paint that will revamp jaded surfaces. It's an easy and affordable makeover that will take your outdoor space up a level and completely change the feel by adding a smart contemporary touch.
Work up an interior trend outside with a signature wall to add impact to your garden decor, especially if you want to create the feel of an alfresco living room. 'Pinks are having their moment right now, proving to be one of the most popular decorating shades with sales of coral tones up 40%,' says Helen Shaw of Benjamin Moore UK. 'Ranging from punchy terracotta and light hues with pink undertones to rich berry pinks, they work beautifully as an accent to grey or as a statement wall colour on their own.'
Give a dull and uninspiring wall or fence a boost then with an injection of fresh colour. A wash of coral, terracotta or pink is all you need to create a relaxing vibe. These warm tones add a romantic touch and it's an easy colour in terms of garden design too as plants and flowers really pop against it.
2. LOOK FOR END OF LINE
When it comes to hard landscaping patio ideas, the cheapest options are usually concrete or decking. But if this isn't the look you aspire to then think instead about reducing the size of the area planned or incorporating planting pockets so that you save on the amount of pavers needed overall. This also lets you opt for a more expensive product as you will need less of it.
If you're aiming for a high-end look there is another way. 'When it comes to tiling a small outside area on a budget, it's worth enquiring whether your supplier has any end of batch stock available,' says Leigh Price of paving specialists Real Stone & Tile. 'They may have a limited amount left which isn't quite enough for larger spaces but could be perfect for your particular garden.'
If a supplier is looking to get rid of the last few tiles in a batch (especially if you time it right and the new season styles are coming in) you could be lucky enough to get them half price - bargain!
3. ALLOW YOURSELF ONE DESIGNER ITEM
It might seem contrary to budget restrictions but investing in some of the best garden furniture you can afford will set the tone for the whole space and shift the eye away from areas where you may have been forced to trim a little due to budgeting necessities. So ultimately it's a win.
We love the styling of these garden chairs from Rockett St George. Made of rattan (but not as we know it) they add a tropical Singapore Sling type vibe and are indeed perfect for enjoying a sundowner. Paired with a decorative outdoor rug, stylish garden parasol and lots of lush potted foliage, furniture like this adds instant wow-factor.
Choose indestructible lightweight aluminium pieces wrapped in rattan that are durable and weatherproof so there's no need to think twice about leaving them outdoors. In the long run they represent a sound buy both for small spaces (they don't need storing away in winter) and tight budgets (they won't need replacing anytime soon).
4. ENHANCE YOUR KEY FEATURES
Lighting is a key part of your outdoor scheme, so it's important to get it right. It's a quick fix, adding a cool and contemporary feel for entertaining at night that switches up your space into something special. It doesn't have to be expensive though. Sometimes all it takes is one lighting feature.
'When thinking about purchasing outdoor lighting it's a good idea to consider the size of your outdoor space and the purpose of the lighting,' says Industville's Marketa Rypacek. 'If, for example, you need to illuminate a space for entertaining something subtle like pendant lighting adds just the right ambience.'
Wall lights are another affordable option for small and compact gardens. They keep the floor space free while highlighting your garden's key features. 'Position stylish wall lights along boundaries to make the outdoor space feel more like an extension of the home,' suggests Natalie Mann of Iconic Lights. 'Whether in a traditional or modern property, the bulkhead wall light is a great addition to any garden'.
5. FIND AFFORDABLE GARDEN ART
There's a real trend for sculptures in small gardens and as modern front garden ideas at the moment. 'This is something we've definitely noticed recently,' says sculptor Andrew Kay. 'We're seeing more customers who live in cities buying garden sculptures, and people with smaller garden spaces are also interested. Maybe this is due to the fact that everyone with an outdoor space, however small, is seeking to make it more special.'
Think about what a garden sculpture will bring to your garden. Will it offer a bold contrast to the living elements in the garden, or blend in with natural forms? Is it to make a statement or bring in an element of surprise that will inject some fun? If you've got a small garden, don't be put off as there are options for everyone. Just make sure you choose a work of the right scale and size for your space.
Sculpture can be expensive due to the cost of materials. However, outdoor sculpture is built to last and is therefore an investment. And it doesn't have to be spendy. 'When looking for outdoor sculpture on a budget consider going to fine art degree shows, and support a young up and coming artist,' suggests Ian Hay of Saul Hay Fine Art. 'Alternatively commission a piece that fits your exact specifications and budget.'
6. GO FOR FAUX
Refresh tired pavers and decking with an instant garden décor lift. Give your patio, terrace, decking or balcony a fast makeover with a durable outdoor green carpet that looks good and is lush to walk on too.
Meanwhile if your existing lawn is looking a little subpar, you could transform it in a weekend by laying artificial turf that's guaranteed to green up your garden in no time. You can do it yourself to save money as long as you lay proper foundations such as a sharp sand base or permeable sub-base (which also stops weeds) to allow water to go through. Just think - no more mowing.
'An affordable and low maintenance solution to garden design, artificial grass is an increasingly popular choice for compact outdoor spaces,' says Carpetright's Jemma Dayman. 'The durable finish mimics the feeling of natural grass under foot, and is easy to maintain by virtue of the dirt resistant fibres.' Faux grass has come a long way since its early incarnation but always choose a premium product that has been designed to look as similar to the real thing as possible. As with all things faux, it pays to look around and buy the best but even then it's still an affordable choice.
7. CHOOSE MULTI-TASKING PIECES
Space counts in a compact garden so when it comes to furniture opt for stylish pieces that double up as storage. They're a great buy in terms of utilising every inch of space, as well as being a practical option. Even better if they're on wheels for easy movement if you wish to shift things around according to the occasion.
Choose smart wooden benches, stools and side tables with integral storage for stowing away cushions and throws when you've finished with them. Units like this even work as drinks cabinets, which is handy when it comes to cocktail hour.
Alternatively use them to layer up a modern looking plant display to show off your beautiful pots of greenery, and keep plant paraphernalia tidy inside. Then simply move the plants if you need to repurpose the pieces for seating a crowd.
8. GET A HIGH END LOOK FOR LESS
Matt porcelain tiles in monochrome shades add a timeless look to any outdoor space, whether it's classic or contemporary. Hexagonal, herringbone and houndstooth tile designs are a big trend in interiors this year so why not take the look outside and create a glamorous space that's unique to your garden. A bold geometric motif never goes out of style, which makes it a sound investment too as you won't feel the need to replace it a few years along the line.
It's an easy look to get right too as everything co-ordinates if you stick with a monochrome palette. Build on the drama with accessories in shades of muted black, white and grey to create a look that works in some modern influences too. But monochrome also looks good with a colour injection if you want to add a touch of warmth, especially if you introduce copper or terracotta to the mix.
It's all about creating a statement, as this is a bold look that makes a mark. Look around and you can create the look on a budget too as the trend has hit the high street big time.
9. REVAMP THE DECK
If your thinking about decking ideas and your deck is shouting replace me, take a moment to think instead about using decking paint to transform tired wood and give it a much-needed update. The latest products bring old decks back to life, as well as offering all-weather protection, filling cracks and locking down splinters. They even have advanced UV protection.
'It's easy to achieve a high end look even if you're on a budget. Choose long lasting products and you can get the job done right and avoid additional costs in the future. Just make sure you've cleaned and prepped the surface before applying the decking paint and you'll be good to go, with a great looking finish that will last and last,' says Jimmy Englezos of Ronseal.
Even better, decking paints are now available in a great range of shades including stylish neutrals like warm stone, slate and willow that are a big move away from that jaded natural wood look of unloved decking.
10. BLOOMS ON A BUDGET
Grouping your plants together en masse is an easy way of adding a luxe look, as the sum is always greater than the parts. By combining your green assets in one place they look so much more impressive than if dotted around in isolation. This works especially well if they are framed by a window or door, grouped on steps or staged on a deck to add a sense of theatre.
Now is the perfect time of year for dividing up your plants to make more too. This works best with perennials. If a plant has a nice healthy clump at the base it's perfect for division. Just gently pull apart the plant, making sure each clump has some roots, and plant them up individually. You'll soon have two or three healthy plants for the price of one. And if you're heading for the garden centre choose plants that can be divided up in the same way – buy a bigger pot that you can split up.
Other ways to max up your plants on minimum spend include planting from seed, plant swaps with friends and neighbours, and visiting horticultural society plant sales where you can pick up beautiful plants at a fraction of the cost.
The Livingetc newsletter is your shortcut to the now and the next in home design. Subscribe today to receive a stunning free 200-page book of the best homes from around the world.
Lifestyle journalist Sarah Wilson has been writing about flowers, plants, and garden design and trends since 2015. Having already studied introductory garden and landscape design as well as a course in floristry she is currently adding to her list of qualifications with an RHS Level 2 course in the Principles of Plant Growth and Development. In addition to livingetc.com, she's also written for homesandgardens.com, gardeningetc.com, Modern Gardens and Country Homes & Interiors magazines.