How do I choose the right size round rug? The tricks to find the perfect dimensions for every space
4 tips from interiors designers and experts to make sure you pick the right sized round rug for your decorating scheme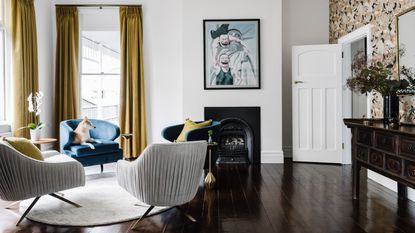 (Image credit: Marnie Hawson. The Stylesmiths)
The Livingetc Newsletter
For style leaders and design lovers.
Thank you for signing up to LivingEtc. You will receive a verification email shortly.
There was a problem. Please refresh the page and try again.
A round rug is a fantastic decorative tool that can really bring a room together, create a cozy and intimate space, highlight a focal point in the room and really help anchor furniture like a dining room table or statement sofa.
'Choosing a round rug is a simple as finding a design that reflects the space,' says Richard Misso, director at The Stylesmiths. 'But choosing the correct size can sometimes be challenging.' And when it comes to choosing the best round rug, sizing is everything. You can have a fantastic, durable material that is perfect for your scheme, but too large or too small can make a room feel incomplete and awkward.
To make sure you get your rug dimensions right before you buy, we've spoken to the designers who use round rugs in their designs to find out their handy hints for round rug measuring.
1. Map out the specific area on the floor
Choosing the right size round rug is important to ensure that it fits the space properly and looks aesthetically pleasing. 'To determine the appropriate size, measure and map out the area where the rug will be placed first,' says Houston-based interior designer, Nina Magon.
Try and map out on the floor where you want your rug. Measure from the center of the space you want to cover to the outside edge. This gives you the radius of the circle. Double it and you have the diameter for your living room rug. Round rugs are sold by diameter - typically coming in 4', 6', 8', and 10' diameters. 'Make sure you choose a size that is slightly smaller than the space to allow for some floor to show around the edges,' says Nina.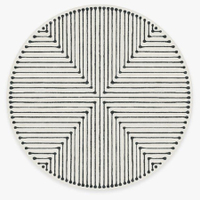 Jonathan Adler Inkdrop Black & Ivory Rug
I like the graphic pattern on this Ruggable x Jonathan Adler piece. It's simple, with a striking geometric pattern, making a statement. Being Ruggable, it's also machine-washable and stain-resistant. The perfect piece for under your coffee table.
2. Look to your furniture for a size guide
It is also important to consider the furniture in the room and any furniture that will sit atop your round rug. 'It's important to ensure that the rug is large enough to accommodate the furniture,' says Nina. Not only should your rug be larger than the piece of furniture that is sitting on it, but you might also want an overlap of rug around the perimeter.
This is beneficial practically and aesthetically. From a design perspective, fabric around the perimeter of a dining table or a sofa for example just helps the room flow more. Functionally, extra round rug space around the perimeter of the furniture means more room underfoot, and at a dining table, it gives you more room to pull chairs away without scuffing up the rug underneath.
The standard size guidelines for round table rug size are to make sure there's a space on each size to accommodate the chairs. 'Sizing all depends on your furniture,' agrees Melinda Trembley, creative director of boutique design studio, Rincon Road.
'If it's under a round dining table and chairs, the rug should extend at least 24" beyond the table, leaving yourself enough room to pull a chair out and still be on the rug.' Some designers prefer to leave more. For a standard 24" around the table, look for a rug that's 4' larger than the table's diameter. Always round up, as rounding down will usually leave you with a rug that's too small.
When you're measuring a rug for under a sofa, think about the sofa in relation to the rug. The rug should have at least part of every main furniture piece touching it. Either all furniture legs rest on the rug, or just the front legs – the exception being a centerpiece coffee table, for example. This can influence how big you want your rug, but any smaller will also be too small and not help unify the furniture together.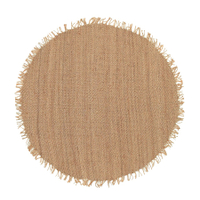 3. Keep space between the rug and the wall
You want to make sure a bit of your flooring is on display to give a nice border around the round rug. You need to make sure you get this measurement right for perfect rug placement.
The general rule of thumb is around 6 inches of space. Any less and the room might start to look a little cramped, and more and the rug might start to look like some kind of floating island in the center of your room.
4. If in doubt, go large
'When in doubt, it is always better to go with a larger size rather than a smaller one,' says Nina. 'Generously sized rugs that are large enough to fit the whole furniture arrangement of a room often look best as they give the interior a more tailored appearance,' says architect Charu Gandhi, founder and director at Elicyon. 'For this reason, rugs are one of the items that we often make bespoke for our projects here at Elicyon, so to ensure they fit the space just right.
Finally, remember that you will also need a rug pad for a round rug as they often end up sliding around without being properly anchored. These need to be measured too and need to be slightly smaller than the rug they are being used to protect. About one inch smaller is a good bet.
This large round area rug in this Toronto home makes for a cozy scheme, tying all pieces of furniture together in one room, designed by Ali Budd Interiors.
For style leaders and design lovers.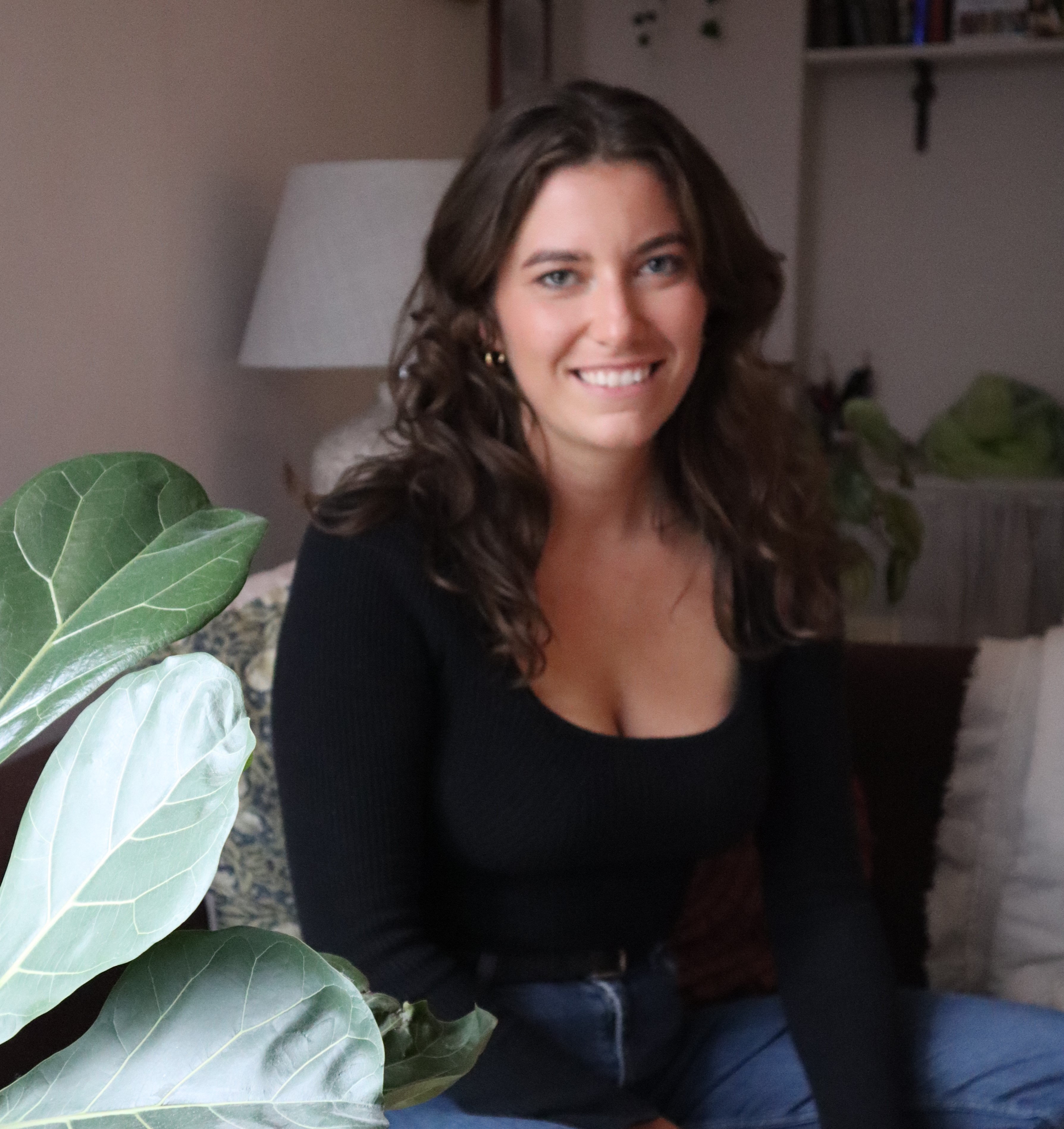 Livingetc content editor and design expert
Oonagh is a content editor at Livingetc.com. Previously, she worked on a London property title, producing long-read interiors features, style pages and conducting interviews with a range of famous faces from the UK interiors scene, from Kit Kemp to Robert Kime. In doing so, she has developed a keen interest in London's historical architecture and the city's distinct tastemakers paving the way in the world of interiors.