Visionary designers Maddux Creative's 5 things you need to know when creating a perfect bathroom
Scott Maddux and Jo Le Gleud of Maddux Creative share their wisdom on how to design a characterful and wonderful bathroom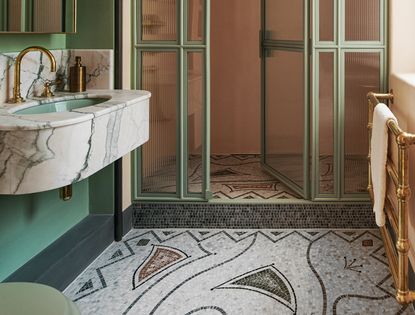 (Image credit: Michael Sinclair. Design by Maddux Creative)
Designers Scott Maddux and Jo Le Gleud are the creative force behind Maddux Creative, a trailblazing and inspirational London-based studio. Their work regularly appears in Livingetc - most recently as the cover of our February 2023 issue, and the homes they put together are elegant, refined, beautiful yet liveable.
And they know exactly how to create together a characterful modern bathroom. Mosaic floors, mixed materials, a blend of the old and new...their spaces are unique and covetable. Here are their five key bits of advice for designing a perfect room of your own.
1. Mix metals and remember finishes don't have to match!
It is important to think of the materials as a palette which interacts, complementing each other in their differences and still creating a cohesive and harmonious aesthetic. This gives freedom to source fixtures and fittings, such as shower heads and bathroom light fittings, from different suppliers and, the differences allow you to notice the intrinsic beauty of them individually. It creates a narrative. Another important point is to remember the function of the materials. For instance, if you use reclaimed teak, take into consideration the upkeep of looking after it.
2. Pay attention to thresholds
These small details can make all the difference in a room such as the bathroom. Focusing on how materials meet, such as a marble worktop with a mirrored wall or a tiled floor with a shower tray, makes a bathroom 'designed'. These thoughtful considerations can really elevate a space and, with tiles, countertops and bathroom flooring, spending time on choosing the right edging or threshold solutions will add that sense of luxury, even if you are working to a budget.
3. Use brass and amber glass for a sophisticated feel
If a refined aesthetic is the look you want then it has to be brass and amber glass. Pairing them together adds atmosphere and, when paired with dimmable lighting, it will be reminiscent of a well-designed boutique hotel.
When selecting materials for a room like this, mood boards can really help in visualising them together. Simple tricks, such as mirrors in front of windows, can also help to enhance the natural light within a space.
4. Antique fixtures and fittings add character
A way to elevate the room as a whole, antique fixtures and fittings add so much character and charm. Think about refabricating baths, reclaimed tiles and antique brass taps when considering which decorative elements work best for the space. Not only can this often save money, but it is also a sustainable alternative and helps strengthen the narrative behind the design too. Salvage yards can make a fun sourcing experience and when you find a special piece it can influence the rest of the room design. Working within a budget doesn't mean you have to forego luxuries; it is about being clever with your selections.
5. Muted colored sanitary ware evokes glamour
Muted colored sanitary ware evokes glamour and is a great alternative to white. In our recent Marylebone project, we opted for a soft green palette which was set against curved arches to embody the opulence of the 1920s which was intrinsic to the fabric of the building.
With intricate Jean Cocteau inspired mosaic floors and polished plaster walls, the room came alive, with the sanitary ware remaining cohesive throughout the space. A bespoke metal shower screen complemented the scheme reminding us that, if you can't find the perfect accessory which works for the space, tailored options will ensure it works best for your personal needs and requirements.
The Livingetc newsletter is your shortcut to the now and the next in home design. Subscribe today to receive a stunning free 200-page book of the best homes from around the world.
Design Writer, presenter, panel host, consultant and journalist Roddy Clarke is a regular in the pages of Livingetc. He also writes frequently for FT Weekend and Forbes. Based in London, and with a breadth of skills and hands on industry experience, Roddy now offers an exclusive interior styling and design service.