7 super-easy and low-effort jobs to do in the backyard during July to keep everything looking its best
The only jobs you need to do in the backyard this month to keep it looking good for the rest of summer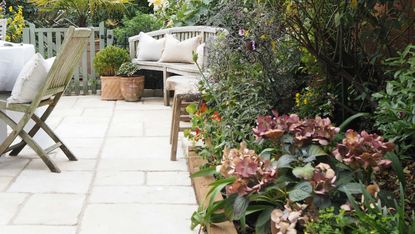 (Image credit: Hugh Metcalf)
The Livingetc Newsletter
For style leaders and design lovers.
Thank you for signing up to LivingEtc. You will receive a verification email shortly.
There was a problem. Please refresh the page and try again.
Summer is when much of the earlier hard work in the garden pays off. Sitting back and enjoying the fruits of our labour is one of the reasons we do it.
Whether you're rewarded with billowing blooms, a prolific vegetable patch or a tidy terrace for barbecues, the toil feels worthwhile. Yet that doesn't mean putting our feet up entirely. A living, growing garden means regular upkeep, especially when the sun is high.
Keeping on top of tasks in the backyard ensures healthy plants. So which tasks are best tackled in July? Obviously, this depends on where you live and the weather. However, some garden tasks are universal in most regions at this time.
These are five easy jobs to do in the garden this month, according to our expert, Kate Copsey, author of New York & New Jersey Month-by-Month Gardening.
7 easy jobs to do in the garden this month
'Fortunately, there is not too much outdoors that needs attention in July,' says Kate Copsey. 'Annuals and summer perennials like Echinacea should be in full bloom by now, and the garden just needs a little weeding and deadheading to keep it tidy.
'Watering is the main concern; small containers dry out quickly when they are in full sun. Bugs are also at their peak in July, with the Japanese beetle leading the charge in landscape destruction.'
1. Deadhead spent blooms
Decaying blooms can attract pests and spread diseases, so remove any that have gone over. Removing spent flower heads, will also direct energy into more growth for the next round, whether annuals or perennials.
This can be done for flower beds, containers or hanging baskets. For plants with tough stems, for example dahlias, use secateurs or sharp scissors. Hand-pick any weeds you see at the same time.
'Most perennials flower from two to six weeks, while a few flower for most of the summer (such as Coreopsis),' says Kate. 'Deadhead perennials and remove the dead stalks from any daylilies that have faded.
'To keep annuals blooming well all summer, they need to be deadheaded too. For most annuals the dead flowers can be pinched off with just your thumb and finger. Many annuals such as zinnias flower more profusely when they are kept picked.'
2. Check fruit and veg crops daily
Harvesting is the fun part, when we get to enjoy a crop or two, but it's easy to leave it late and lose precious produce. Zucchini grow fast and prolific and can become marrows in no time. And while it's natural for birds and bugs to enjoy some of your berries, it's disappointing to see a whole bush devoured.
To avoid salad leaves being munched by slugs or going to seed, check your fruit and vegetable garden every morning or evening. Pick whatever is ready to prevent your hard work going to waste.
'To keep plants producing, pick crops that mature quickly every day, because they go from underripe to overripe almost overnight,' says Kate. 'If you have too much to eat in one day, preserve or freeze the excess.'
'Be vigilant for bugs in the vegetable garden this month too,' continues Kate. 'Japanese beetles, squash bugs, Mexican bean beetles, and caterpillars are just some of the insects that would like to share your harvest.
'Remove eggs when you find them and encourage predators such as birds to visit the area to reduce damage. Egg clusters are a variety of colors, from white, to black, to bright orange. Picking off pests like the Japanese beetle is more successful in the morning when temperatures are cool and they are less active.
'A daily trip to the garden alerts you to the problems early, which makes it easier correct before too much damage is done.'
3. Water if required
Most gardeners know it's best to water plants first thing in the morning or late in the evening when it's cool. This is so plants get water at the root level rather than having it quickly evaporate from the soil level.
'Hot summer days are sometimes sprinkled with afternoon storms, but not always,' says Kate. 'A lack of rain means more watering for your landscape, but you'll have some decisions to make regarding how much water you can afford for irrigation, particularly if you are paying high prices for city water.
'Wise watering can save your wallet as well as your landscape this month. Annuals, whether they're in the landscape or a container, are the thirstiest part of the garden.
'In the landscape, group all annuals in the same area so that they can all be watered together (this is called hydrozoning). If you're in a long-term drought, install a rain barrel to collect whatever rain does fall.
'Like annuals, the vegetable garden is thirsty,' continues Kate. 'Using water-saving soaker hoses or drip irrigation in the edible garden to optimize water use also ensures that vegetables get sufficient water where they need it—at the soil and root level.
'If you decided to keep the lawn green through summer this year, it needs approximately 1 inch of water per week. A weekly 1-inch watering is much better for a lawn than daily sprinkling with the hose or irrigation system.
'Longer, less frequent watering forces grass roots to grow deeper so they can withstand short-term droughts better.'
'Check perennials in the evening to ensure they are not drying out. A rain shower or an occasional watering is all that's needed to help perennials survive the whole summer.
'Large-leaved hydrangeas take on a drooping look on hot days. By evening, the shrubs return to normal appearances. If, however, the hydrangea still looks dehydrated in the evening or first thing in the morning, then that is a sign you need to provide water.'
4. Sow late summer crops
Lettuce, arugula and other edible leaves are an easy crop to continue to sow throughout summer for a contrast supply of salad leaves. But it's a good time to sow other vegetables for a late-summer and fall harvest too.
'Continue to plant beans and squash the first part of this month. They still have plenty of time to mature before the temperature turns cool in fall,' says Kate. 'Beans do well all the way up to frost.
'Start cool-weather cabbages and cauliflowers for planting outdoors next month in order to harvest in late September. They can be started indoors where it's cool or outdoors where they will grow.
'If outdoors, shade the area to keep it cool enough for germination. Carrots can be planted outside this month for a fall crop.'
5. Move containers and make a vacation plan
When the sun is at its hottest, containers of flowers will need to be moved to shadier spots, so they get some respite. This is especially important if you're going on vacation, as you won't be there to keep an eye on them.
Even if you have someone to check your plants while you're away, it's worth making a vacation plan, as a back up.
'Move outdoor containers to a shady location for the duration of your vacation and keep them hydrated by connecting them to a tub of water,' advises Kate. 'Create a "wick" using a strip of old towel and drape that over the container plant's soil with the opposite end of the strip in the tub of water.
'Anchor the wick to the bottom of the bucket, under the water. This damp wick arrangement is fine for small containers, but larger ones really need a couple of wicks to remain hydrated.
'Test this to make sure you can get enough moisture to the container before you eave for vacation. Self-watering containers (like these on Amazon) and drip systems on a timer also cope well if you are away.' You will also be delighted to learn what an olla is, which will help you no end.
6. Order fall flowers and crops
Whether your garden is about colorful flowers or tasty crops, it's a good time to consider what to grow for fall.
'Even though it's still summer, you can take a moment to plan for some fall color with late-blooming annuals including many that are in flower in summer,' says Kate.
'Sunflowers, marigolds, and zinnias are all great annuals for a long summer and right up to the first frosts of fall. Add some sedums and asters for more late-season color along with the usual chrysanthemums.'
'Order seeds for snap peas, lettuces, radishes, and carrots to arrive in late July or early August.
'Plan to start the cool-weather cole crop group indoors where it's cooler, and transplant them outdoors in August. Young vegetables added to the garden in late July or August mature in September when the days are much cooler and shorter.'
7. Plan planting for next time
If you tend to plant the same crop in the same convenient spot year after year, consider moving your vegetable or fruit garden around. This is especially important, if you've noticed dwindling crops or increasing numbers of pests or problems.
'Planting the same crop in the same spot, year after year, allows viruses or bugs to increase to the extent that they compromise plant health,'says Kate. 'Rotating plant groups from one area to another lowers the risk these issues cause.
'In addition to avoiding or reducing problems with soilborne diseases and some soil-dwelling insects, the goal of crop rotation is to manage soil fertility. Crop rotation allows heavy-feeding tomatoes to take advantage of the enriched soil that legumes leave because the legumes fix nitrogen in the soil, which the tomatoes take advantage of.'
For style leaders and design lovers.
Jacky Parker is a London-based freelance journalist and content creator, specialising in interiors, travel and food. From buying guides and real home case studies to shopping and news pages, she produces a wide range of features for national magazines and SEO content for websites
A long-time contributor to Livingetc, as a member of the team, she regularly reports on the latest trends, speaking to experts and discovering the latest tips. Jacky has also written for other publications such as Homes and Gardens, Ideal Home, Red, Grand Designs, Sunday Times Style and AD, Country Homes and Interiors and ELLE Decoration.