How to use textiles to empower others through your decor
Choosing what you use to decorate is about so much more than aesthetics - it can be a way to support others, too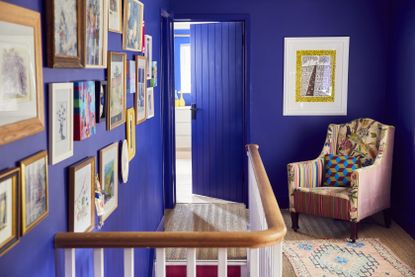 (Image credit: Sophie Robinson)
Textiles in the home are often relegated to the bit players of modern interior design - used as window dressings or simply to add a 'pop' of colour to a room through throws and cushions. Rarely however, are they allowed to be the stars of the show.
This side-lining seriously underestimates the power of textiles which have the potential to become wonderful and even thought-provoking additions to any home interior. We wonder if this relegation is because there is something quintessentially feminine about the craft of textile-making, thus positioning them below fine art, carpentry, sculpture, or other artistic pursuits often used in decorative schemes which are not considered quite so, well, girly!
As cushions, throws, carpets, upholstery and even as artworks, not only are textiles used in a myriad of ways – they can play a number of roles too. Textiles can tell a story, elevate an ordinary setting, empower others, or bring an exciting symbolic energy into a room. Here we share some suggestions of another way of looking at textiles, ways which will bring the magic of cloth into your home.
Choosing textiles that empower others
It's wonderful when supporting beautiful design also means supporting socially empowering projects. These cushions at the top of the page are by Fine Cell Work, a charity that makes handmade products in British prisons, and are proudly displayed in interior designer Sophie Robinson's home. The Museum of the Home also displays their beautiful pieces in its galleries. Hand sewn textiles like this often support artists or communities reliant on the work. Another great example here are cushions by the Milaya Project, a non-profit working with female artists living as refugees in Uganda. A milaya is an ornately embroidered sheet traditionally used for celebration and it is lovely that the Milaya Project is finding a way that these artisanal skills can be shared with international customers in a way that supports the artisans.
Handcrafted textiles to add individuality to your home while keeping alive ancient traditions
Hand crafted textile traditions across the world are continually under threat from mechanisation. Supporting them by using them in our homes is the only way we can keep these traditions alive. Hand crafted textiles are infinitely preferable to machine made, with every piece unique, with the craftsman's energy and skill embedded in the wefts of the fabric, an exchange from them to you. In this image, Adire fabric, a five hundred year old Nigerian indigo based textile tradition, is used in bedding in a project by The Cornrow interiors. There are so many beautiful textile traditions to discover and support, seek them out – and if you also take the time to learn about the story behind them and you will be in for a lovely voyage of discovery.
Place a textile on a wall for a high impact statement
Some textile pieces can feel more like canvases for bold scale art works rather than cloths. These textile art pieces have something more conventional artworks do not have, the textural element. Textiles such as these can look brilliant simply placed on a wall and smaller ones can be stretched and framed. Textiles such as woven blankets, applique pieces or even statement tea towels look lovely hung as art and can't help but bring another dimension to the space.
Bring humour into your home
A brilliant current movement in interior design is the infusion of joy and fun into your interior design schemes, so much so that Beata Heuman mission in her new interior book is that 'Every room should sing'. Textiles can go a great way in bringing an element of fun into your home. This staircase runner by The Rug Company, depicting salmons swimming up the staircase, is a design classic and perfectly marries humour with wonderful design.
Celebrate your own artistry
Lockdown led to an explosion of people taking up crafting skills and now is the time to think about displaying your creations! Homemade art should not only be the preserve of proud displays of our children's masterpieces, adult family members should also use their homes to display their creations. Textiles are a wonderful craft form, and if you do not know where to start, there are lots of helpful kits out there with everything you need to create a wonderful piece of textile art.
Reluctant for to go for bolds but don't want neutrals – try pastels
Often it feels like the choice between bolds and neutrals in a room scheme is between a rock and a hard place! Well, there is one alternative that offers a lovely comprise without being in the least bit bland - pastels. Designer Eva Soniake, who is renowned for her love of bold colour, chose pastels for her latest textile collection. "With everything changing around us there was a need for change with this collection," Eva says. "I wanted to create something calm and basic, that can be combined with my vibrant patterns or stand on its own". Pastels compromise nothing with their celebration of colour, however their more muted tones can make them easier to live with, and certainly add to a more calm interior.
The statement upholstered chair
One item that can easily lift the plainest room scheme is a statement chair. Placed by a fireplace or opposite a sofa, the upholstered chair can come in a myriad of forms, with designers getting increasingly inventive. Micaela Sharp's first piece of furniture from her new range is a statement armchair in a lemon floral with unique and playful frill on all sides. It adds a light femininity to a room, joyfully playing the line between dressmaking and home interiors. In contrast Barbeline's chair upholstered in their signature bold print makes a powerful centre piece. Beata Heuman's use of traditional Yoruba chairs from Nigeria, made out of glass beads instead of threads, is a magnificent addition to her room scheme.
The Livingetc newsletter is your shortcut to the now and the next in home design. Subscribe today to receive a stunning free 200-page book of the best homes from around the world.
Kemi Lawson is the founder of the homeware and lifestyle site The Cornrow, and has been featured in Harpers Bazaar and Metro. She lives in a cottage on the outskirts of London that she has styled with influences from both her Jamaican and Nigerian heritages. She says that the often difficult quest to find interior products she loves for her home, those which fit her modern Black aesthetic, lead directly to the launching of The Cornrow, an emporium which was featured in Livingetc's gift guide.