How to restore a fireplace - the expert guide to sprucing up your living room
How to restore a fireplace, including expert tips for looking after marble surrounds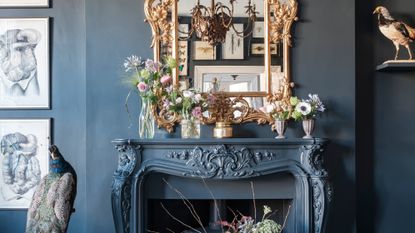 (Image credit: Future)
The Livingetc Newsletter
For style leaders and design lovers.
Thank you for signing up to LivingEtc. You will receive a verification email shortly.
There was a problem. Please refresh the page and try again.
Knowing how to restore a fireplace comes with the territory for many Livingetc readers. Fixer-uppers, period houses and big projects often come with old fireplaces that need restoring. Marble, brick, granite or painted stone can all come with the territory when buying a period home.
Luckily, we're bursting with fireplace ideas to bring your old mantle right up to date. Whether your hearth just needs a clean or a more substantial restorative treatment, Tristan Rowe, director of luxury heating brand Chesneys, knows just how to breath new life into your home fire.
How to restore a fireplace
1. Assess what's wrong
An old fireplace could have many things wrong with it - some more drastic than others. It could be that you're in need of some fireplace tile ideas and your surround just needs a polish, or perhaps there is something more serious at work. 'There are many signs that a period fireplace may need restoring,' says Tristan Rowe. 'Usually it will be obvious such as pieces cracked or missing. But in the case of marble, it can sometimes not be so obvious as it may suffer from 'sugaring' which is where the marble calcifies and crumbles into what can be described as sandy grains of sugar.'
Doesn't sound ideal, does it? 'You can tell if marble is sugaring by if it starts to grain when you rub your finger on it,' Tristan says. 'This is common with white marble in particular and these pieces usually need replacing.'
He suggests that you begin with a through look at your fireplace. 'Firstly, do an assessment of what the work is needs to be carried out,' he says. 'Is the work purely cosmetic? Are there missing tiles? One of the first things to do if the fireplace is open is to get a registered chimney sweep to see if the flue is sound.'
2. Knock to see how secure the fireplace is
Once you've identified the issues with your fireplace, it's time to look a little closer. 'If pieces are missing from the fireplace, take a photo and ask a fireplace company if these pieces are available,' Tristan says. 'Also check if the fireplace is securely fixed to the wall - a gentle tapping with the heel of your hand will let you know if there is any vibration. If there is, get a fireplace installer in to refix the fireplace and get further advice.'
3. Get to work removing paint
It can be tempting to just paint your hearth and hope for the best, but when it comes to how to restore a fireplace, that's rarely the best course of action. 'Overpainting is a typical problem which can usually be dealt with by stripping with a product like Peel Away,' Tristan says. 'This is effective at removing multiple coats of paint, but I would recommend that if it's marble or stone to seek the advice of a fireplace restoration company.' This is the first step in making sure you really know how to paint a fireplace.
You can buy some Peel Away from Amazon here.
4. Replace any chipped tiles
You may need to embrace a mix and match approach to pattern, or perhaps create a whole new tiled grate. 'If there are cracked or missing tiles in the hearth area, they can be replaced but it's very difficult to find identical replacements for old period tiles so you may want to leave it for the character,' Tristan says. 'If the tiles are inside the cast iron register grate, then they need to be removed by a fireplace expert. It's not something for the DIYer.'
5. Get the measurements right
With so many mantel decor ideas available, it's important to choose the right style - and size - for your home. 'Choosing the right fireplace surround depends on the style or era of the building so it is worth researching that. The fireplace shelf should not fill the width of the chimney breast. There should be at least an inch each side and the height should typically be no less than a third or no more than half the height of a room.'
How much does it cost to restore a fireplace?
The cost of restoring a period fireplace varies greatly. If doing it yourself, it's just time and materials but a professional will typically charge anything from $500/£350 for a small job to $4000/£3000 for lengthy and detailed restoration.
For style leaders and design lovers.
As the Deputy Editor of Livingetc, Busola Evans works across both print and digital and specialises in kitchens, bathrooms and projects. She is an expert at explaining how to improve, extend and convert your home. Prior to her current role, she was Associate Editor on both Livingetc and Homes & Gardens. A journalist for more than 20 years, she has written for a number of newspapers and magazines including The Guardian, The Sunday Times Magazine and Grazia, and was an interiors columnist for the London Evening Standard's ES Magazine.