How do you paint high walls on the stairs? Tips to stay safe and get the perfect finish
Are the high walls at the top of your stairs proving tricky to paint? These experts share their tips on how to get a professional worthy finish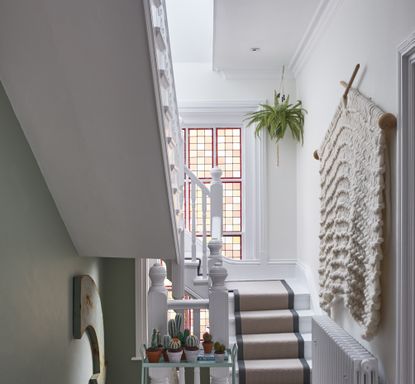 (Image credit: James Merrell)
The Livingetc Newsletter
For style leaders and design lovers.
Thank you for signing up to LivingEtc. You will receive a verification email shortly.
There was a problem. Please refresh the page and try again.
Knowing how to paint those pesky high walls on your stairs isn't easy. We all crave the satisfaction of beautifully smooth and freshly decorated walls, but in an attempt to reach those high points at the top of a stairwell, you're often left with a textured finish and dripping paint. Luckily, with a few tools and a bit of know-how, you can make the job far easier.
When it comes to being creative with your paint ideas, the walls at the top of your stairs are probably the last place on your agenda. How many times have you repainted your home only to skip over the stairwell walls because of their tricky height?
Well, before you cave in and hire a decorator to do the job for you, it's worth knowing a few tricks about how they go about these hard-to-reach places. After all, they've proved it's possible. We asked some painting and decorating experts for their advice on how to paint high walls so that you can have the smooth paint job of your dreams.
Lilith is an expert at following news and trends across the world of interiors. She's committed to helping readers make the best choices in their homes through writing practical tips and guides to help inform their design choices. For this piece she spoke with experts in painting and decorating to understand the best way to paint high walls on the stairs.
HOW TO PAINT HIGH WALLS ON THE STAIRS
1. Use the right ladder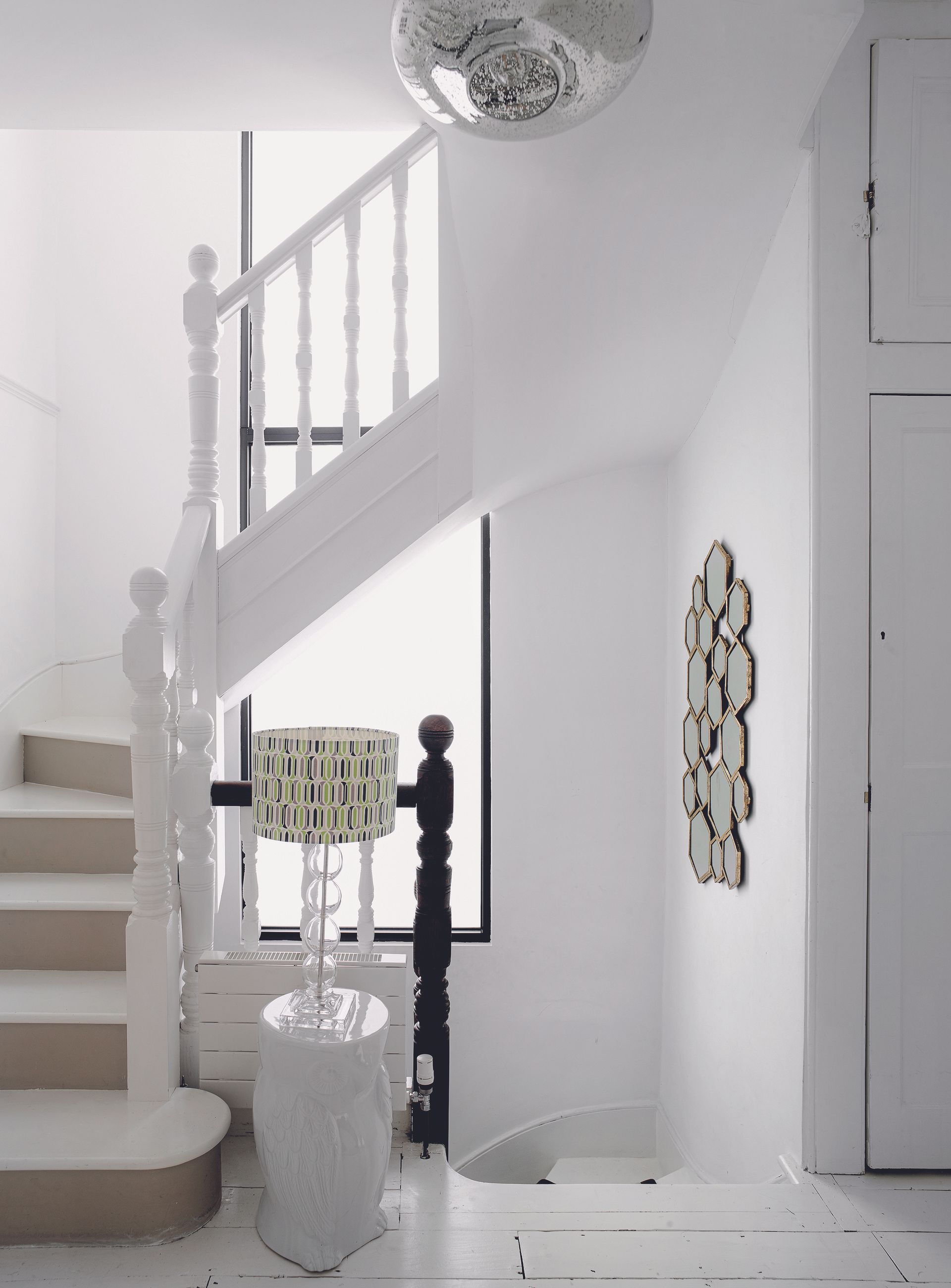 You may have mastered how to paint a room, but there's no denying that painting the walls of your staircase is both more difficult and more dangerous. It really isn't worth balancing on a precarious stepladder and risking a tumble down a flight of stairs. Luckily, there are a specially designed ladders out there to make your life easier.
Stair ladders aren't only going to make you safer, but they'll make it far easier to paint those hard-to-reach areas as you can adjust the height accordingly.
Look for an extendable A-frame that has multi-position functions. 'We suggest an adjustable ladder like the Little Giant multi ladder,' says Devon Bullard of Bullard Exteriors. 'This ladder allows you to have one side of the ladder extended and the other side adjusted to the height of the step it sits on.'
It's also worth considering the material your ladder is made from. Wooden ladders can be cumbersome and heavy, making them more likely to tip if your weight isn't distributed properly. 'I urge you to use an aluminum ladder rather than a fiberglass one as aluminum is a lot lighter and more maneuverable,' says Robin Antill, Director at Leisure Buildings.
If you're hesitant to buy a new ladder, you can buy a PiViT ladder tool to help you. 'I often use my Pivit ladder tool while painting walls over stairs,' Robin says. 'Comparatively speaking, putting this gadget together is considerably quicker and easier than fiddling with my ladder's leg.' The tool allows you to safely set a ladder on the stairs using the non-skid surface, exactly like you would with an adjustable leg that has a pin lock.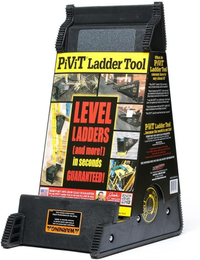 If you don't want to splash out on a designated adjustable ladder, the PiViT ladder tool, available at Amazon, might be what you need. It's compatible with almost any ladder and can be used to instantly level it on an uneven surface. It even doubles as a stable platform that will hook onto ladder rungs, helping to keep you safe.
2. Invest in an extension pole for cutting in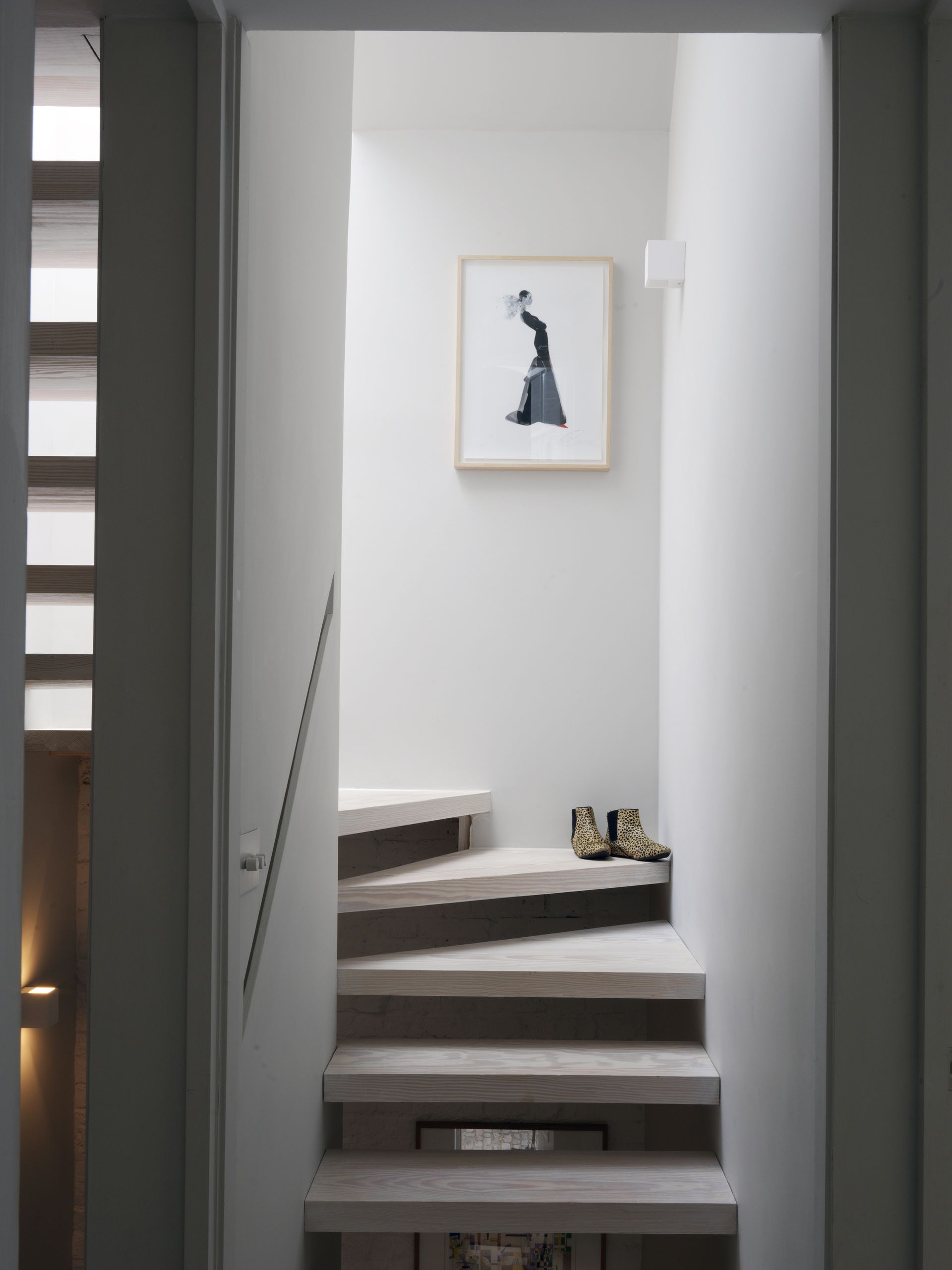 While a ladder is going to do half the job for you, you'll still have trouble reaching the highest corners and edges above the stairs without the appropriate tools. And no, taping a brush onto a broom handle isn't the best method.
A paint brush extension pole will help you to cut in where your wall meets the ceiling, a step that's especially important if your walls are a different color to the ceiling. In fact, with the right extension pole, you might not even need a ladder at all if your ceilings aren't too high. A brush and roller extender tool, like the one from McCauley tools, will help you to reach the highest points of your stair walls with precision.
'If you're careful, you can use an extension pole with a brush attachment to paint where the wall meets the ceiling and in the corners where two walls meet, without climbing all the way up there and doing it by hand,' Devon explains. 'It will take a bit longer but it's a bit safer.'
He adds: 'We generally paint about three inches down from the ceiling with a brush so that the roller doesn't have to get too close to the ceiling when we begin doing the full wall paint.'
Foam pads and edging tools aren't usually as easy to fix to an extension pole, so remember this when you're cutting in. 'In my experience, they don't produce the same kind of clean, precise lines that a good paintbrush can anyway,' says Robin. 'I always use the Purdy Clearcut brush in multiple sizes for cutting in. This brush retains a significant quantity of paint, cuts with some finesse, releases paint beautifully, and produces razor-sharp lines.'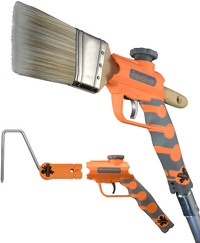 McCauley Tools Paint Brush and Roller Extender, Amazon
The revolver extender tool from Amazon comes with a ridged brush extender and 360° rotatable paint roller. Together this painting system allows you to paint high and hard-to-reach areas with 50% less ladder time. What's more, it securely holds any size and handle style of paintbrush, and easily changes to 8 different positions.
3. Roll the walls using an extension pole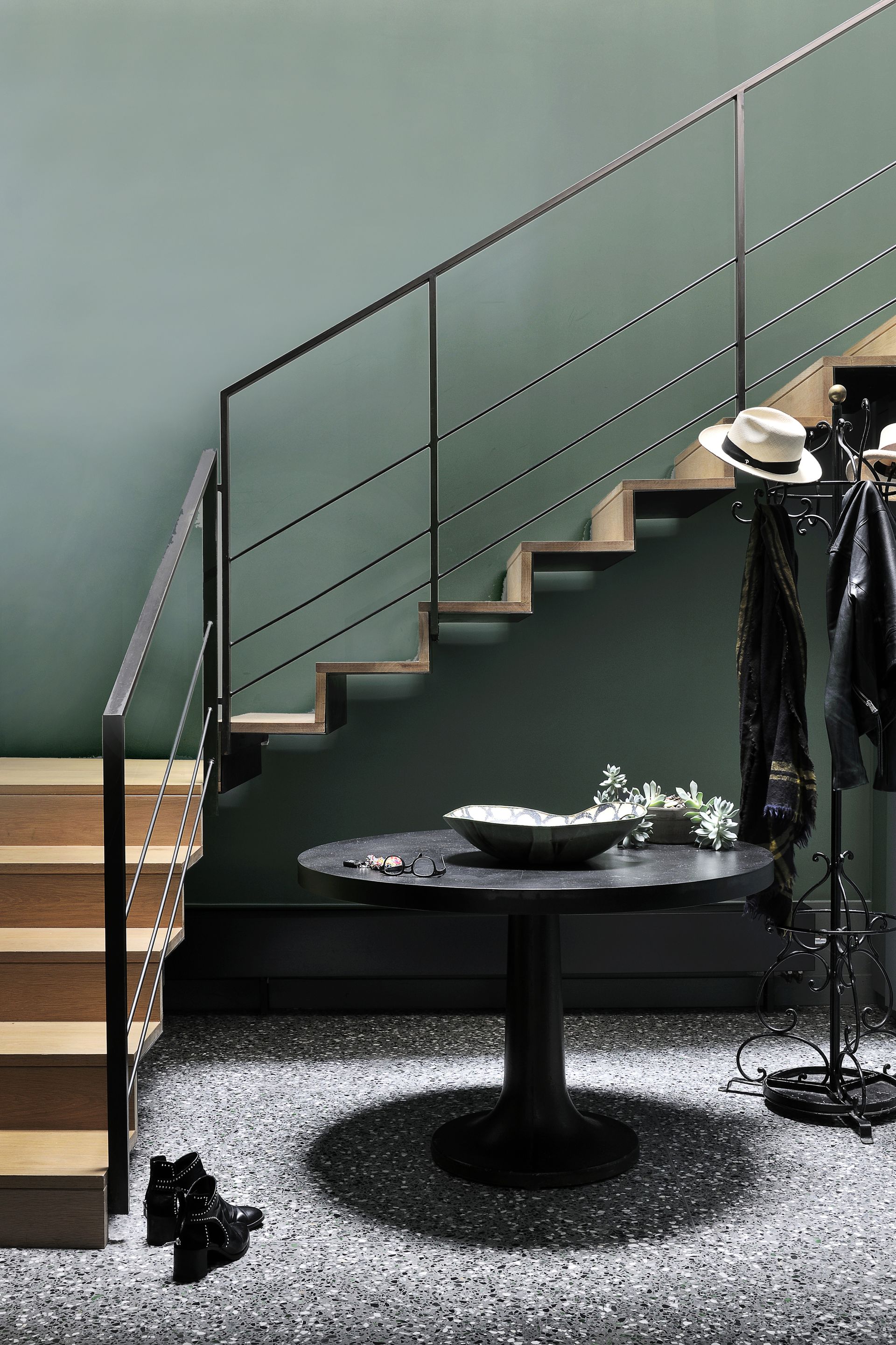 Now for the easy part - rolling the walls. When it comes to how to paint a wall, using a roller is by far the quickest part of the process. Painting the walls of your stairs will be even quicker if you have an extension pole that fits a roller as well as a brush.
'You'll be able to stand on the ladder or directly on the stairs to paint the surface of the walls depending on how far your extension pole can reach,' says Devon.
As Robin notes, there are a few things to bear in mind when it comes to choosing the right paint, too. 'The walls of a staircase should be coated with a durable painting that can tolerate washing as they frequently see more foot activity than other parts of a house,' he says. 'The optimum coating is two, but make sure you allow the paint to dry completely in between coats.'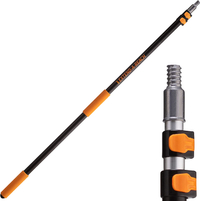 5-12 ft Long Telescopic Extension Pole, Amazon
This multi-purpose extension pole from Amazon is a must-have for any household. Extending from 5 to 12 feet, the EXTEND-A-REACH telescopic pole will give you up to 20 feet extension when standing, making it easy to accomplish any hard-to-reach task, be it painting to ceilings or even dusting corners.
For style leaders and design lovers.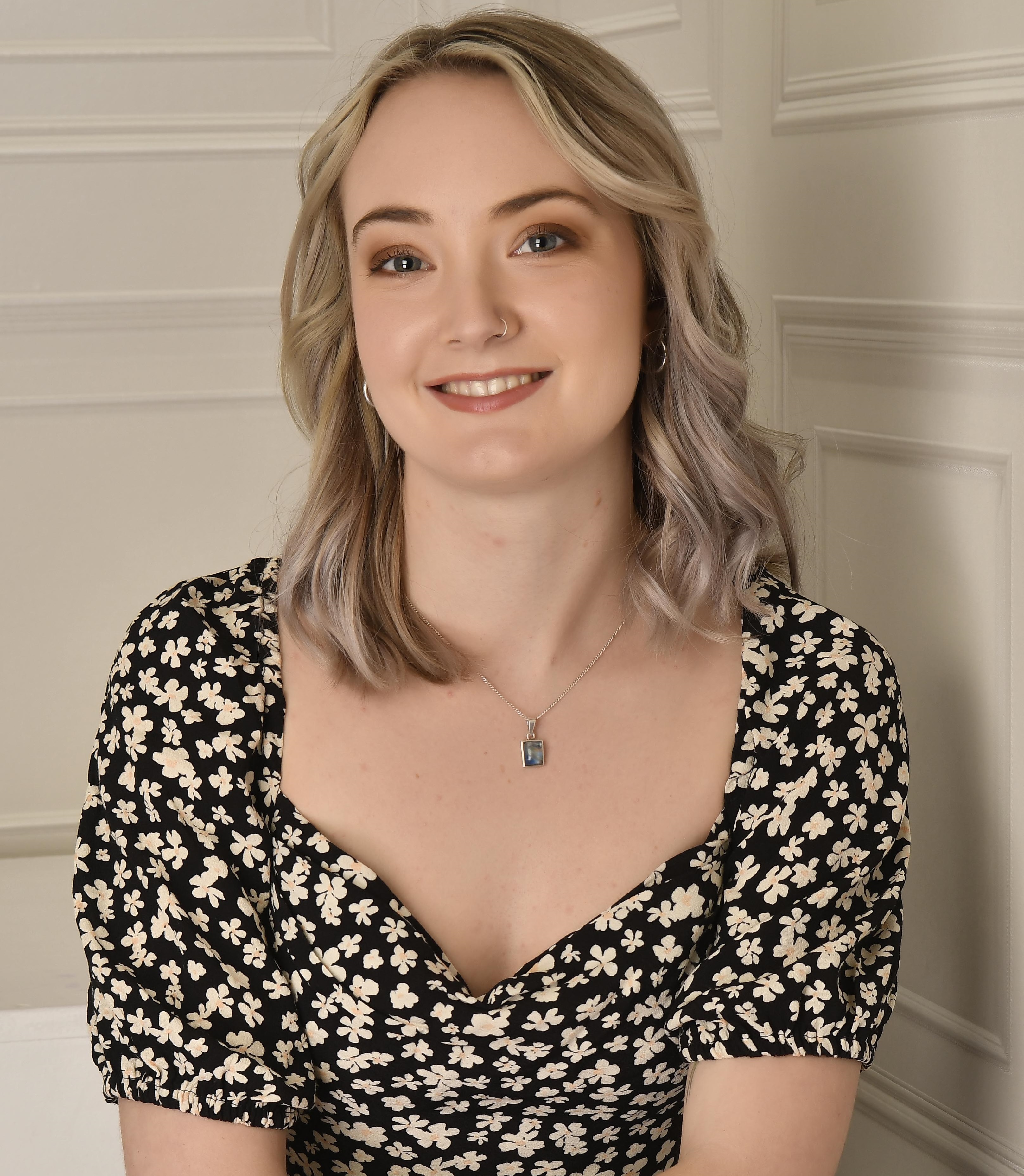 Lilith Hudson is the Staff Writer on Livingetc, and an expert at decoding trends and reporting on them as they happen. Writing news, features, and explainers for our digital platform, she's the go-to person for all the latest micro-trends, interior hacks, and color inspiration you need in your home. Lilith discovered a love for lifestyle journalism during her BA in English and Philosophy at the University of Nottingham where she spent more time writing for her student magazine than she did studying. After graduating, she decided to take things a step further and now holds an MA in Magazine Journalism from City, University of London, with previous experience at the Saturday Times Magazine, Evening Standard, DJ Mag, and The Simple Things Magazine. At weekends you'll find her renovating a tiny one-up, one-down annex next to her Dad's holiday cottage in the Derbyshire dales where she applies all the latest design ideas she's picked up through the week.