How to organize a hallway closet
If you need some guidance on how to organize your hallway closet then look no further.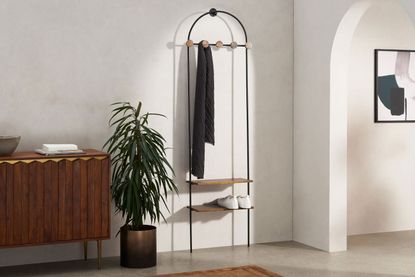 (Image credit: Made.com)
Wondering how to organize a hallway closet has become a growing trend over the last couple of years - I think we've got both the pandemic and Marie Kondo to thank for that. So if you're done with your hallway ideas and now finally getting round to organising your closet or any small space in your home then you've come to the right place.
A hallway closet is one of those places where clutter just seems to pile up. It may seem easier to just close the door and ignore it, but with these expert tips you'll have the space decluttered and organised in no time.
What should you consider before organizing?
Before getting stuck into organising, or getting side tracked by the hallway wallpaper ideas this picture inspires, there are a few things to consider according to professional declutterer and organiser Lynda Wylie of Tidy Rooms, who has a few tips when it comes to preparing for an organizing session.
'You should first identify a nearby space where you can spread out the items you want to sort through in a more comfortable and brighter location,' says Wylie. 'Make sure to group like for like together so you only have to look in one place to find what you're looking for and also contain similar items together and label storage so you know what's inside.'
'It's important to decide your categories before ordering or designing storage so that you store things appropriately.'
1. Add lighting to your closet
'Add lighting to make it easier to see what you're looking for,' says Lynda Wylie. 'If a mains light isn't feasible, there are great rechargeable motion sensors available on the market - the type you might see in a wardrobe.'
'Place them near the entrance and add more further down so you can see the whole space. Consider painting the inside of the cupboard in a light colour to help reflect light and contrast with the contents.'
2. Make sure you have easy access
'Hallway closets are often built under stairs and tend to be quite long and awkward shapes,' says Lynda Wylie. This is so often true that narrow hallway ideas have become a thing in their own right. 'Keep the entranceway as clear as possible to allow easy access into the cupboard and further down. Turn the door so it opens outwards allowing you to maximise the usable space inside.'
3. Consider the size of your hallway
'Armoires can work fantastically in larger hallways,' says professional organiser Vicky Silverthorn of You Need A Vicky. 'I often suggest redesigning the insides and adding shelves and hooks to make the most of the space though.'
'For smaller and thinner hallways, open storage, such as open cubbies and wall hooks, can work well as additional doors can just get in the way and end up being too difficult to navigate.'
4. Use every inch of space
'The key to organising smaller areas when space is tight is to use every available inch,' says Lizzie Grant, professional organiser and founder of Declutter on Demand. 'In a hallway closet, use a transparent over-the-door shoe organiser to hold smaller items such as gloves, hats and small umbrellas.'
Grant also suggests using hooks for hanging coats, and recommends command hooks for those who don't want to drill holes in the wall.
5. Organize by frequency of use
'Do you have to remove five coats from your hallway closet before getting to the one you want?,' asks home organization expert Diana Spellman of Serenely Sorted. 'It's important to categorise coats by type or frequency of use. We can do this seasonally by swapping out summer and winter coats at different points in the year.'
'But beyond that, put away in an upstairs cupboard any 'going out' coats, or the stuff you use to climb a mountain three times a year. If you keep the hallway closet for just the daily use coats, you will create the space to actually see what you have.'
6. Use storage containers, hooks and labels
Storage containers, hooks and labels are the most important tools in organising, making your belongings easier to locate and identify.
Lynda Wylie suggests using clear storage boxes so you can see what's inside more easily; lidded boxes where the contents need protection from dust or damp and to allow stacking; and open boxes and baskets for easily accessible items.
'You should always label the outside, both the end and side of the container so the label is visible no matter which way round the box is stored,' says Lynda Wylie. And if you don't want to go out and buy storage containers, then Wylie says that upcycled shoe boxes, and laptop boxes make a great alternative.
'Hooks are great for hanging pre-packed rucksacks such as sports kits and shopping bags or accessories such as umbrellas,' says Wylie. 'Use the back of the door for hooks or hanging pocket storage. Gift wrap is great in a purpose built hanging storage bag.'
7. Add a mail tray
To avoid letting your post pile up at the side of your hallway or on the floor of the closet, Vicky Silverthorn suggests adding a mail tray or basket.
Attaching a hanging basket to the door can work well but only if cleared out regularly.
8. Maximise your space with drawers
Diana Spellman suggests using drawers for efficiency. 'You can allocate each as an 'end home' for a particular type of item and easily pull it out without disturbing others,' says Spellman.
'They can be stacked up to the ceiling and pulled apart to create lower or higher stacks, and they also come in different sizes.'
9. Don't make it at a catch-all space
'Although hall closets are incredibly useful spaces they often become filled with all those things that don't have a proper home,' says Lizzie Grant. 'Emptying the contents of your hallway closet and deciding what to keep and what to let go of is an important first step. Then decide exactly what this space should contain to make your life easier each day.'
'Find another place in your home to store anything that you are keeping but doesn't need to be as accessible. Make sure you can see everything and it is within easy reach in small spaces, otherwise the clutter will just build up again.'
The Livingetc newsletter is your shortcut to the now and the next in home design. Subscribe today to receive a stunning free 200-page book of the best homes from around the world.
Nicky Morris is a freelance journalist specialising in interiors and design. Covering everything from staircase lighting ideas to Ikea hacks to outdoor kitchens to tips for hiding radiators, she writes for Livingetc and Homes & Gardens and has previously written for Tempus Magazine. She also covers TV writing, and has written for Hello! magazine.