Three style secrets to make your home feel lighter this Spring by one of the world's leading experts
Lighting expert Sally Storey knows just how to fill your home with a warm glow as the days get longer and brighter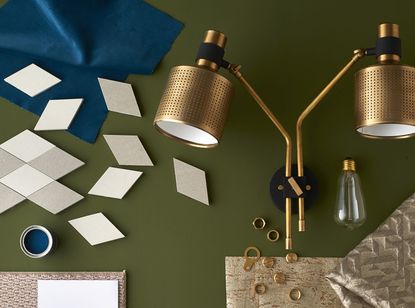 (Image credit: Future)
Spring is a time for pulling back the curtains, covering your home in one of the best white paints and just generally bathing in all that gorgeous sunny light, right?
Except there are still a few tricks you can use when the nights are a little shorter than you'd like, or if the days are a little more gray than you'd hope.
And lighting consultant Sally Storey knows them all. Sally is one of the world's most sought after lighting experts, having worked with Claridge's, The Berkeley, The Four Seasons and The Savoy. She has designed the lighting for super yachts and historic castles, for homes across North America, Europe and the Middle East. As the Design Director of John Cullen Lighting she is particularly known for her brilliant bedroom lighting ideas, and here are her tips for making the whole house shine brightly this Spring.
Master the art of the spring forward down light
A dramatic table display requires dramatic lighting. "lluminate the centre of a dark dining table or console table with a narrow beam downlight," Sally says. "When you place a vase of flowers or a fruit bowl directly underneath, the contents will really come alive. It's the narrow beam that makes the magic happen, so swap in a 10-degree LED to create a tight focus."
Embrace LEDs as back lights
Sally is a big fan of LEDs. "There's so much you can do with LEDs to refresh and light your joinery, and to create pockets of light around the room," she says. "If you have a bought piece of furniture, pull it away from the wall and backlight it using LEDs, and it will be transformed. We have also just launched a miniature spotlight called the Minim, which is 18mm deep and can be recessed into a shelf to light the contents."
Take the light outside
Don't forget the benefits of lighting your garden, too. "If you have any outside space, think about lighting it to extend the view beyond your interior," Sally says. "It could be as little as lighting a window box, which will draw your eye out, or you can light the garden if you have one. This allows you to open the curtains, to look out and enjoy the space and feel that spring is coming."
Shining a spotlight on the now and the next in home design and decor, Livingetc is the UK's best selling high end and contemporary home design magazine. As a brand, Livingetc showcases the world's very best homes, breaks and makes the trends, and has access to leading international designers for insight and ideas. It was first published in 1998, and is currently edited by Pip Rich.