How to make a Christmas tree look fuller – easy ways to get your tree (fake or real) looking perfect
Whether you are a traditionalist a love a real tree or like the ease of an artificial spruce, follow our guide to how to make a Christmas tree look fuller to get the best results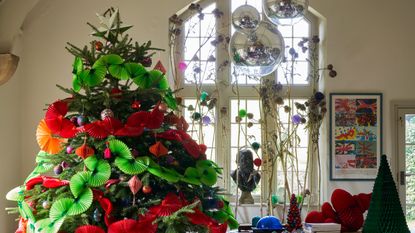 (Image credit: James Merrell)
There are thousands of ways to decorate a Christmas tree, whether the tree is real or fake, and whether you opt for a theme or an eclectic mix of decorations. However, one problem you might find yourself running into is how to make a Christmas tree look fuller, regardless of the theme you choose to decorate it.
Baubles are an easy fix, but they do not always work: they can slip off a real Christmas tree's branches as it begins to droop, they can start feeling repetitive, or you might have simply run out of baubles to decorate with!
If you are looking for unique ways to ensure your Christmas tree ideas really shine this year, and it looks full, cohesive, and complete this year, look no further. We have compiled a comprehensive guide, filled with tips and tricks from the experts, to guide you to a full Christmas tree.
How to make a fake Christmas tree look fuller
Faux trees are a great option if you are looking for a full tree this Christmas. The robustness of faux trees lends itself to loading the branches with decorations, meaning you can usually add more lights and baubles without the branches starting to bend under the weight.
'When it comes to Christmas trees, I would always recommend faux over real – the symmetry is much better for decorating and I'd suggest getting a tree that is pre-lit for ease,' says Dani Taylor, product and creative director at Cox & Cox.
However, if you are looking for a more natural, unrefined look, you can still achieve this with a fake Christmas tree. Ailie Williams, stylist at Neptune, says: 'If you do opt for a faux-tree, there are ways you can achieve a full, real effect by bending and tweaking the branches, and giving it a spritz of Winterberry room fragrance for a festive pine scent.'
Equally, not all fake Christmas trees look fake. 'You can find some amazing faux finishes for trees, wreaths and garlands', advises The White Company founder, Chrissie Rucker.
She recommends adding real foliage to a fake Christmas tree to make it look fuller: 'Add fairy lights and pillar candles, and just a couple of days before Christmas add any real greenery or seasonal flowers too – it is a real timesaver!'
Top tips for making a Christmas tree look fuller
1. Use a color scheme for a full cohesive look
Ensuring your tree is cohesive helps to make it look complete and full. Choosing a theme for your Christmas decorating ideas can achieve this effect.
Lucy St George, co-founder of Rockett St George, recommends 'embracing full maximalist glamour' this year: 'When it comes to decorating your home for Christmas, we always recommend going all out with baubles, garlands, candles, and festive foliage to set the scene for magic,' she says.
However, having no theme can equally work as your theme. Whether it is with witty decorations, disco baubles, or a plethora of eclectic pieces, daring to fill the branches of your Christmas tree with festive decorations can be just as effective as a more classically themed tree. 'Often, it's the unique and quirky pieces that set your home apart,' says Lucy.
2. Make use of extra large baubles to fill any gaps
If your branches are looking a little bare, you can add extra baubles to make the tree look fuller. For extra impact, take the lead from blogger Amy Davies Pereira, who opts for a color pop with her extra baubles to make her tree look more exciting.
'The base for my tree every year is white, green, silver and gold', she says. 'Any gaps are dentally filled with a contrasting color I add every year to make the tree 'pop'.'
If you are struggling to arrange your baubles on the branches, use Amy's top tip: 'Cut off all ties and ribbons that come with the baubles and decorations and buy some metal 'S' shaped ornament hangers,' she suggests.
'This means the baubles hang directly from the branch,' she says, meaning you have more control over where the baubles sit and can even double up on baubles on branches. 'This is a game-changer!'
If you would rather not theme your tree so strictly, play around with witty, novelty baubles for an equally full effect, and embrace more eclectic Christmas tree trends. 'Pink is a huge Christmas trend this year and whether it's George Michael or Anna Wintour on your tree – the more whimsical the bauble the better!', says Dani Taylor of Cox & Cox.
She adds: 'I'd recommend adding in some shatterproof baubles as well as glass, as these make excellent fillers.'
If you are running low on baubles, you can still arrange them to keep the tree looking full. 'Adding ornaments close to the trunk allows the fairy lights to twinkle against them, giving the impression of a full tree', suggests interior designer, Jackie Hoyte.
3. Be strategic with your lights
If it is looking like you have used enough baubles and decorations (or you have simply run out!), you can use extra lights to add depth and realness to your Christmas tree and keep it looking full.
As well as extra foliage, Chrissie Rucker fills her tree's gaps with extra lights: 'I am a big fan of cluster lights which are so simple to add in, and the effect is so twinkly and magical', she says. This gap filler pairs well with classic and simple themes, like white fairy lights and baubles in antiqued silver, glass, and white.
If you realize that your tree needs an extra lift after you have added all of your decorations, another string of lights might be too tricky to weave around the baubles. Instead, try light up baubles, stars, or shorter strings of lights to add fullness to the tree.
4. Brings in extra foliage
'You don't just have to use baubles', says Dani Taylor. 'Faux flowers and pampas grass look great!'
Mel Sinclair, of @its_all_about_the_house, also reaches to nature to make her tree look fuller: 'Using stems of eucalyptus and dried foliage within the tree creates a fuller effect and adds texture and a realness to a fake tree.'
You could also add in extra fir foliage sourced from garden centers or florists. For more impact, try adding in fresh flowers in the final run-up to Christmas. 'Scented acorns are good for filling gaps and make the room smell amazing,' adds Mel.
5. Incorporate garlands into your Christmas tree
'Baubles are not the only way to decorate your tree at Christmas time,' says Lucy St George. 'Opting for other decorations that complement the baubles on your tree can add extra interest, variation, and most importantly of all, impact.'
But how can this be achieved? 'Placing garlands carefully around the branches is a gorgeous addition that will help bring your fairy lights to life', Lucy recommends. 'Another trick is to look to larger hanging decorations such as paper honeycombs and glitter stars to introduce playful variation in scale and achieve a fuller, maximalist look that commands attention.
'In a similar way,' she adds, 'beautiful velvet ribbons in different sizes and sequin bows can be attached to branches to add extra depth and ensure your tree is unforgettable.'
How to tie your Christmas tree decorations with the rest of the house
If your tree still does not look as cohesive as you would like, you can achieve a cohesive effect by tying your tree decorations into the rest of the room.
'You can tie a Christmas tree into the rest of your décor and interior style by picking out a few of the key accent colors already in your room,' suggests Jackie Hoyte.
'In fact, it is a great way to add more of a certain color or colors that perhaps you aren't quite brave enough to use on your walls or upholstery,' she says. 'Christmas decorations give you the perfect opportunity to go for it and make an impact!'
Mel Sinclair similarly recommends cohesion through the room: 'Match your baubles with your cushions or use a similar color pallet to compliment your room. Also, using matching wrapping paper under the tree makes the whole room flow,' she recommends.
If you are looking to tie your tree into the rest of the house, Chrissie Rucker of The White Company approves. 'I hang a wreath on the front door and wind battery lit fairy lights into it, plus lit candles in large storm lanterns either side of the front door,' she says.
Go all out by adding a touch of Christmas to every room: 'It is always lovely to fill the windowsills with miniature spruces,' says Chrissie. 'I love to decorate our mantle pieces and large windowsills with lots of greenery, fairy lights, and candles in glass storm lanterns.'
The Livingetc newsletter is your shortcut to the now and the next in home design. Subscribe today to receive a stunning free 200-page book of the best homes from around the world.
Olivia Emily is one of the most exciting new talents in consumer lifestyle journalism. Currently finishing off a Masters in Journalism at the City University, London, she has quickly proved herself at being adept on reporting on new interiors trends. A regular contributor to Livingetc, she is brilliant at being able to decode information for our audience.