Connecting your AirPods to your Peloton is a way to keep your workouts fun and private - here's how to do it
Want to work out to loud music without disturbing your household? Here's how to connect your AirPods to your Peloton.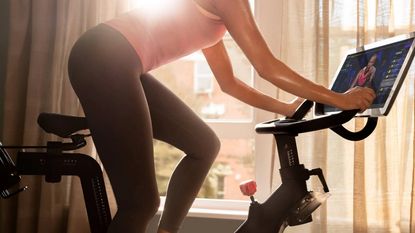 (Image credit: do not use - not sure of source)
If you have enough space, having home gym equipment can be an excellent and affordable way to stay fit, and thanks to smart home technology, it is now easier than ever to just jump on your treadmill, bike, or rower and get going - no gym membership required.
During the past few years, the Peloton bike has been a highly sought-after fitness accessory - a must-have if you're serious about your health. Although its buzz has subsided as we return to our regular fitness centers after lockdown, there are still many reasons why home gym equipment, including the Peloton, is a valuable addition to any household.
Syncing your AirPods to your Peloton is straightforward and allows you to keep fit to your favorite tunes and podcasts without disturbing anyone else in your household. To learn more, keep reading and check out our guide to the best workout headphones.
What is the Peloton?
The Peloton is widely regarded as one of the best exercise bikes on the market and has become a must-have fitness accessory. While the initial investment may seem like a big spend, it's worth considering the long-term cost savings compared to a monthly gym membership. In addition to the bike, there are options for a treadmill, yoga classes, and weight lifting.
However, what really sets the Peloton apart is its innovative screen, which provides access to live fitness classes and instructors. This not only ensures that users are guided through effective workouts, but also adds an element of fun to the experience.
What are Airpods?
AirPods are Apple's incredibly popular range of true wireless earbuds, which allow for seamless integration with iPhones and other iOS devices, boast advanced audio features like spatial audio and noise cancellation, and come with Siri - Apple's digital smart assistant - built in. They're basically mini-Apple helpers in your ears, which makes them great to have when you're otherwise engaged in building your health and fitness.
There are a few models available, from the 'basic' Apple AirPods (3rd Gen) to the AirPods Pro (2nd Gen) and the over-ear AirPods Max. If you're planning to exercise with them, we would go for one of the former in-ear models.
Why you'd want to connect your devices
If you move better to booming bass and upbeat tunes (or sad, indie tunes - no judgment), then you will get a far better experience by pairing your earbuds with your exercise equipment. Thankfully, AirPods are on the exclusive list of devices that are completely compatible with the Peloton.
You can also use the JBL X Peloton Earbuds, Powerbeats3, and Urbanears Hellas Headphones - but these models are now hard to find. For more on compatibility with Apple devices, check out our guide to connecting the Apple Watch to your Peloton.
How to connect Apple Airpods and Peloton
1. Put your AirPods into pairing mode by pressing and holding the back until the light flashes white, then log in to the Peloton and go to the menu.
2. Select Bluetooth settings in Peloton's menu and wait for your earbuds to appear under 'Available Devices.'
3. Tap the AirPods, and you're set! Note: your earbuds and bike should now recognize each other for future sessions.
Smart Homes Ecommerce Editor
Caroline is the smart home ecommerce editor for Livingetc, covering everything tech for the home, from smart speakers to air purifiers and everything in between. She is passionate about the role that technology and smart devices can play in daily life, enhancing the home without sacrificing personal style and carefully chosen interiors. In her spare time, she can be found tinkering with bulbs, soundbars, and video doorbells in an effort to automate every part of her small home. Previously, she lent her expertise to the likes of Expert Reviews, IT Pro, Coach, The Week, and more.