'Proportionality is key!' – 4 tricks to choose the right-sized artwork for your living room, from experts
For a balanced-looking living room, experts say proportional artwork is key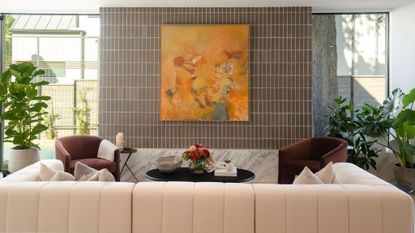 (Image credit: Onward Group. CoCollect. Artist: William Quinn)
Most beautifully designed living rooms have one element in common: curated artworks are displayed throughout the space in a thoughtful and seamless way. Whether you're styling artwork above your sofa or around the TV in a gallery-like style, there are certain rules when it comes to picking the right size artwork that will make your room look balanced and put together while accentuating certain features of the space.
Of all the areas of your home, the living room is the space that has the most scope to make an impression and showcase the character of the homeowner. It's where you welcome your guests, where you probably entertain, and where you spend time together with family. Beautifully curated art is a conversation starter and adds that extra element of personality that makes the room feel lived in, so getting it right is key.
Here's the thing - wrong-sized artwork in your living room is a common design mistake, and it results in an underwhelming visual perception of the room that looks unbalanced and disproportioned. Luckily, though, there are some tried and tested methods approved by expert designers and art connoisseurs that, if followed, will enhance your artwork and benefit your whole living space. Here are four tips to keep in mind.
1. Notice the architecture of the room
Firstly, when choosing the right sized artwork for your space, notice the architecture of your room. How tall are your ceilings? Are there any narrow walls? Are there any features you want to hide? 'When it comes to sizing artwork for a living room, there are some standards we start with and then thoughtfully break,' explains Keli Hogsett, founder of CoCollect. 'First, you should determine the direction the room needs to be pushed in.'
'Is the ceiling so tall that the art needs to be a low horizontal work or a grouping of small artworks to make the space feel cozier? Or does it need a large, bold statement piece to liven things up?,' she continues. 'Figure out the direction you want to take the room in, and then set your sizing parameters.' This includes various spatial elements, furniture size and placement, lighting, ceiling height, window, and even door height. If your ceiling is low, for example, consider adding pieces of art on the narrow, vertical axis to create a visual effect of height.
2. Consider the wall space available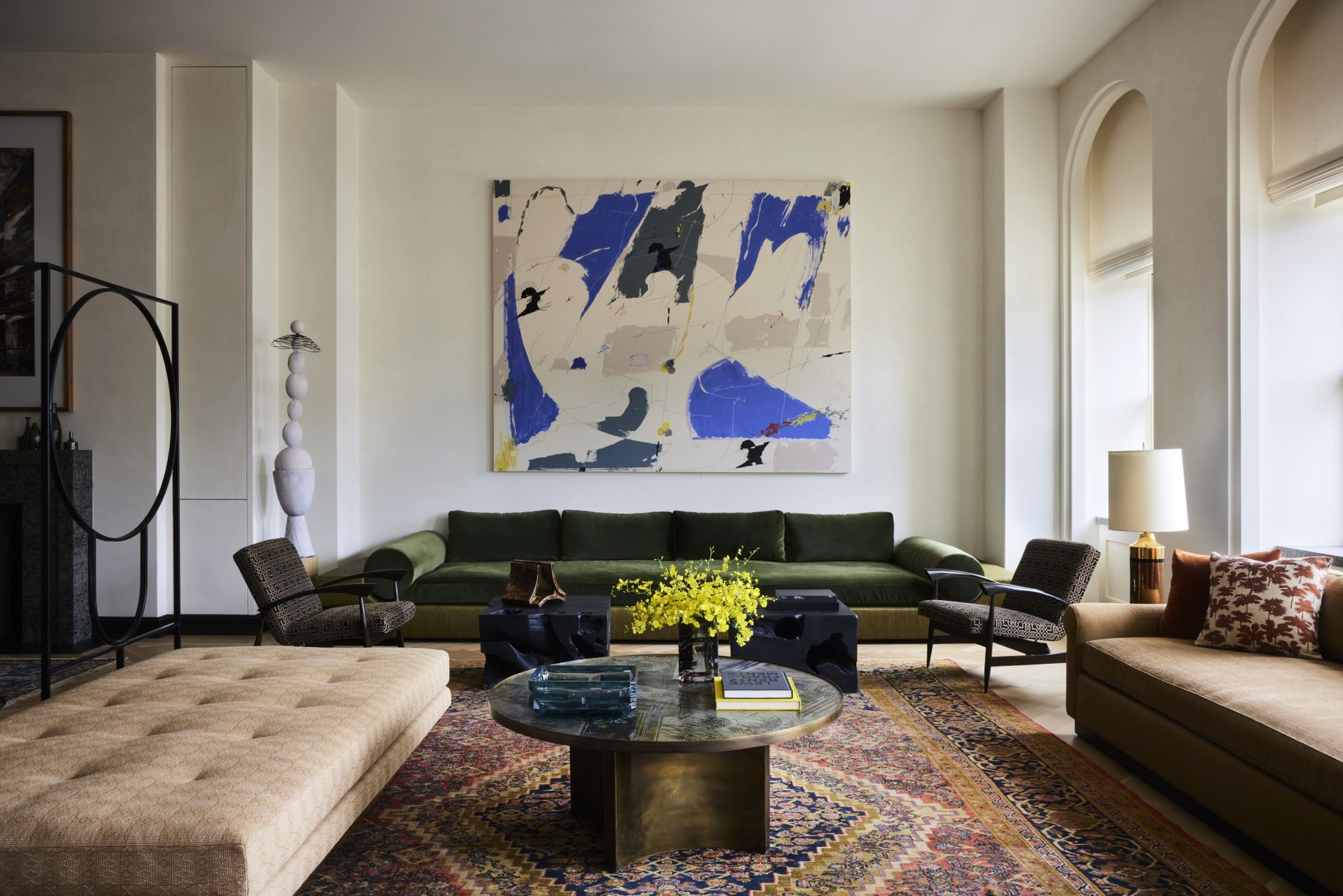 Once you've established the architecture of the room, think about the particular wall you'd like to hang your art onto. 'Choosing the right size artwork for your living room is crucial to the overall design aesthetic,' Scott Richler, Founder of Gabriel Scott, tells me. 'Firstly, assess the space and the scale of the space the piece of art will be hung in.'
When it comes to living room wall art ideas you don't want to have too much art on a wall so, when choosing the size of a piece, Richler advises that the artwork or collection of works should fill 60-75% of the wall space. 'Whether this be a single piece or a collection, ensure it's in proportion to the overall size of the space you have to work with,' he adds.
Interior designer Bethany Adams agrees that the size of the wall is key when choosing your artwork. 'Art should be in direct proportion to it,' she says. 'A large empty wall can take a large format painting, whereas a long, low-ceilinged hallway is better suited to a series of small pieces always hung at eye level.'
Don't be shy when it comes to size, either. 'Bigger artwork (when proportionate to your space) can make such a big impact and bring in that life you didn't realize you needed,' adds multidisciplinary creative and interior designer David Samuel Ko. Liz Potarazu, CEO and Principal Designer of LP + Co, also advises going larger than you think. 'For large, blank walls with furniture, consider grouping similar pieces paired with art lamps to fill even more space,' she says. 'If you have a long wall with no furniture consider a triptych that will give the illusion of continuation or movement along the wall.'
3. Consider the furniture and the TV placement
When picking the size of your artwork, considering the size of the furniture around it and the furniture placement is also vital. 'It's important to determine where exactly the piece is going and how it relates to its surroundings,' says Keli.
'If it's near or above the living room sofa, it should be probably half to two-thirds in size compared to your sofa size,' adds David. 'When choosing the scale for an artwork in this location just make sure that it won't interfere with people's heads when they sit down on the sofa, especially if it's three-dimensional.'
Before making any permanent decisions, you can also mimic the feel of an artwork before handing it. 'If you are unsure of what size might feel right to you a helpful hint is to tape out the size you're considering with blue painter's tape, let that live in your space for a couple of days, and see how it feels,' advises online art gallery owner Liza Pruitt.
A similar rule applies to other pieces of furniture, like console tables for instance. 'Ideally, artwork should be three-quarters of the width of your seating area or the back of the sofa,' Keli notes. 'Leave enough white space on either side of the artwork so it doesn't feel too crowded. Typically, half the width of the artwork distance on either side of the artwork will do.'
When it comes to the shape and size of your art in relation to your TV, if they're on the same wall, Keli urges us to avoid putting a square and similar-sized artwork next to a TV so the shapes compete. 'Instead, try the wall behind the TV or another adjacent wall,' she says.
4. Know the rules to break the rules
While rules and guidelines are helpful as a first step, once you're familiar with them and you develop your own sense of what works and doesn't work for you, trust your instinct and play with the size of your artworks. For example, if you're feeling bold, throw caution to the wind and go all out with a gallery wall.
'Starting with these rules often helps us figure out a better way to break them,' says Keli. 'Bringing in oversized art, or using three-dimensional, non-orthogonal artworks is always a fun way to throw the rules out the window and go with your gut.'
'Living room artwork is an area that I would consider very important when it comes to making an impact,' David adds. 'This is a key space in your home so the artwork here should be special in some way. Art should always be something that feels like an extension of your or your family's persona or something that you are just drawn to in a deeper way.'
He points out that, regardless of rules, the most important factor is to make thoughtful choices that mean something to you, and you'll already be on the right track to creating a space you'll love.
Hydrangea by Annie Spratt
Price: $340
You can purchase photography straight from an artist, or print your own in a size that suits your space for your very own personal piece of art.
Price: $77.99
Select a piece of abstract art in colors that will complement your space. It looks best by itself so it has space to 'breathe' and you can appreciate it properly.
The Livingetc newsletter is your shortcut to the now and the next in home design. Subscribe today to receive a stunning free 200-page book of the best homes from around the world.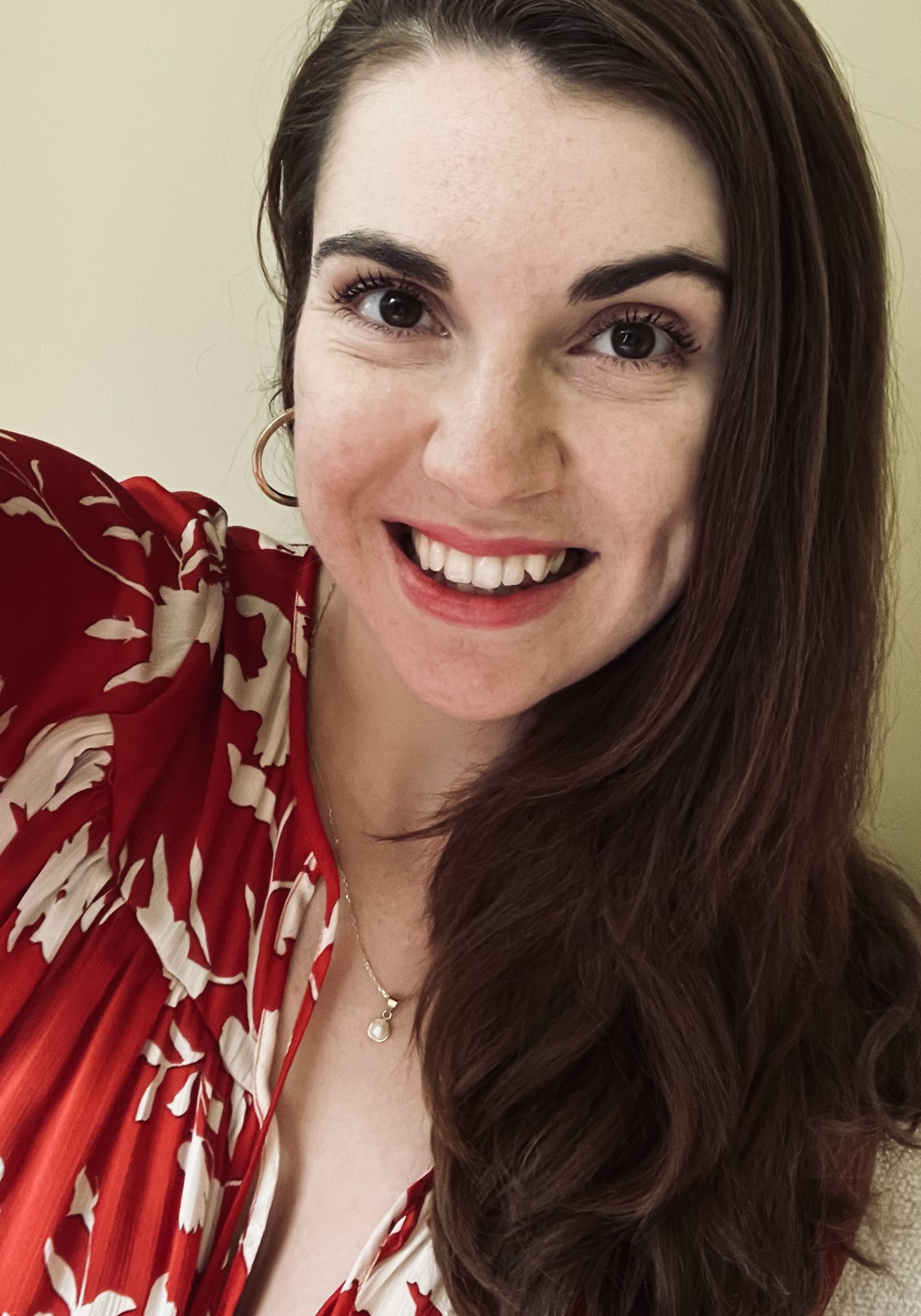 Raluca is Digital News Writer for Livingetc.com and passionate about all things interior and living beautifully. Coming from a background writing and styling shoots for fashion magazines such as Marie Claire Raluca's love for design started at a very young age when her family's favourite weekend activity was moving the furniture around the house 'for fun'. Always happiest in creative environments in her spare time she loves designing mindful spaces and doing colour consultations. She finds the best inspiration in art, nature, and the way we live, and thinks that a home should serve our mental and emotional wellbeing as well as our lifestyle.