Your bad night's sleep could be your pillow's fault, so here's how to choose the perfect one for your needs
Whether you're a back sleeper, a side snoozer, or a stomach slumberer these experts explain how to choose the best pillow for your needs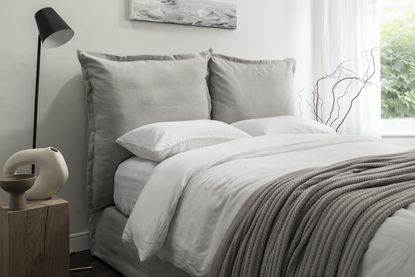 (Image credit: Button & Sprung)
The Livingetc Newsletter
For style leaders and design lovers.
Thank you for signing up to LivingEtc. You will receive a verification email shortly.
There was a problem. Please refresh the page and try again.
Finding the perfect pillow isn't only crucial to a good night's sleep, but it can seriously impact our posture too. We all have our preferences - soft, flat, firm, plump; down, feather, memory foam (the list goes on) - but what you might not realize is that the type of pillow that's right for you will differ depending on your sleeping position, as well as the kind of mattress you have. So how do you find the best sleep supporter for your needs?
Considering we spend a third of our lives in bed, we really don't commit enough time or money to finding the right bedding. If you want the most comfortable night's rest, buying the best pillow to suit your sleep style should really be a priority - the question is, where do you start? From filling and firmness to size and price, the number of factors involved in picking a pillow is enough to keep you up at night.
To put your mind at ease and help you decide, we spoke with some sleep and bedding experts who know a thing or two about finding the perfect pillow. Whether you're a back sleeper or a side snoozer, a fan of a firm pillow or a sucker for softness, here's all you need to know.
Lilith is an expert at following news and trends across the world of interior design. She's committed to helping readers make the best choices for joyful living by writing practical tips and guides to help inform their design choices. In this piece, professional sleep coaches and bedding experts explain how to choose the right pillow
What types of pillows are there?
Now I know what some of you might be thinking: 'a pillow is a pillow, why should it matter what kind I choose?' Well, besides a poor night's sleep, supporting your head in the wrong position in bed can have dangerous consequences on your body, so the right pillow won't only help you sleep better but improve your health, too.
'Getting the right type of pillow for a better night's sleep is paramount,' explains Tom Greenspan, Sleep Coach and CEO at VS Mattress. 'The wrong pillow can cause neck pain, stiffness, and even headaches, ultimately affecting how you feel when you wake up each morning.'
Before we turn to the factors that influence the type of pillow you should use, it's worth outlining the different varieties out there (and you might be surprised to learn that there's more on offer than just down and microfiber).
Feather: This traditional filling is favored for its super soft feel. Feather fill is supportive and molds to your shape so if you want a plush sleeping surface, this pillow is for you. 'However, feather-down pillows may be too thick or firm for some people and are usually not ideal for stomach sleepers due to their extra loft,' says Tom. 'They also tend to be more expensive than other types of pillows so it is important to make sure this type of pillow is right for you.'
Down: Down fibers lie beneath the protective feather covering of the bird so they offer an even softer feel than standard feather filling. 'The soft inner feathers of geese or ducks don't provide as much in the way of firm support, but the comfort and malleability as you shift positions during sleep can't be beaten,' says Byron Golub, sleep expert and Vice President of Product & Merchandising at luxury mattress and bedding company, Saatva.
Memory foam: Just as a memory foam mattress molds to the shape of your body, as does a memory foam pillow. Shaping to the unique contours of your head, these pillows are great at relieving pressure and providing excellent support for your neck, back, and shoulders. Some people however can find them too firm, ultimately leading to neck stiffness. 'Additionally, synthetic down fibers are not recommended as they tend to trap body heat,' says Tom.
Microfiber: A common down alternative, microfiber pillows are made from fine strands of synthetic materials, typically polyester or nylon. They're a popular choice of pillow due to their low cost but they aren't as durable as other natural materials so they'll need replacing every few years.
Latex: Latex pillows offer the same responsive characteristics as memory foam, but are a far more sustainable option. Although they'll shape to your contours over time, they're a lot firmer than your feather, down or down alternatives meaning they won't be for you if you prefer softer pillows. 'It's a good material for anyone with allergies, as natural latex is hypoallergenic and resistant to dust mites,' says Byron. 'Latex typically sleeps cooler than memory foam, too.'
Gel pillow: These pillows are made by infusing a layer of cooling gel into down-like material or foam fillings so they provide the contouring benefits of foam without foam's tendency to trap body heat. If you're a hot sleeper, these pillows might be a good option.
Cotton: This natural filling is an excellent thermo-regulator, helping to keep you warm in the winter and cool in the summer. 'Typically medium-firm, cotton pillows provide good support, hold their shape, and are particularly good for neck pain sufferers,' says Byron. However, since the material can trap dust mites, cotton pillows need cleaning more regularly than most.
Choosing a pillow based on your sleep position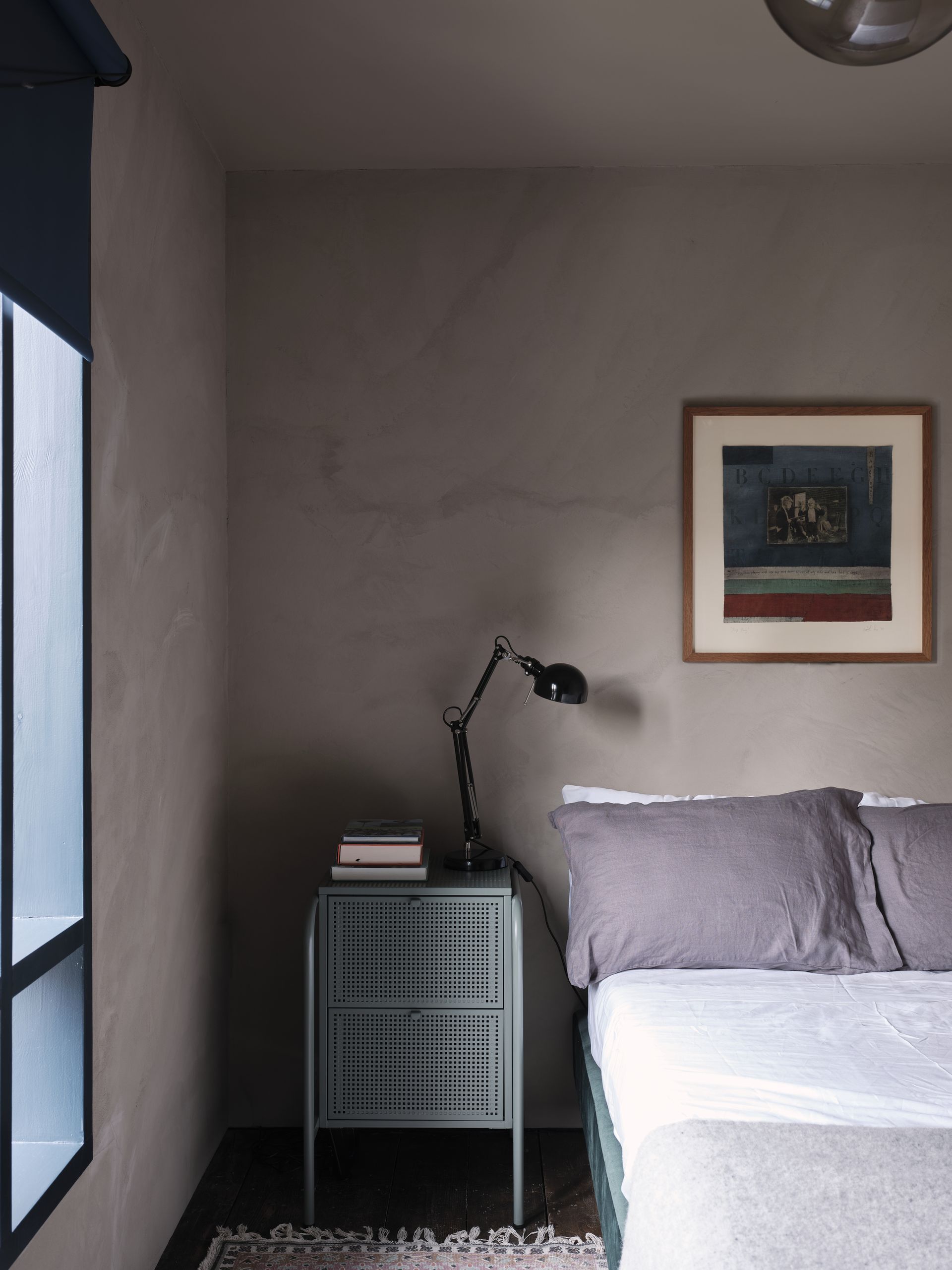 Now that you have an idea of the type of fillings on offer, let's whittle down your options some more. You'll need to choose a pillow that supports your head, neck, and spine while you sleep, so you need to spare a thought to your sleep style.
'When choosing a pillow, you should look for one that keeps your head in a neutral position, with your neck perfectly aligned with your spine,' says Byron. 'It should fill the "gap" between your neck, head, and back even when you move during sleep.' With this in mind, side sleepers, back sleepers, and stomach sleepers all have nuanced needs when it comes to finding the right pillow.
In general, side sleepers need a medium to firm pillow to prevent their head from sinking down during sleep. That said, you also don't want so pillowy that they raise your head too high, either. The goal is a Goldilocks middle ground that keeps the head in perfect alignment with the spine.
'When it comes to traditional feather-down pillows, they are usually the best choice for those who sleep on their side because they provide the most comfort,' explains Kyle Marquardt, co-owner of The Lori Wall Beds. 'They also provide a higher level of support than synthetic materials, which can be a good alternative if you're allergic to down.'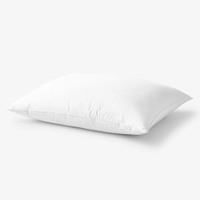 Down Pillow, The Company Store
For a luxurious sleep, a down pillow is the way to go. These super soft pillows offer serious comfort while also being supportive, lightweight and breathable. If you're a side or back sleeper, a medium-loft down pillow will help keep your spine and neck aligned for the best snooze possible.
If you sleep on your back, you face similar risks. Ideally, you should aim for a medium-loft pillow that measures between three and five inches thick. Most pillow fillings will be suitable for this, although you might find you benefit from a specialty pillow to support your neck such as a travel pillow. 'This kind of pillow will help cut down on frequent neck pain and will help improve your sleep posture,' says Byron.
Stomach sleepers, in contrast, should opt for a far flatter and firmer pillow to reduce strain on their neck and spine. A pillow with a high loft will cause neck and back pain. Memory foam, gel, and latex are good options if you spend most of the night lying on your front.
We all toss and turn in our sleep to varying degrees. If you're more of a mixed sleeper, you'll want a medium-thick but soft pillow that's suitable for multiple positions.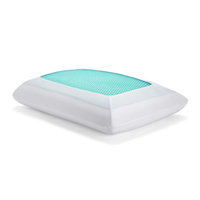 Cooling gel memory foam pillow, Walmart
If you find yourself overheating in your sleep, try this cooling gel memory foam pillow from Walmart. The layers of cooling gel foam and breathable mesh cover promise to keep you comfortable in your sleep, even in the heat of summer while the memory foam adapts to the contours of your head and neck, helping to relive pressure.
Choosing a pillow based on your mattress
Before you order yourself a brand-new pillow, you might be surprised to learn that the type of mattress you have should also factor into your decision. Essentially, you want to avoid your body sinking too much into your bedding while also providing the right level of pressure relief to achieve good alignment.
'Generally, the softer the mattress, the softer the pillow should be,' says Kyle. 'If you have a firmer mattress, then you will want a firmer pillow.' This is because you want to make sure your head and neck are cushioned at the same level as the rest of your body so that (you guessed it) you neck and spine are aligned. The best mattress will work in tandem with your pillow to offer you the right amount of support for your sleep position and body weight.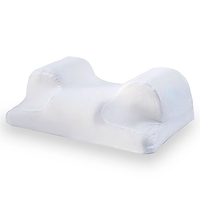 Dr Pillow Alignment Neck Pillow, Bed, Bath & Beyond
If you suffer from a stiff neck, a support pillow like this one could be for you. This latex neck pillow provides pressure-relieving supportive comfort whether you sleep on your back or side. What's more, it's naturally hypoallergenic, comes in three custom sizes, and is eco-friendly, dust-mite resistant and anti-microbial.
Do you need to sleep with a pillow at all?
Is it better to sleep without a pillow at all? Some experts think so. While side sleepers need a pillow to help align their neck and spine, back and stomach sleepers might benefit from no pillow at all as it will put less strain on the lower back. If you work at a desk during the day, you might find this particularly beneficial since we tend to bring our head and neck forward when sat down.
Ultimately though it all comes down to personal preference. If you've invested in the most advanced, expensive pillow out there but it's still not making you drift off into a comfortable sleep, then stick to your trusty down alternatives. As the saying goes, whatever helps you sleep at night.
For style leaders and design lovers.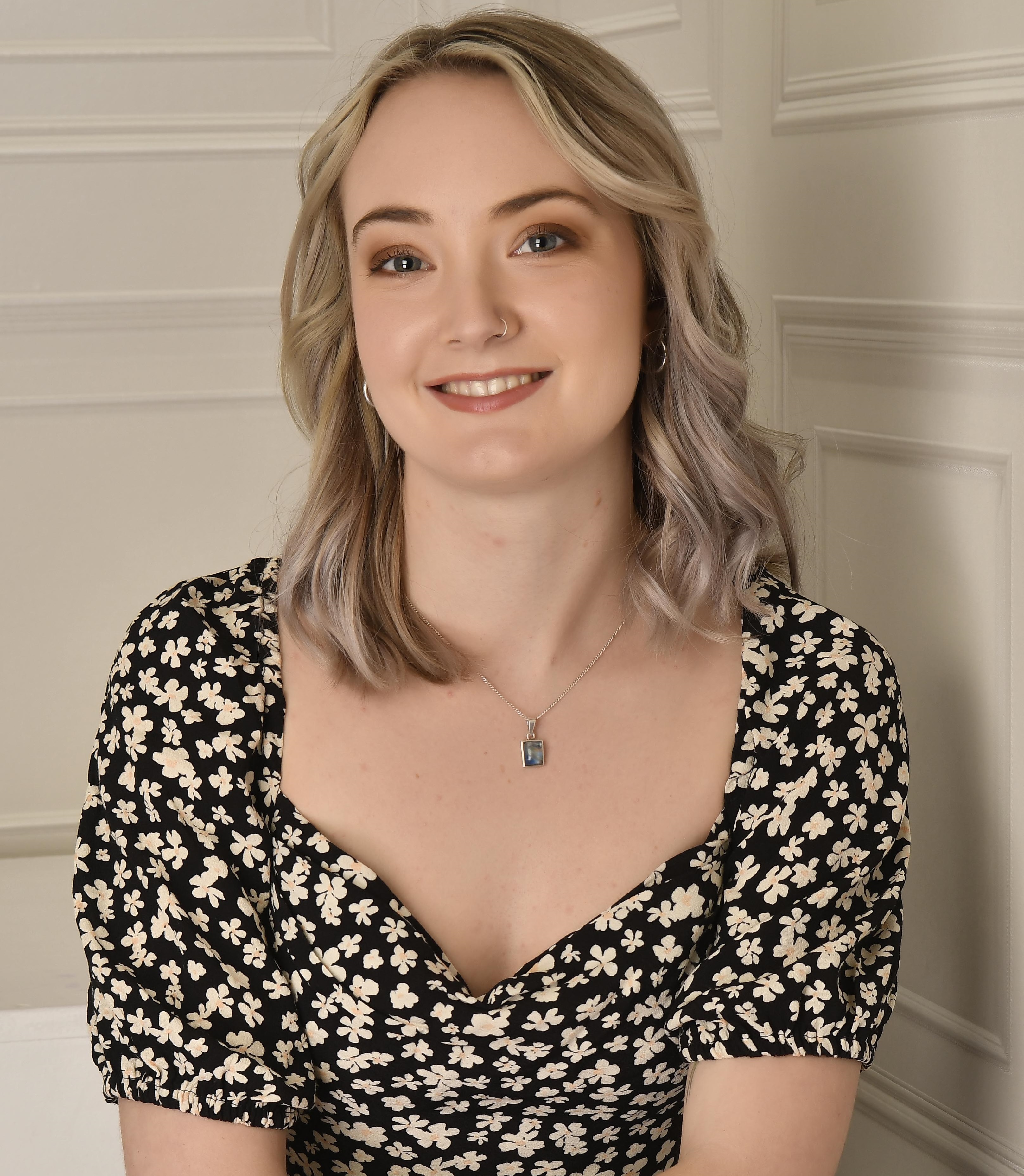 Lilith Hudson is the Staff Writer on Livingetc, and an expert at decoding trends and reporting on them as they happen. Writing news, features, and explainers for our digital platform, she's the go-to person for all the latest micro-trends, interior hacks, and color inspiration you need in your home. Lilith discovered a love for lifestyle journalism during her BA in English and Philosophy at the University of Nottingham where she spent more time writing for her student magazine than she did studying. After graduating, she decided to take things a step further and now holds an MA in Magazine Journalism from City, University of London, with previous experience at the Saturday Times Magazine, Evening Standard, DJ Mag, and The Simple Things Magazine. At weekends you'll find her renovating a tiny one-up, one-down annex next to her Dad's holiday cottage in the Derbyshire dales where she applies all the latest design ideas she's picked up through the week.