This genius rule for throw pillows is the shortcut to a better dressed couch I wish I'd known earlier
If you're questioning how many throw pillows to have on your couch, this interior designers trick might be just the solution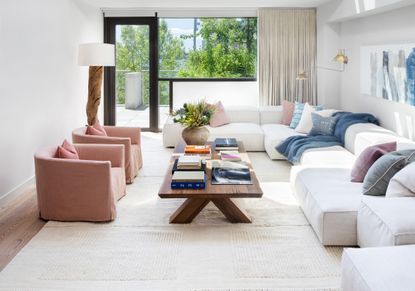 (Image credit: Federica Carlet. Studio credit House of Hudson Interiors)
The Livingetc Newsletter
For style leaders and design lovers.
Thank you for signing up to LivingEtc. You will receive a verification email shortly.
There was a problem. Please refresh the page and try again.
Filling the sofa with throw pillows has always been somewhat of an intuitive exercise. From their shape and size to color and texture - and that's before you've decided on how many pillows is too many. Knowing the right number of throw pillows can help transform your seating from a simple one to an elevated space.
Pillows not only add comfort and style but also make the sofas look and feel more inviting, but the right number of pillows is a fine line from cozy to cluttered. We asked interior designers for their expertise on how many throw pillows is enough for a sofa in a living room, and discovered a stylist's best kept secret to making a couch look perfect.
How many throw pillows should you have on a couch?
The answer is that there is no specific number to this question. For a cozy living room, one of the important elements that add softness to the space is throw pillows but their quantity is defined by the size of the sofa and the style of the home.
'When trying to determine a pillow count, I start with what the need is,' says Jennifer J Morris, founder of JMorris Design. 'Is the sofa deep and the pillows give extra back support? And how many sitters can be accommodated on this couch, and do the pillows take up too much seating area? Consider your sofa depth when pillow planning because if the seat depth is shallow, lots of extra pillows will be annoying to shuffle around or remove.'
Finding the right balance between aesthetics and comfort is key. 'Many people tend to overcrowd their sofas with pillows, resulting in discomfort during seating,' says Kashi Shikunova, director of Yam Studios. 'My approach is to prioritize comfort and ensure that the number of pillows enhances it, rather than detracting from it. I believe that placing pillow pairs on the ends of the sofa is a great starting point, and you can add more in the center from there to build the look. The number also will depend on the size and shape of the sofa. Corners are always great places to start and build from there.'
One thing to keep in mind is, that the pillows shouldn't be so many that you would have to move them out of the way to sit comfortably. The amount should be proportionate to the sofa. On a standard sofa, not more than three should do the trick.
What is the 2-2-1 throw pillow rule?
A big couch pillow trend is the 2-2-1 way of arrangement that instantly looks good and decorated, and gives the room an elegant feel.
'This is a rule for a pleasing pillow arrangement on the sofa that involves using a total of five pillows,' says Kashi. 'You'll need to place two pairs of pillows on each end of the sofa, and then add one feature pillow in the center. For the overlapping pair at the ends, choose two different sizes, with the larger pillow placed at the back. This will create a visually appealing arrangement that balances out the space and provides enough cushioning for comfortable seating. It's a simple rule that helps achieve a beautifully arranged and comfortable sofa with just a few pillows.'
'In this process, you can fill up each sofa corner with one tall and two smaller pillows, and leave one unique – typically a long lumbar shape pillow – in the middle of the sofa,' says Jennifer. 'I think like any design rule, this can be helpful but not something to take too seriously.'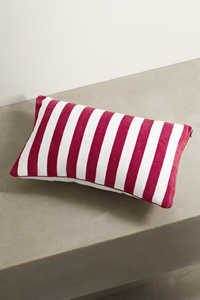 How many throw pillows should be on a two-seater and a three-seater sofa?
For an elegant living room that looks well thought out, you need to ensure you use the right number of pillows for all your seating arrangements.
'Given that a loveseat is a smaller seating area, using one lumbar pillow in the center is recommended,' says Jerad Gardemal, principal and founder of JF Gardemal Designs. 'Choose a lumbar pillow that has interesting trim or pattern if you are dressing a neutral loveseat. If you need more than one pillow and the lumbar style does not suit you, using one small to the medium square pillow on either side of the loveseat would be a great option.'
'An elongated sectional is the perfect couch style for a plethora of pillows,' says Jerad. 'Modular sofas offer flexibility and comfort for those who entertain and require functionality. This style offers countless configurations and is conducive to lots of pillows, but modular styles tend to have lower backs. 16 or 18-inch square pillows work best with the lower-back modular couch. If you have a modular sectional don't be afraid to mix square pillows with a few numbers for an interesting presentation.'
'Layer a larger solid pillow in the back with a smaller textured or patterned pillow in the front,' says Sarah Rosenhaus, owner, and principal designer of Sarah Rosenhaus Interior Design. 'For larger seating options, we believe the more throw pillows, the better. Cluster the pillows in groupings of 2-4 in the corners to break up the sectional.
'When selecting pillow shapes, consider the shape of the couch it'll garnish,' says Sarah. 'For example, square pillows are a great addition to the angular arm of the tuxedo sofa. Look for down-fill pillows in various sizes that can be layered on top of one another. For a fresher option, layer two ball pillows in different sizes on the tuxedo sofa in one corner. It makes a sculptural statement that accents the clean lines of the sofa. Meanwhile, we love to keep things simple on a chaise and opt for one simple square pillow. If you must add another, a smaller rectangular lumbar layer nicely and doesn't overwhelm you. If the chaise has an interesting shape, it's OK to forgo a pillow altogether.'
How do you mix and match throw pillows on a couch?
If you're wondering how to arrange to throw pillows on a couch, then mixing and matching could be a great way to do so. If you have a neutral couch, adding different tones would be easy and would give the room a refreshing touch.
Do keep in mind to not choose more than three tones, as the room can feel a little overdone if it has too many shades in it. For colored sofas, you could choose the same tone pillows or a shade that is close to the color of the sofa.
'Select a variety of pillows in different sizes for each of the three corner areas of the living room while keeping the color palette consistent,' says Sarah. 'We also love using two shades of the same color in a simple solid or texture to create a calm feeling that has some interest.'
'We like anchoring each corner with pillows that are the same size and in the same fabric,' says Sarah. 'Then you can mix and match with different sizes and fabrics to create a more eclectic look. One of our favorite approaches is to use pillows in the same color with different textures, patterns, and solids. It creates uniformity without being boring.'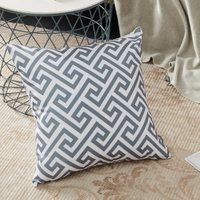 Want to add pattern and texture to your sofa? Choose these geometric pillows and mix and match them with other pop-colored pillows.
For style leaders and design lovers.
Aditi Sharma Maheshwari is an architecture and design journalist with over 10 years of experience. She's worked at some of the leading media houses in India such as Elle Decor, Houzz and Architectural Digest (Condé Nast). Till recently, she was a freelance writer for publications such as Architectural Digest US, House Beautiful, Stir World, Beautiful Homes India among others. In her spare time, she volunteers at animal shelters and other rescue organizations.