How do you clean a pool?
Find out how you can protect your pool from dirt and debris.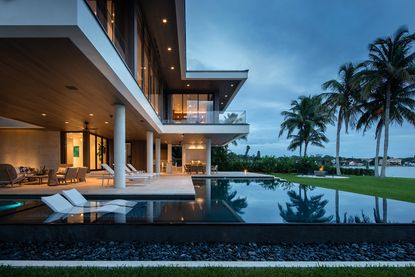 (Image credit: Ryan Gamma)
The Livingetc Newsletter
For style leaders and design lovers.
Thank you for signing up to LivingEtc. You will receive a verification email shortly.
There was a problem. Please refresh the page and try again.
Installing a pool in your backyard is a great investment, providing endless opportunities to entertain and relax. But when was the last time you cleaned it?
If you don't clean your pool on a regular basis then it may become too dirty to even swim in. It's also important to keep an eye on the chemical and pH levels to ensure everything runs smoothly.
If you've put our pool ideas into practice then here are some tips on how to keep your pool looking great in between service visits.
Skim the surface
Use a skimmer net attached to a telescopic pole to collect leaves, pollen and other debris that has accumulated on the water's surface and below.
There are two choices of skimmers to choose from: a flat skimmer or a bag skimmer. While a bag skimmer is bigger and can collect more debris, it is harder to clean than a flat skimmer which you can easily shake.
Try to skim the pool every day to keep it looking clean.
Brush the walls and sides
Attach a pool brush to your telescopic pole to scrub your pool's walls and sides. It's important that you do this to prevent algae and calcium deposits from building.
The type of brush you use depends on the surface of your pool.
For gunite surfaces it's best to use a brush with stainless steel bristles. For an unpainted concrete surface it is best to use a combination of stainless steel and nylon bristles. Vinyl, painted concrete or fibreglass surfaces require a brush with nylon bristles only.
Test the chemical and pH levels
Regularly testing the chemical and pH levels of your pool is important as the alkalinity of your pool impacts the effectiveness of the chlorine and the overall functioning of the pool.
The good news is that testing the pH levels is relatively simple to do using testing kits that will determine the alkalinity of the water, as well as its pH, cyanuric acid, hardness and chlorine levels. You can purchase these tests at any pool shop.
The pH of your pool should be somewhere between 7.2 and 7.8. The higher your pH, the less active the chlorine will be.
Clean the filter
Keeping your pool filter free of debris helps to keep your pool clean and extend the lifespan of your filter.
Make sure to check your skimmer baskets and pump strainers. If you have sand filters you can clean them in just a few minutes by reversing the flow of the water through the sand. For cartridge filters you should remove the filter and soak the element in acidic degreasing agents.
Watch the water levels
It's important to keep an eye on the water level of your pool which should be at the midpoint of your pool skimmer.
Leaks, splashes and evaporation can lower the level of the water, but if it gets too low to reach the filters then algae can build. A low water level can also cause the skimmer to suck air into the system which runs the risk of burning up the pump.
If the level is too high, however, dirt and debris will float on top of the water and not be pulled into the skimmer.
Cover the pool
When you're not using your pool it's important to keep it covered. This will protect your pool from sunlight which causes algae growth and will also prevent debris and dust from gathering.
For style leaders and design lovers.
Nicky Morris is a freelance journalist specialising in interiors and design. Covering everything from staircase lighting ideas to Ikea hacks to outdoor kitchens to tips for hiding radiators, she writes for Livingetc and Homes & Gardens and has previously written for Tempus Magazine. She also covers TV writing, and has written for Hello! magazine.