How do I make my grey couch look more cozy? Design experts on the 6 small tricks that make a big difference
From layering with cushions, textured fabrics to choosing a dark color scheme, there are various ways to warm up a cold grey sofa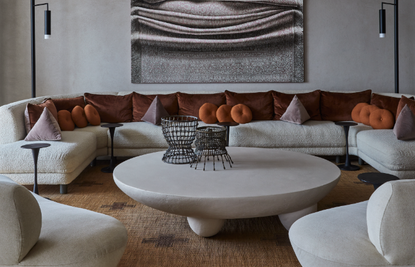 (Image credit: Ashish Sahi. Studio credit Ashiesh Shah)
Sometimes muted, restrained tones can feel a little dull or cold. Take grey for instance. While this color has been a timeless staple in interiors for a while, seen painted on walls and across tiles, a light or mid-tone grey couch can feel a little stark. Some would even go on to say that a grey sofa is boring or unoriginal. But that doesn't need to be the case.
A grey sofa has great decorating and styling potential, and by using several design elements – like pillows, throws, rugs, and more, this piece can be made into the coziest spot in the home. If you're drawing a blank on how to make your living room couch feel snug and welcoming, these expert tips are going to come in handy.
Take a look and find out about the infinite number of decor combinations possible with a grey couch.
How do I make my grey couch look more cozy?
A grey couch is a versatile piece and perhaps the best anchoring point for your living room color ideas. This couch can be placed in any design style as it pairs well with all kinds of color schemes. A grey couch is timeless and much easier to maintain than a pure white or cream couch. And as for it seeming a tad bit cold and stark? It's all about layering it right.
'I can understand how a grey couch might feel a little cold, given its color, but if you want to cozy it up, you need to influence the room's setting, the style of the couch, and the material of the upholstery,' says Molly McGinness, founder of Molly McGinness Interior Design.
Find out some key ways to make the couch feel more inviting without having to replace it.
1. Add throws
Throws, blankets, and long lengths of fabrics strewn across living room furniture pieces can add wonderful layering and a feeling of coziness.
'Consider adding some blankets and throws made from cashmere; this is a great way to layer the sofa,' says Kashi Shikunova, director at Yam Studios. 'The throws will create a homely feel while also adding a soft texture for extra cushy comfort.'
'A little texture via a throw can go a long way in making a grey couch feel cozy – a flat, tight weave will fall flat and heavy to the eye, while texture (from a woven linen blend to a thicker boucle) will add some depth, dimension, and warmth,' says Allison Lind, founder of Allison Lind Interiors.
'Focus on warmer grey tones and throw fabrics with a texture or sheen that will catch the light and add life,' says Reena Sotropa, founder of Reena Sotropa In House Design. 'The juxtaposition of texture – be it a soft sophisticated cashmere or a chunky oversized cable knit – can add interest and cozy charm to even the sleekest and severe Italian modern pieces.'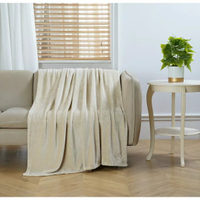 Cozy up the grey sofa with this sumptuous, velvety plush throw blanket for a forever inviting and soft feel.
2. Bring in plenty of pillows
Nothing brightens up a space as instantly as pillows. No matter the style of the room, be it a boho living room or a modern rustic living room, experiment with the magic of multiple pillows to lift the scheme, and add comfort to a grey couch.
This is also a great way to add color in a non-permanent manner.
'Down-filled cushions instead of foam will create a softer more casual feeling,' says Reena. 'Create a warm, cozy vibe while maintaining a neutral palette by adding an assortment of coordinating grey accent cushions in varying sizes and textures. For a more colorful approach, add a collection of jewel-toned accent pillows in rich sumptuous fabrics like silk and velvet.'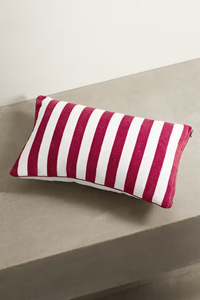 Loro Piana pillow, Net-A-Porter
Want to add a slice of color to your plain grey sofa? Consider this pillow with a striped cotton-terry fabric, and embroidery on its reverse side.
3. Reupholster in a textural fabric
Plush, soft, and silky materials are a hallmark of cozy living rooms. And if you want to ensure that your space looks and feels forever welcoming, invest some time and a little budget in reupholstering pieces. While this may come at a cost, you can be sure that it will have a long-lasting positive effect on the space.
'Want to make your grey couch cozier?' says Bea Pernia, founder of Bea Interiors Design. 'Consider reupholstering it. The combination of the looped texture and natural fibers used in boucle fabric creates a soft, plush, and cozy feeling, super comfortable against the skin and providing warmth in cooler temperatures.'
'When it comes to selecting fabrics for upholstery, it's important to keep in mind the desired texture and feel,' says Kashi. 'Boucle fabrics are a fantastic option for achieving a soft, cushy sensation, as they offer a lovely texture and a plush feel. Other than that, to ensure maximum comfort, it's advisable to opt for a mix of wool and cotton sofa upholstery. While high wool content can sometimes feel slightly scratchy, a blend of these two materials can provide a soft and cozy experience. After all, there's nothing quite like sinking into a luxuriously comfortable seat after a long day.
4. Warm up the area around the couch with a rug
A living room rug offers several benefits. It not only induces color to the room, along with ensuring the walk around the room is always comfortable but also adds a wonderful slice of layering. Area rugs are a great way to add some needed texture or pattern to your space and warm up the environs. If you have a light grey sofa (one that perhaps leans more towards an off-white or cream), and you aren't sure how to make it feel cozier, consider influencing the textures around the piece.
A soft, plush, woolen, or shaggy rug will make the entire scheme feel snug. Consider a color that incorporates hues found elsewhere in your design scheme for a coordinated look. Or better, perhaps choose a warmer grey tone so that the rug and the sofa, in a sense blend in well together.
5. Change the details
If the existing couch just isn't working for you, or its style and look seems too plain, consider tufting it for an elegant living room look.
'When selecting details for a custom grey couch choose materials, frame, and upholstery details that soften the lines and add charm,' says Reena. 'A rolled arm, camel back, or curved shape will contribute to a cozier vibe as will the choice to forgo precise piped edges in favor of a French seam. Details such as button and tufting, and upholstery tacks can transport any sofa to the next level of luxury.'
A colored button will help to make the couch seem more cozy than a grey one - it just has a more nurturing vibe.
6. Choose a deep toned color scheme for the living room
A grey living room has inherent appealing, warm, and embracing quality, especially if the color has been used across the room in varying tones. The layering of colors mixed with textures can create both a cocooning and timeless feel.
If you have a light or dark grey sofa and are wondering how to make the piece feel inviting, consider changing the ethos of the whole room. A dark-toned room, with moody paints and fabrics, will give the space depth and a feeling of comfort, along with a tinge of luxury. You can consider adding a few pop hues to refrain the room from feeling too caved in.
The Livingetc newsletter is your shortcut to the now and the next in home design. Subscribe today to receive a stunning free 200-page book of the best homes from around the world.
Aditi Sharma Maheshwari is an architecture and design journalist with over 10 years of experience. She's worked at some of the leading media houses in India such as Elle Decor, Houzz and Architectural Digest (Condé Nast). Till recently, she was a freelance writer for publications such as Architectural Digest US, House Beautiful, Stir World, Beautiful Homes India among others. In her spare time, she volunteers at animal shelters and other rescue organizations.