It's not too late to make these 5 easy decluttering resolutions that will improve your home life
We asked the experts what their (easiest) decluttering resolutions are so we can all have more organized homes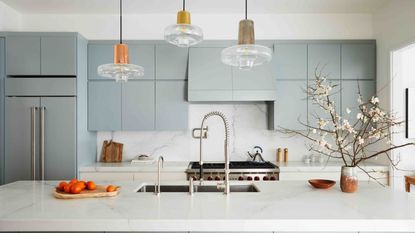 (Image credit: Nicole Franzen. Design: Annie Leslau)
Ah, but there's still time to start a resolution. Now that the mayhem of the holidays is out the way, and things are - hopefully - a bit calmer there's an opportunity to focus on what can improve your home life. The goals you make for the year that really stick are the ones that you can really make part of your everyday lifestyle.
Year after year, something on many of our resolutions lists is to get more organized and start decluttering our homes. Lead a more zen-inducing, clutter-free life right? So in order to give us all the best start, we've asked the organizing and decluttering experts for the simplest resolutions to make now in order for you to ensure your home (and life) stays as tidy and organized as possible for 2023.
5 easy decluttering resolutions for 2023
'Don't jump in with both feet,' suggests Simon Glanville of A Place for Everything. 'We all want to see results immediately but getting organized and keeping your space clutter-free is a continuous process rather than a one-time quick fix. Starting small and in bite-sized chunks is key to maintaining those New Year's resolutions if you want to keep them.'
'Before you start, take a few minutes to analyze what's working in your space, what items and processes are essential for your daily routine, why you want to get organized, and just what's causing the problems,' he adds.
'Form a strategy and set some realistic time goals. For example, I want to tidy and declutter the wardrobes but I work full-time and haven't got much free time. Think about taking a few evenings over the coming 2-3 weeks to achieve this goal, rather than trying to tackle it over one entire weekend.'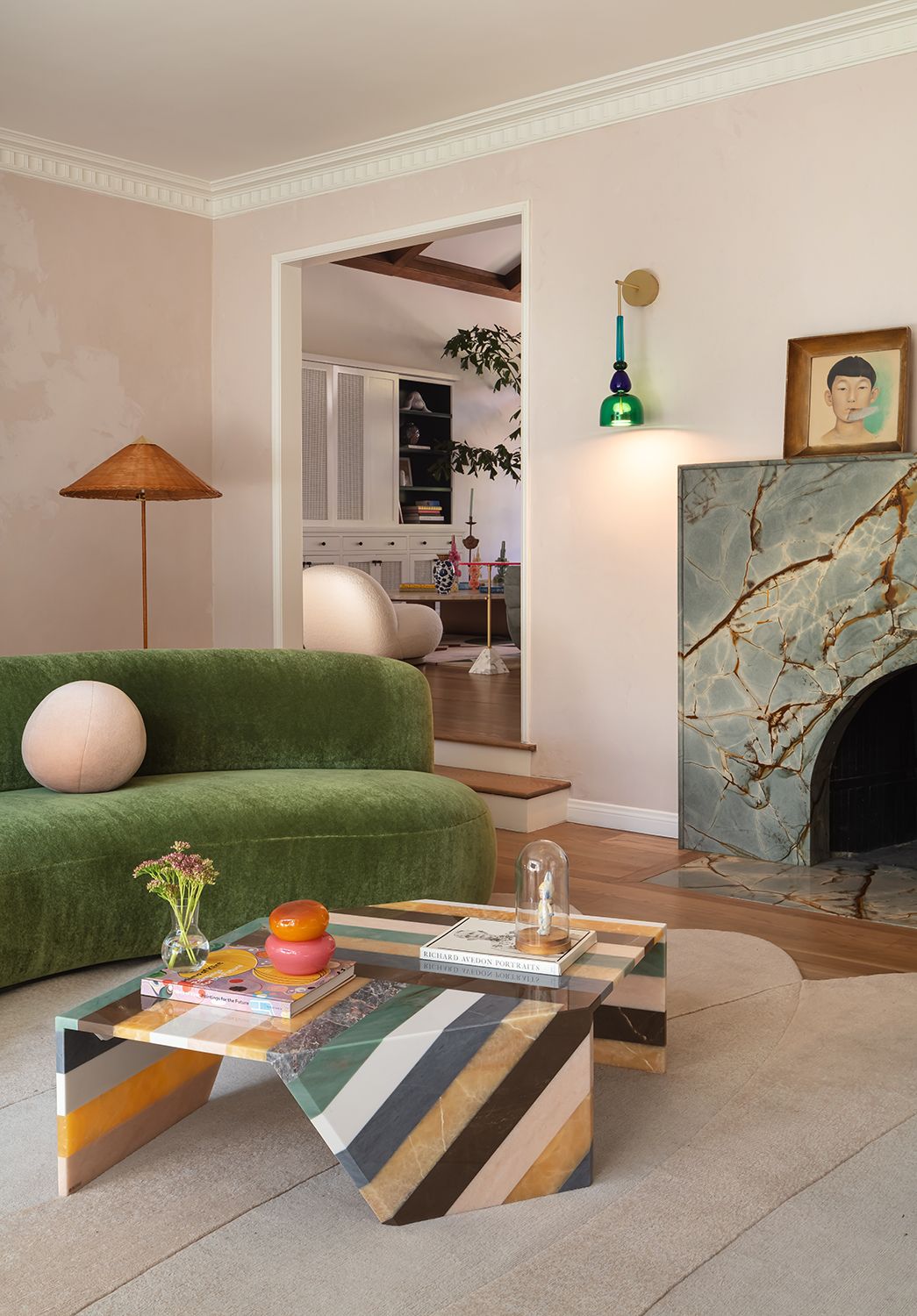 1. Vow to always close 'the loop'
That sounds a bit ominous, doesn't it? But essentially what we mean is always finish the jobs you start, and we mean properly finish – beginning to end.
'To be more organized, I recommend closing the loop on chores,' says Diane Quintana, founder of Release Repurpose Reorganize. 'All chores have a beginning, middle, and an end. Remember laundry isn't officially done until it is folded and put away. Dishes are not done if they are still sitting in the sink. Try not to put things down to attend to them later. Later is not a time. When you tell yourself you'll do something 'later' you are really saying you don't want to do it. If you can't do it now, assign a time or time frame to the task. Like after lunch or before you leave the house.'
2. Set a small amount of time each day for a quick declutter
This might sound like a big ask, but it could be as little as five minutes a day, or while the coffee machine kicks in in the morning, or the kettle boils for your evening tea. Set a timer for whatever amount of free time you have and have a quick room declutter.
We'd recommend focusing on places you see and use every day – surfaces and floors. Before you start the day, or at the end, or whenever fits in naturally with your routine, do a quick declutter of kitchen countertops, your hallway console, your bedside table, and clear the floors too. These are the kinds of tasks that can take minutes (especially if you stay on top of it) but really make a difference.
'Most of us have a spare 20 minutes each day, where we can declutter and sort through our homes,' says Sharon McNulty, founder of Joyful Spaces. 'My advice is to put this into your diary, put on good music, set the timer and start in one area at a time. It is amazing how good this will feel and how much you can achieve. Good luck with it!'
'I love a good routine for tidying up as I go along. A quick clear up in the kitchen before I go to bed means I come down to a lovely clear space first thing in the morning. Even something as simple as clearing a surface whilst I boil the kettle, or tidying up the cutlery drawer whilst the pasta is on. Quick simple things that keep the space clear,' adds Sue Spencer, founder of A Life More Organised.
3. Always assess what's coming into your home
The best decluttering resolutions are not necessarily ones that you have to do, the ones that stick are often about changing your mindset. Changing the way you think about your home and the stuff within. The easiest way to have a clutter-free home is simply to have less in it – so become more conscious of everything that comes into your home. And we aren't just talking about things you buy.
'Protect your home space and your headspace,' says Kate Ibbotson, founder of A Tidy Mind. 'I often say to clients 'you can't empty the bath whilst the taps are still running'. This simply means, be mindful of what is coming into your home. This might mean small things like: saying no to a hanger in a shop, exercising a 'purchase pause' before you buy something, not picking up hotel toiletry freebies or bringing your own shopping bags to the supermarket.'
4. Start a basket for displaced items
Something we are guilty of is allowing items to live in rooms they do not belong, cluttering up that space with items that don't have a permanent purpose there. The living room is the worst for this. It can so quickly become filled with bags, shoes, laptops, chargers, cups, etc. So help yourself out when organizing a living room (or any room) and take on Sue's tip:
'Start an 'other room basket'. If you find anything in the room that's not meant to be there pop it in the basket during the day and return it to the place it's meant to live at the end of the day. And if it doesn't have a home maybe it's planning a few days to create homes for everything.'
5. Buy less stuff
Simple. Less stuff less clutter to begin with.
'If one of your resolutions is to have a clutter-free house then the simplest thing is to stop buying what's not needed and always ask yourself whether what you are about to buy can be swapped with an experience like a coffee with a friend, a trip to the cinema or a meal with your loved ones,' explains Marcella Caricasole, founder of Think Tidy. 'Remember that having less stuff means less chaos, a more organized house and more control. And Doing rather than owning can bring as much joy if not more.'
6. Have a one in one (or two out) policy
We often apply this when decluttering clothes but it can apply to anything – cups, candles, shoes, books etc. If something comes into your home, something has to leave. And you are in real need of a cull, make it two things. This approach makes you more mindful when buying new things too – before you buy, think do you have something in the same realm you are willing to get rid of?
'If you must go sale shopping, then donate something you no longer use to make space for it. Better still, donate 2 items to reduce the clutter even more. Do this every time you buy something new, especially with clothes,' says Amanda Biggs APDO's Membership Director and Founder of Professionally Organised.
And the key to this way of decluttering is to get the things you are getting rid of out of the house ASAP. You don't want to be able to dip back into the donation box or bin bag and add more clutter to your home. 'Always sort your exit plan out before you start to declutter,' recommends Sue Spencer. 'Work out where your discarded items are going to go (which charity, sales site, trade-in company, recycling site) so you can get them out of your house asap and enjoy the space you've created.'
'Keep your flow going with an 'unsure' pile – pop things on this as you make decisions about whether discard or not. Once you've been able to make the easy decisions go back to the unsure pile and you'll find it easier to make the final choices.'
How to stick to your decluttering resolutions
'New Year's resolutions are often good intentions that are quickly forgotten. In order to make your intentions become reality I suggest writing them down on the inside cover of your journal or your computer desktop or the bathroom mirror so that you are reminded every day of what you are set to do in 2023,' suggests Marcella. 'Resolutions must be simple, attainable, and not too challenging. They also need to be communicated to people in order to make you accountable.'
'And ask for help if you need it,' suggests Kate Ibbotson, 'Decluttering can be hard work. We often ask for help with other things such as cleaning or gardening so decluttering is no different. Professional Organisers exist to help people make decisions, get into awkward spaces, donate unwanted items and coach you into instilling new habits. Or you can get a friend or family member to help but ensure they are not emotionally invested in your belongings.'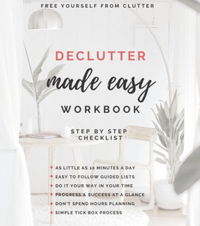 Declutter Made Easy Workbook by Katherine Hay, Amazon
This brilliant wookbook by Katherine Hay will guide you through all the steps it takes to declutter your house. Tackling jobs big and small the author manages to make these tasks feel doable and like they'll stick.
Hebe is the Digital Editor of Livingetc; she has a background in lifestyle and interior journalism and a passion for renovating small spaces. You'll usually find her attempting DIY, whether it's spray painting her whole kitchen, don't try that at home, or ever changing the wallpaper in her hallway. Livingetc has been such a huge inspiration and has influenced Hebe's style since she moved into her first rental and finally had a small amount of control over the decor and now loves being able to help others make decisions when decorating their own homes. Last year she moved from renting to owning her first teeny tiny Edwardian flat in London with her whippet Willow (who yes she chose to match her interiors...) and is already on the lookout for her next project.