Do curtains belong in the kitchen? These experts have completely changed my perspective
Curtains are often overlooked for kitchens because of concerns over their durability but, as these experts showcase, there are ways to make drapes work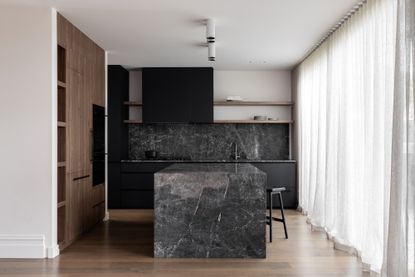 (Image credit: Timothy Kaye. Studio credit Manna Made and RD Architecture)
The Livingetc Newsletter
For style leaders and design lovers.
Thank you for signing up to LivingEtc. You will receive a verification email shortly.
There was a problem. Please refresh the page and try again.
The topic of kitchen curtains usually divides the room. While many feel that their use and need in this high-traffic, hardworking space is going to leave your window treatments looking worse for wear, others see the benefit of carefully considered curtains in a kitchen.
The question is: do curtains really belong in the kitchen? We spoke to several top designers who weighed in on this topic and provided some great insights into their right type, material, and installation. Take a look at these modern kitchen ideas enhanced with curtains to find out whether or not they serve your needs.
Aditi is an experienced homes writer and editor. She has written hundreds of articles for various international titles helping readers make the best home design choices, and spends her days interviewing interiors industry experts to bring the latest ideas to her readers. For this piece she spoke to the world's best designers to find out whether or not a kitchen needs curtains.
Do curtains belong in the kitchen?
Objectively, kitchen window treatments are optional, as this space is subjected to a lot of fumes, stains, and smells, that could potentially harm any textiles. However, that's not to say that their presence is completely irrelevant. These soft, subtle additions can contribute to a big extent. Curtains are excellent for filtering light, allowing privacy without nullifying natural light. These are also easy to clean – simply take them down, toss them in the washing machine and you have a freshly laundered window dressing.
Not to forget, curtains are a traditional form of window covering that can add a dramatic flair to the room, especially if you're going ahead with a floor-length design that gently sweeps the ground. From sheer to linen and more, these add a nice, decorative touch to the interior, and also a punch of color when there's none available in the room.
'I love to treat every room like an inviting, cozy space,' says Constanze Ladner, founder of Constanze Ladner Interior. 'That's why I love adding curtains to unusual places like a kitchen or a bathroom. Kitchens can often seem a bit technical, with all the kitchen appliances lacking warmth. Curtains add a comforting and inviting texture and look to a kitchen.'
What to consider before adding drapes?
The first thing to consider is the size of the room and the location of your windows. If you have an extremely small kitchen layout and your main aim is to open it up to light and views, perhaps no curtains or blinds are the best way to go – unless you don't mind installing a curtain that can be pulled away when need be.
It's best to install curtains that are on a window far away from the stove and sink, so they are protected from all food and water stains. Perhaps a curtain by the kitchen banquette or one at the opposite end of the room would work. They will still add decorative value to the overall room yet stay out of harm's way.
'Largely, drapes in the kitchen provide a lot of opportunity to add color and pattern, that may be missing in countertop materials or appliances,' says Jane Lockhart, founder of Jane Lockhart Design. 'For safety and ease of operation, it's important to manage window coverings so they don't get stained with food splashes or burned when placed too close to gas tops or hot surfaces. Consider a valance or kitchen blind instead that stays contained within the window area.'
'For the most practical application, we often do a combination of drapery across larger windows or doors and roman blinds or valances at the sink or cooking area. Curtains will help manage light – especially at sunset when bright light can stream in right at dinner time, making it difficult to see and talk.'
What's the right curtain material for kitchens?
'Large windows and sliding glass doors oftentimes require curtains whereas small windows lend themselves better to roman blinds or roller shades,' says Julia Mack, founder of Julia Mack Design. 'Either way, it is very important to select the correct material; one that will repel food stains, mildew, and mold. Consider a beige or gray vinyl for roller blinds and a textural Sunbrella fabric for curtains. Both options are manufactured to insure long-term durability and good looks offering soft texture to any kitchen windows.'
Other than vinyl, consider synthetic fibers such as polyester as it is washable and cheaper than others. If you're hanging this by a large window or door, opt for UV-resistant and fire-retardant polyester curtains. Also, available in a unique line weave design and textured appeal, faux linen curtains are great if you want a lightweight drape to hang above the kitchen sink. These are super easy to take down, clean, and put back up.
What are trending kitchen curtain designs?
Remodeling a kitchen and looking for interesting decor touches? Consider beautiful curtain designs that will inject a dose of whimsy and fun into the room. For a quaint look, consider French cafe curtains in tight pleats or fun prints. Long, cascading ones that touch the floor, with ribbon ties look smart as well.
'In this home, the kitchen was a very clean and open design, leaving room for personality-filled window treatments,' says Kelly Hohla, founder of Kelly Hohla Interiors. 'This particular client loved classic patterns such as checks, plaid, hounds tooth, etc, so we used this beautiful all-wool plaid fabric by Holland and Sherry, which has a nice print, and drapes beautifully to add some personality and warmth to the kitchen.'
Curtains in reversible designs are gaining popularity as these are practical, and when you wish to switch things up, you can turn them inside out and enjoy a new look without having to spend a cent. Too afraid to hang a long curtain? Even valances can be helpful, as they hang close to the top of the window, and give the slightest look of a curtain without much paraphernalia.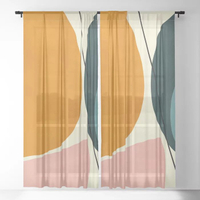 Want to add a punch of color to your plain kitchen? Consider this geometric pattern drape in a sheer material and give your kitchen a big personality.
Other advantages of drapes
'Curtains can be used as partitions, and are extremely useful in small spaces,' say Alexander Ivasiv and Yuliya Tkachenko, founder of ater.architects. 'They save space, are easy to install, and can be changed if you get bored. Thanks to curtains, you can easily achieve more expressiveness in the interior. You can change the mood of the space depending on the color, texture, and fabric density. Also, because of their ease of installation and mobility, curtains are good to use in places where zoning can frequently change, like an open plan kitchen and dining.'
'In this project, for instance, the clients wanted to separate the kitchen and dining area from the living space with a partition,' say Alexander and Yuliya. 'We convinced them to give up that idea in favor of curtains. Thanks to this solution, the space became more spacious and retained its connection with the rest of the apartment. This is very relevant for housing with a small area.'
'We used a dense electric blue fabric for these curtains to add vibrant accents to the space and keep them structured,' say Alexander and Yuliya. 'We convinced them to give up that idea in favor of curtains. After all, our clients almost always keep these curtains open to enjoy the view of their apartment. So in this project, the curtains act more as a decorative element than a functional one.'
For style leaders and design lovers.
Aditi Sharma Maheshwari is an architecture and design journalist with over 10 years of experience. She's worked at some of the leading media houses in India such as Elle Decor, Houzz and Architectural Digest (Condé Nast). Till recently, she was a freelance writer for publications such as Architectural Digest US, House Beautiful, Stir World, Beautiful Homes India among others. In her spare time, she volunteers at animal shelters and other rescue organizations.