Can you fit an island into a galley kitchen? Designer tips on getting what you want out of this awkward layout
Where there's a will there's a way to fit an island into a galley kitchen - if you stick to the rules and follow this interior insider advice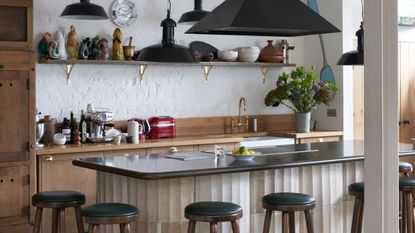 (Image credit: James Merrell)
The Livingetc Newsletter
For style leaders and design lovers.
Thank you for signing up to LivingEtc. You will receive a verification email shortly.
There was a problem. Please refresh the page and try again.
While a kitchen island used to be considered a luxury in a kitchen, they are now considered pretty much the norm. We so rarely see a kitchen design that doesn't include one, except however when it comes to galley kitchens. This traditional, tried and tested layout just doesn't seem to lend itself all that well to having a floating block of cabinetry in the middle. But is it possible to actually fit an island in a galley kitchen and what's the best way to do so?
Ever the optimists, we say sure, make it work, add a kitchen island. And if you are a galley kitchen owner, there's going to be both good and bad news here. Let's start with the good news – it is possible to fit an island into a galley kitchen layout, but the bad news is it's not possible to fit an island into all galley kitchen layouts. In order to be functional. an island needs a certain amount of space around it by their very nature. Galley kitchens are often narrow so whether you can fit one in your space depends on just how narrow.
'Both galley kitchens and kitchen islands come in many sizes, so I would never say never about fitting an island into a galley kitchen,' says designer Kathy Kuo. 'I would start with measuring your floor space and the space between counters, then use painter's tape to map out where you'd place the island; spend a couple of days navigating around the taped-off area and see how it feels. A cart-style island with wheels, so that it can be moved in and out of the kitchen as needed, is also a great option for a smaller space.'
Rhiannon Phenis, Head of Design at Sola Kitchens, has an equally positive outlook and says 'an island galley with a breakfast bar is a great idea especially if you like to be sociable, as you can cook and entertain at the same time. Slimline islands suit galley kitchens perfectly and it's an excellent way to add extra storage. And depending on the layout of your kitchen, you can turn one side of the island into a dining table or breakfast bar.'
Can you fit an island in a galley kitchen?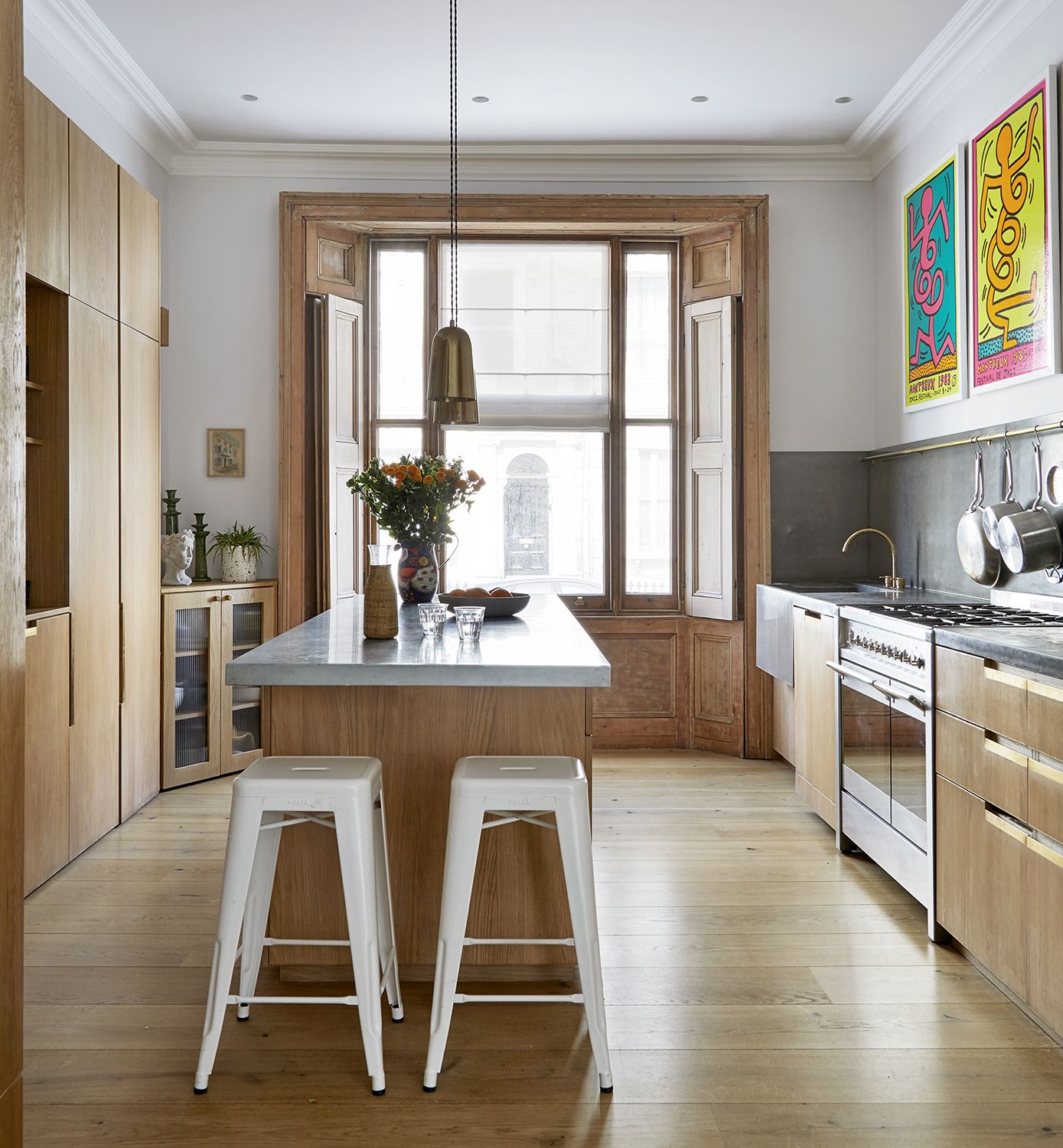 So the answer to can you fit an island in a galley kitchen seems to be – if you have the space. But, what constitutes 'the space' how much space do you need to add a kitchen island exactly?
'Most galley kitchens have anywhere between 4' to 5' of space between parallel cabinets. And when planning for an island, a clearance of 4' or more should be considered between the perimeter wall and island, specifically the cooking zone area. In some cases, when working with a smaller space, 3.5' - 4' of clearance can work; however, the appliance locations need to be studied carefully to avoid congestion in the cooking zone. Most importantly, the cook in the kitchen should be completely comfortable with the spacing as planned. As far as the spacing on the sides of the island & back of the island is concerned, it can vary significantly depending on the overall layout of the home,' explains Bianca Betancourt, Kitchen Design Lead at Form.
'A galley kitchen is designed for optimum use with a minimum walkable space between counters. I wouldn't leave less than 42" around your island if you want the space to flow,' adds designer Sarah Rosenhaus. 'However, one could argue that you could get away with a minimum of 36". Having said that, 36" is incredibly cramped and OK in a one-person situation. The minute you add another person, the flow will be restricted. Given the fact that all parties end up in the kitchen, I say stick to 42" minimum around your island.'
Okay, so if your galley kitchen is wide enough to allow for no less than 36" of clearance between the island and the cabinetry, congratulations you can squeeze one in.
What are the alternatives to adding an island to a galley kitchen?
So what are the options if you can't fit a full-sized island into your galley kitchen Sharon Sherman, founder of Thyme & Place Design agrees that a galley kitchen is often too cramped for an island, she says 'galley kitchens are usually corridor-type spaces and to properly plan for an island, you need to have 40" between the countertops as a minimum. This allows for proper clearance for appliances, etc. However, I have done a "galley" type space where there is one wall for cabinets and no opposite wall but we used an island to create the galley layout.'
We love the single galley approach. Ditch one wall of cabinetry and instead have an island – you'd give yourself plenty of clearance but the downside would be sacrificing the extra storage. Although we have seen this kitchen layout work wonderfully in small households as it really opens up a small space and feels far less claustrophobic than a traditional galley layout often can.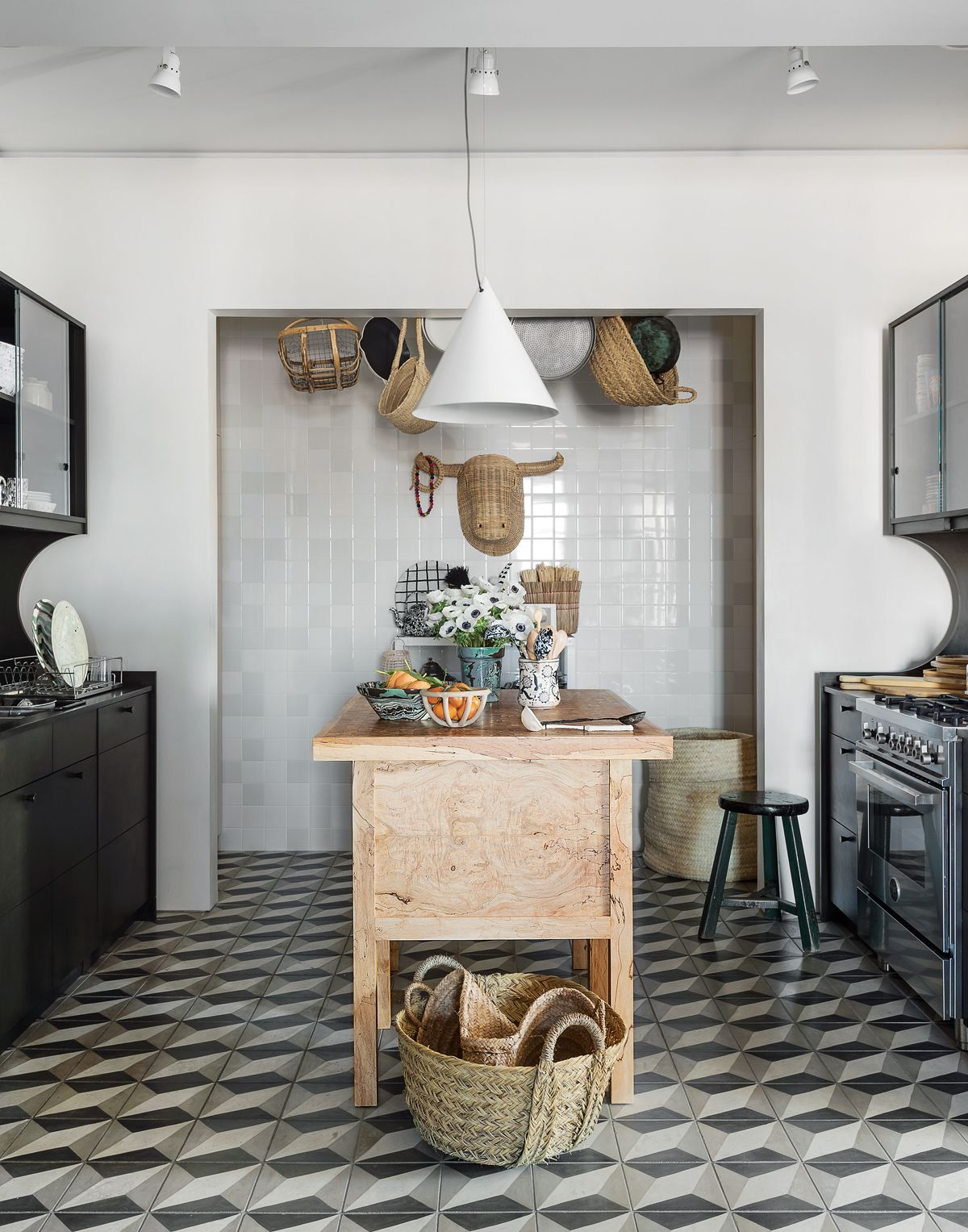 And there's also the most obvious solution of just making the island itself smaller. 'Narrow islands can work in tight spaces, it just depends on how constricted the available space!' says kitchen designer Johnny Grey. 'For one kitchen project, we reduced the width to 25". By sequencing the key cooking, preparation, and serving activities into relatively short distances, these sociable tasks can be done whilst facing into the room.'
Or you could consider adding a narrow peninsular at one end of the space. 'If you are unable to find the space for an island then put in a small circular peninsula. This allows you to use vacant floor space, and at the same time, have sideways eye contact with others in the room.' adds Johnny. And he also makes a key point that 'the curved shape ensures your peripheral vision does trigger off your flight and fight response mechanism. In other words, it is not perceived as an obstacle by the brain, like a square-cornered structure.' Something to think about even if you can squeeze in a small island, opting for curved edges will be less visually jarring.
Portable kitchen islands can be great additions to galley kitchens too as you then have the ability to move them around the space as and when you need it. They have a less solid presence in the kitchen. And the same goes for butcher's blocks which you can get away with being smaller than a traditional island but can create the same effect.
So the takeaway – if your galley kitchen is big enough to offer you no less than 36" around your island it's a yes, you can add your island. However, don't just squeeze on in for the sake of aesthetics, a galley kitchen is narrow and closed by nature so don't go adding any more bulk if your space can't handle it.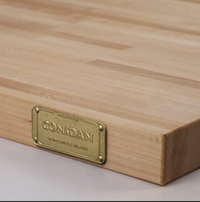 Butcher Block counter top, Walmart
This 30" countertop can be placed on a console table or credenza to create an instant portable island which might just be slim enough for your galley kitchen.
For style leaders and design lovers.
Hebe is the Digital Editor of Livingetc; she has a background in lifestyle and interior journalism and a passion for renovating small spaces. You'll usually find her attempting DIY, whether it's spray painting her whole kitchen, don't try that at home, or ever changing the wallpaper in her hallway. Livingetc has been such a huge inspiration and has influenced Hebe's style since she moved into her first rental and finally had a small amount of control over the decor and now loves being able to help others make decisions when decorating their own homes. Last year she moved from renting to owning her first teeny tiny Edwardian flat in London with her whippet Willow (who yes she chose to match her interiors...) and is already on the lookout for her next project.