Ask Athena: the secrets to picking the perfect curtains
Athena Calderone is here to answer your questions, and this week she solves the problems faced by a nervous curtain buyer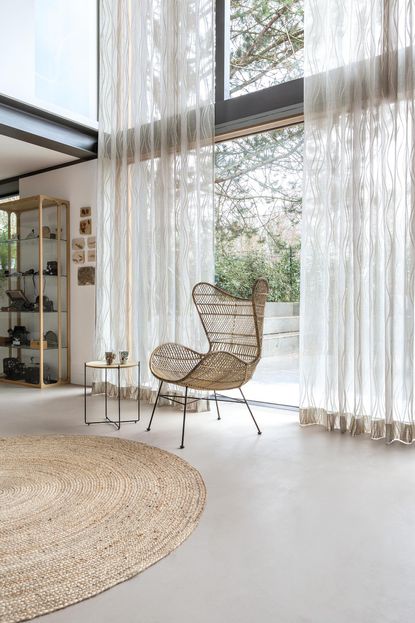 (Image credit: Future)
Dear Athena,
I find picking curtains so scary! I never know where to start. I have a yellow accent rug and the rest of the room is quite neutral. What type of material should I choose, and should I have yellow too? I am on a budget so I don't want to get this costly piece wrong. Also, I am unsure of length—should I go from the top of the ceiling to a bit longer than the floor so it pools? That's a lot of fabric! Any advice please… I would love to know what you think about curtains!
Thank you,
Michelle
Great question, Michelle. Curtains can really make or break a room so it's definitely an area you want to give some thought. Much like paint, when thinking about living room curtain ideas - or for any room, come to that - consider gathering a few swatches together in various shades and textures then hang them up against the wall so you can visualize it in the space. The light in a room is another key consideration with curtains because it can completely change the space depending on the color you choose. The yellow you loved in the showroom could throw an entirely different shade when you bring it home (and possibly clash with the yellow hue in your accent rug) so I give the same advice here as I did when choosing a white paint.
Affix the swatch where you want the curtains to hang, then see how it changes throughout the day (morning, noon, and night), and take photos so you can look back at them later and make a decision. This step is so critical whenever you're bringing color into a space because light refracts off so many different things both inside and outside your home. From the greens of your garden to the color of your next door neighbor's house, you'll be surprised at what colors can bounce through the window from outside your home at different times of the day.
When it comes to the material type and style, I personally love a more function-driven neutral Roman shade for blocking light and for privacy. I like to pair it with a more decorative sheer curtain to insert something soft and tactile which also filters light beautifully. The roman shade sits perfectly within the window frame while the curtains sit outside the window opening offering an opportunity to accentuate verticality. To insert a touch of drama, you can easily purchase stock-standard length sheer curtains but hang the rod above the window at the place that allows them to ever so slightly pool at the floor. You can see the level of romanticism and whimsy that sheer shades deliver in our Brooklyn bedroom. Above all, take your time choosing curtains, experiment and play with color and texture until you find the perfect shade for your space, and check out this guide for how to hang your curtains. Good luck!
Athena
Athena Calderone is an award winning author, interiors writer, stylist, designer and curator. She has had her home featured on the cover of Livingetc twice.