In a leafy suburb of south-west London behind the facade of a pretty Victorian terraced house lies a remarkable urban paradise.
The owner and his wife spent the first few months of lockdown imagining what a summer staycation of dreams might look like, before setting about turning it into a reality.
See Also: Revealed - These are the Top Garden Trends This Year
Bringing together some of London's most coveted glazing specialists, garden designers, landscapers, and kitchenand joinery designers at Blakes London, they were able to create a space within their home that meant they never wanted to leave.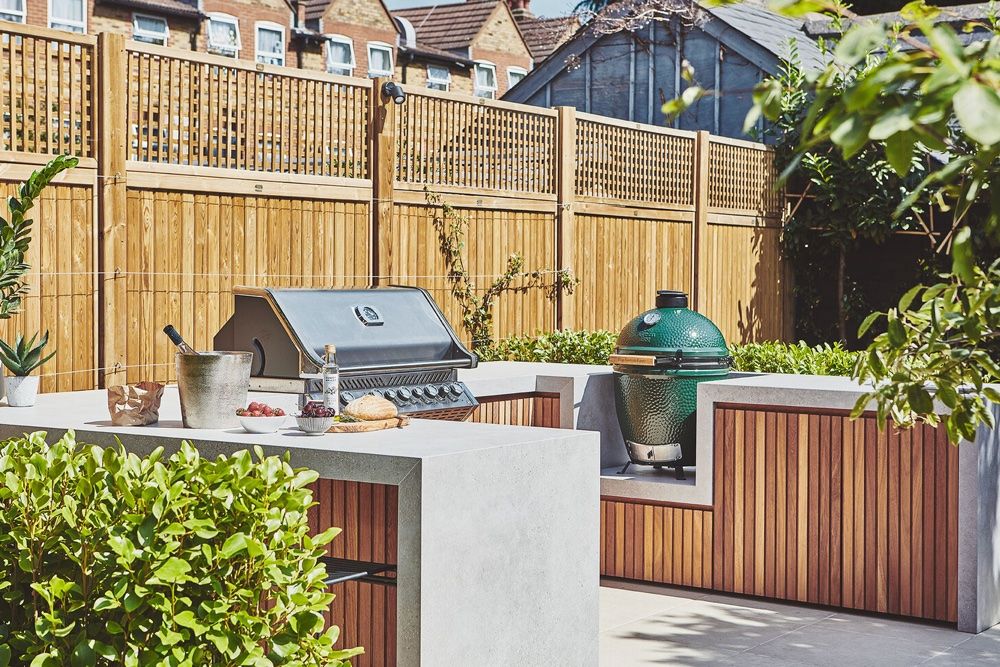 As Ibiza aficionados with an earlier career promoting nightclubs, years of entertaining on the White Isle and throughout the glamorous party hotspots of Europe had a significant impact on the clients' vision for the space.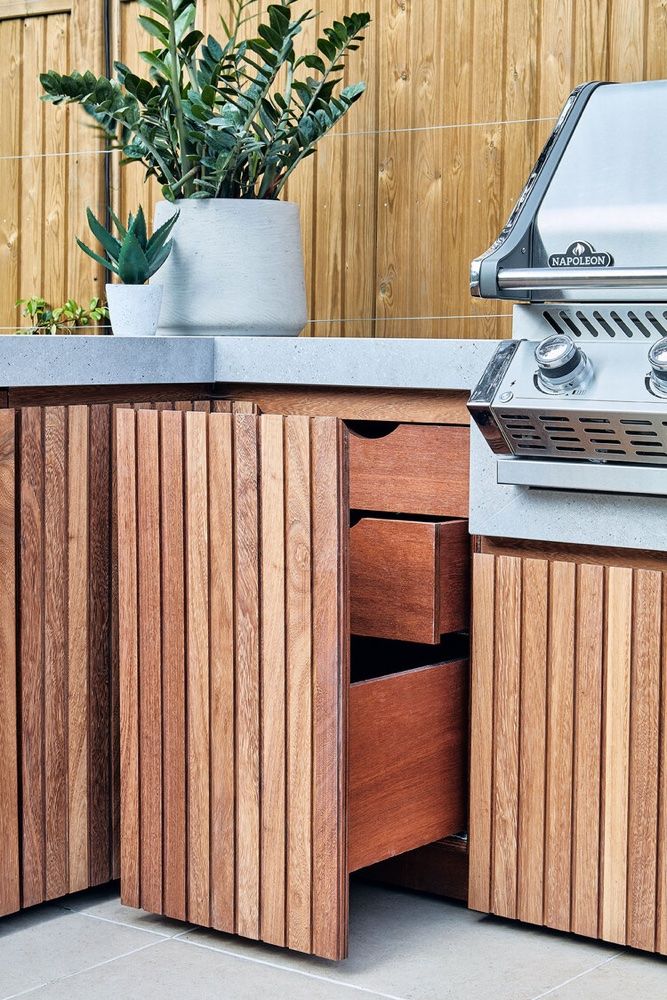 See Also:Explore An Art-Filled Home With Enviable Outdoor Terraces orExplore a light, airy home centred around a gorgeous courtyard garden
From the relaxed seating area to the outdoor kitchen and dining area, through to the kids play cabin, this garden screams good times.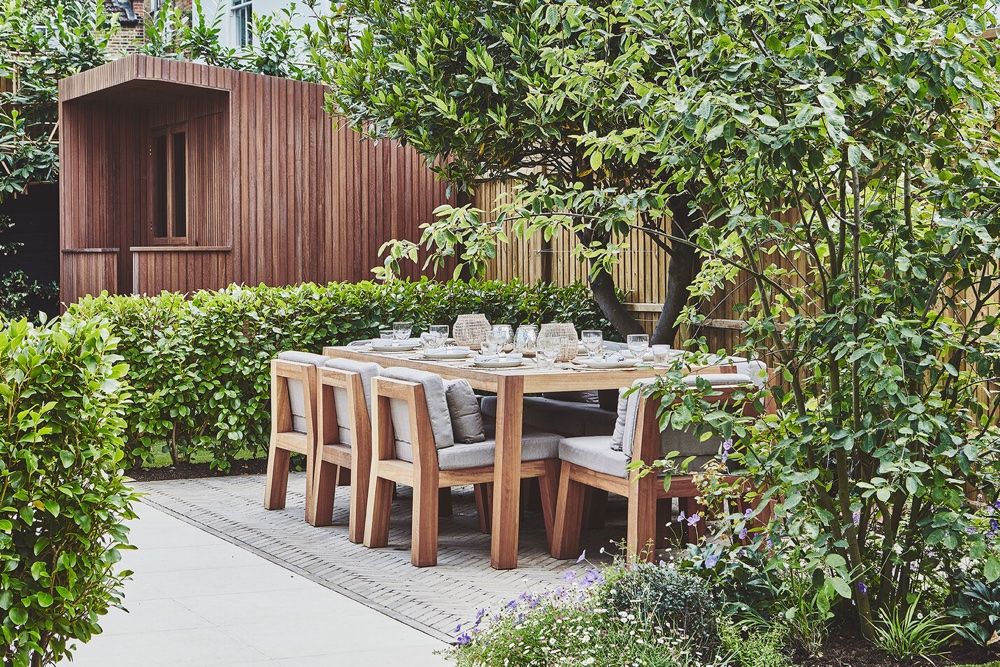 But the showstopper within the garden is undoubtedly the outdoor kitchen.
The units are made from sustainably sourced Iroko timber. This African hardwood is a fantastic alternative to teak, particularly for outdoor furniture, as its naturally high oil content makes it incredibly stable and unlikely to crack as temperatures change. And unlike teak and oak, which tend to bleach and turn silver over time, Iroko starts as the soft yellows you see in these images and darkens to a deep, rich, coppery tone.
See Also:Case Study: See A Modern, Meadow-Inspired City Roof Garden
Fully kitted out with not just one, but two barbecues, the clients wanted the ability to cook for large groups and also ensure they had all the necessary toys to create restaurant standard fare. Burgers, sausages and delicate fish work fantastically well on the Napoleon integrated gas BBQ. However, for a show-stopping extravaganza, the ceramic Egg BBQ is the hero.
See Also:Cool Ways To Bring The Outdoors In
Blakes London chose to use large format Xtone porcelain tiles for the work surface of the kitchen. Xtone is a fabulous low maintenance and highly functional alternative to concrete or renders.
This large-format porcelain tile will maintain it's colour over time and is both frost and heat resistant. An added benefit being that it is incredibly hygienic so can be used as a food prep surface. Perfect for this family who loves to make their own pizzas in the Ooni wood-fired pizza oven. Bellissima!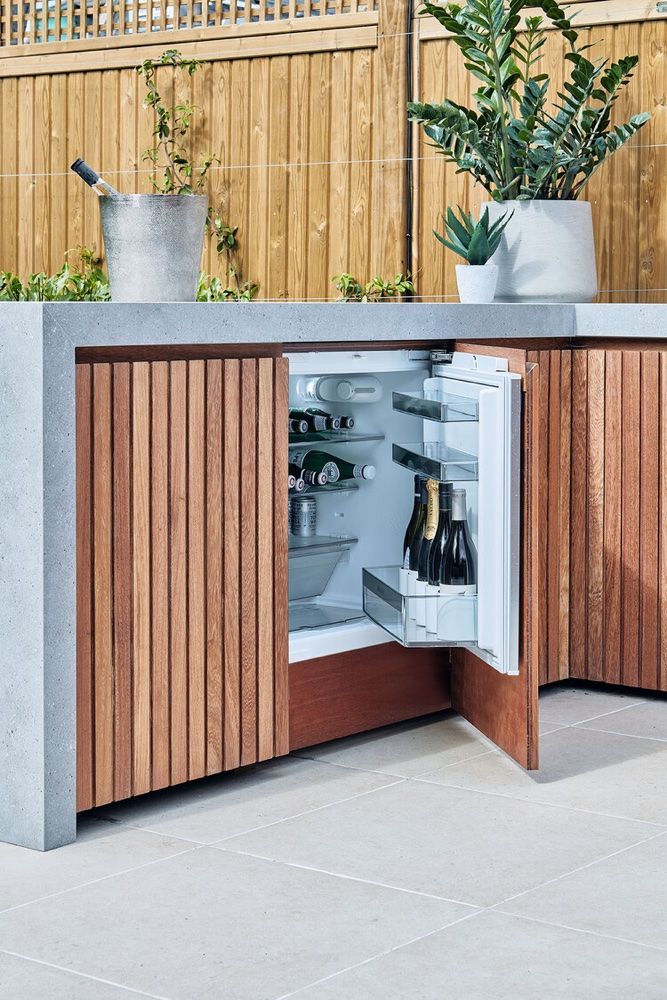 Want to create your own outdoor kitchen but don't know where to start? The experts at Blakes have shared their top tips below:
1. MATERIALS 101
Make sure that you choose materials that will stand up to the climates that it is intended for use in. Too often people start off with the best of intentions for maintaining their outdoor kitchens but enthusiasm quickly wanes. Choosing hardwood timbers such as Iroko, a lower-cost alternative to teak, means that you won't be revarnishing your kitchen at the start of every season. Similarly, renders and poured concretes don't tend to do as well in damp cold northern European climates. Consider tiled surfaced such as the super hardy UV/frost resistant Xtone as an alternative outdoor worktop.
2. GAS V COAL
Not everyone is lucky enough to have the budget or space for both gas and coal BBQs so, for most, it will be a choice between gas or coal. The common view is that gas is for those who want low fuss, convenient everyday cooking. Coal is for back to basics enthusiasts with more patience to build a fire and wait for it to heat up, they tend to be rewarded in the flavour stakes.
An alternative option could be to invest in a gas BBQ and have a smaller fire pit that can be used with logs and a grill tray for overflow cooking space when entertaining. Either way, it's important to know which type of heat source you wish to use at the outset as this will influence where you position your kitchen and the space you need to allow.
See Also:50 Stylish Garden Patio Ideas
3. USAGE
Think about how you wish to use your kitchen and the orientation of your garden. Consider what times of day you imagine using the kitchen most and where the position of the sun will be at that time.
Some gardens may only have specific areas of the garden that gets sun at certain times of day, you probably want to have soft seating in this area and keep the kitchen out of this prime real estate. Perhaps it's a party kitchen intended for use mainly at night? If so, you may wish to place it at the end of the garden away from bedrooms. In this scenario it may be an idea to build a pergola around it and hang ambient lighting and heating, perhaps include a wine fridge so it's not a long walk back to the indoor kitchen fridge. If your kitchen sits on a patio directly outside your main kitchen then perhaps an outdoor wine fridge is less necessary.
4. BUDGET
Be realistic with what you want and what you can afford. Work within your means, do less but do it well.
5. STORAGE SMARTS
In some instances where space is limited clients chose to do away with a garden shed and instead incorporate garden storage into the outdoor kitchen area. This allows for more kitchen worktop space and lets the kitchen be the focal point within the garden.
See Also:Case Study: This Clever Garden Room Doubles As A Chic Guest House