We've combed through our gorgeous design house projects and pulled out some cool garden room ideas. If you've got a cluttered shed, a rotting wood barn, or just an unused corner of the garden that would suit a smart shed or garden house, now could be the perfect time to start a fun side project. A chic shed could be just what you need to set up the perfect home office for working from home – especially if you're now sharing a home office with other members of your household. Or use the space to create your own 'inspiration station'; a studio for creative projects, so you can keep paints, and arts & crafts mess outside of your main home. Also ideal for kids, so they can get stuck in, while keeping out of the way.
Read Also:48 Stylish Garden Patio Ideas
Over the years at Livingetc we've seen lots of creative garden 'room' ideas, from chic sheds, tree houses and log cabin-style guest houses to pretty pool houses (hello Kips Bay show house) and garden spas with heated indoor swimming pools – just look at the stunning pool in Calvin Klein's co-founder's house for some serious wow factor, or have the spa extension bolted on to the side of the house so you can access it both from your home and from the garden, like in this gorgeous Highgate extension.
Read Also:Chic & Stylish Ideas For Small Gardens
We've also seen some strikingly stylish tiny garden houses, ranging from this tiny portable guest in Hawaii to the tiny 'den' above a pond in a garden in Hampshire, pictured below, as a space for quiet reflection and reading.
Got a barn or outhouse big enough for entertaining? This property in Sonoma wine country transformed their barn to a stunning games room and home bar. Take it one step further and create a cavernous man cave den.
Read Also:The Top 10 Garden Trends That We'll Be Seeing Everywhere 2020
One property, this jaw-dropping ranch in Texas, even built an aeroplane hangar and private airport on their land for their flying 'hobby'. We really have seen it all.
Create the perfect space for a home spa, home gym, home office, art studio, homework room or your kids' play room with these cool garden room ideas...
This garden barn holds a home bar and games area, while just outside there's a vegetable and reflection garden, designed by landscape gardener Paul Rozanski.
This garden barn holds a home bar and games area, while just outside there's a vegetable and reflection garden, designed by landscape gardener Paul Rozanski.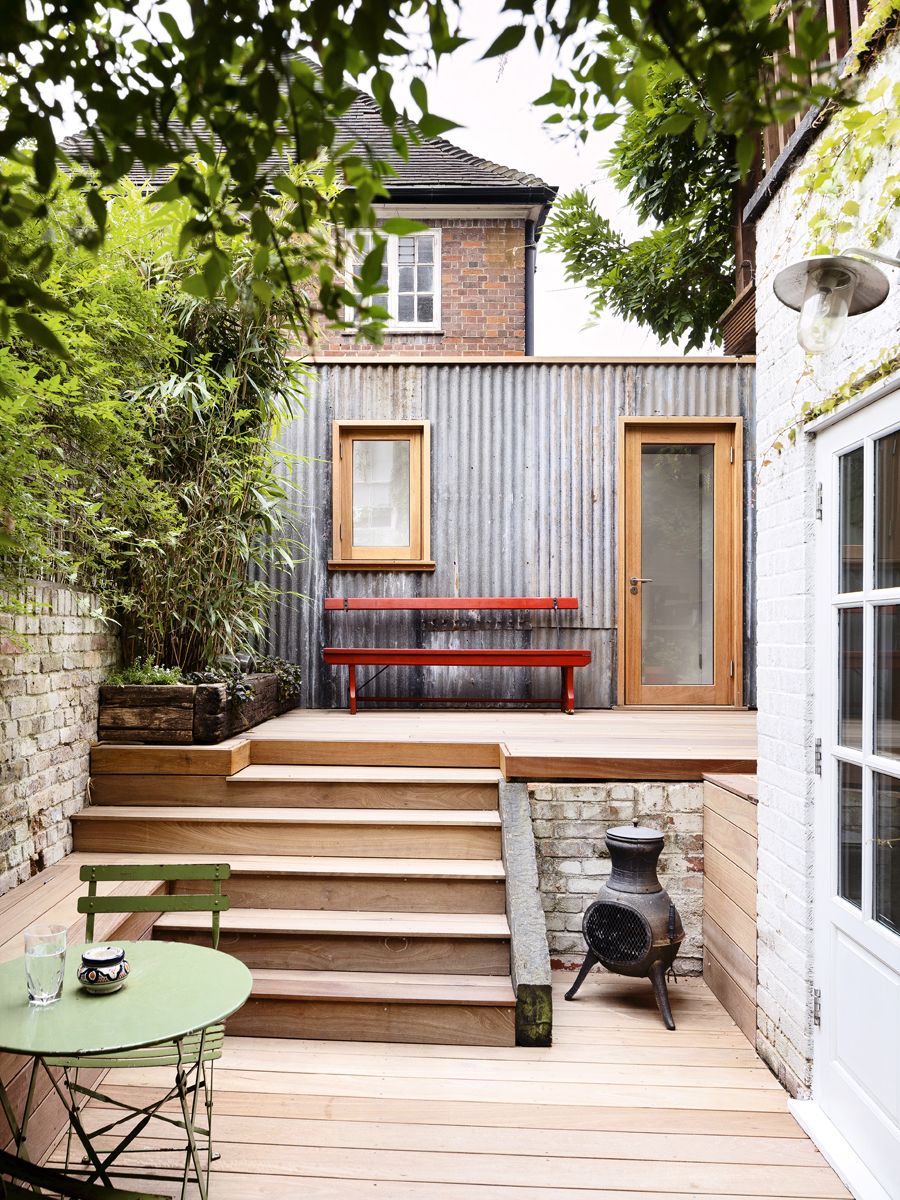 A shed or small garden house can be the perfect place to indulge in creative pursuits, while keeping mess out of the house. Also fun for kids, to allow them a space to get stuck in with paints and crafts. Away from frenetic family life and hectic work, your shed can provide an excellent place for you to focus on all the things you want to achieve. Try making a visualisation board – a collage of images that represent your hopes and dreams for the future. Looking at your board while enjoying some time out will act as a huge motivator and a great reminder of your goals.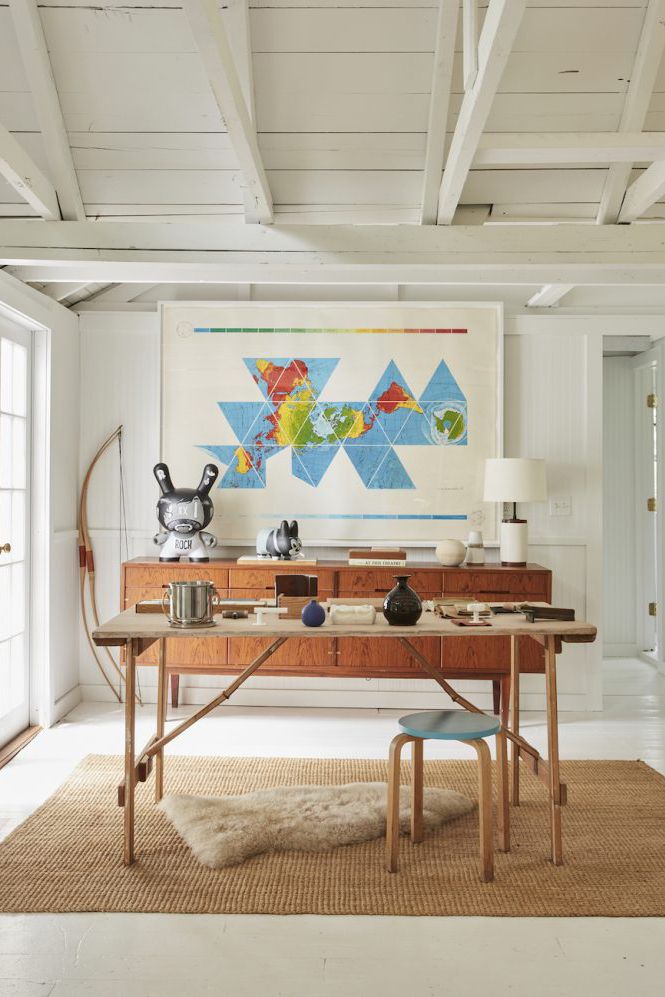 This garden house doubles up as a home office and studio space. Floor boards, wall paneling and the pitched roof with exposed beams have all been painted in white gloss paint, giving the space a light and airy look. Get the look: The dymaxion map is by Buckminister Fuller
Doors fold back opening this garden guest house living area to this outdoor lounge area, with outdoor fireplace and a concealed TV. Get the look: Hand woven rug through Maharam. Square coffee tables by Christopher Delcourt. Artwork above sofa of pool blue spiral hand ripped paper by Deborah Moss.
Nominated as part of Cuprinol's 'Shed of the Year', this double decker shed consists of a garage with storage downstairs, and a chill zone upstairs. All you need is a hammock and a mini fridge and you'll be halfway to creating your grown-up hide-out. Or turn the upstairs into a play room for kids, complete with table tennis and other games.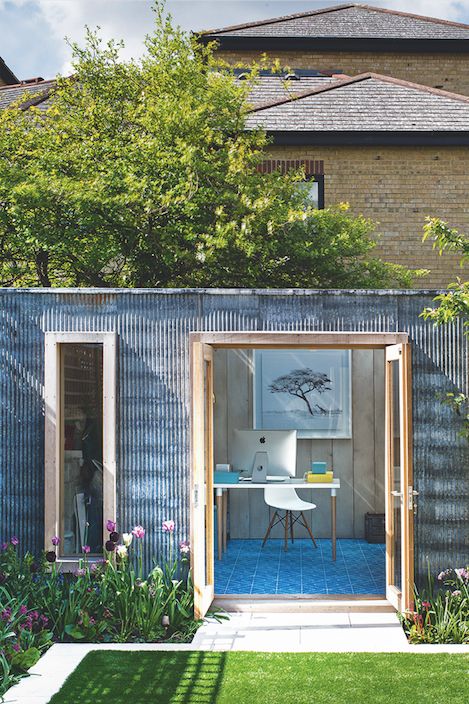 Want to add living space without the stress of an extension? A garden room could be the answer as you can make it be whatever you want it to be – a home office, a yoga studio or somewhere to stash the kid's toys. Get the look Prices start at £15,000 for a 3x2m garden room, London Garden Studios.
A small tea room creates a restful spot to meditate in this garden in Taiwan.
Make your outdoor space a cool urban gallery with a bespoke mural. This one by Tankpetrol is painted on a Corten steel panel, which garden designer Robert Grimstead has flanked with copper beech hedging and 3D wall cladding for a collage of rich textures. He says, 'A hand-painted line of tiles injects pops of colour.' Get the look: Alliance wall cladding, £240sq m, Stoneleaf; mural, £5,000, Tankpetrol; Brera pergola, £17,995; Form outdoor kitchen, Garden Mode, £9,995, all Lower Barn Farm
This jaw-dropping garden spa is part of Calvin Klein co-founder's estate that's currently for sale with Christie's. The out building houses an enormous lap pool as well as other spa features and a lounge with a fireplace.
Designed by Angus McCaffrey, this barn was converted into an entertaining space for grown-ups, with ping pong table and stylish home bar. Perfect for keeping summer parties (and the clean-up afterwards) out of the main house.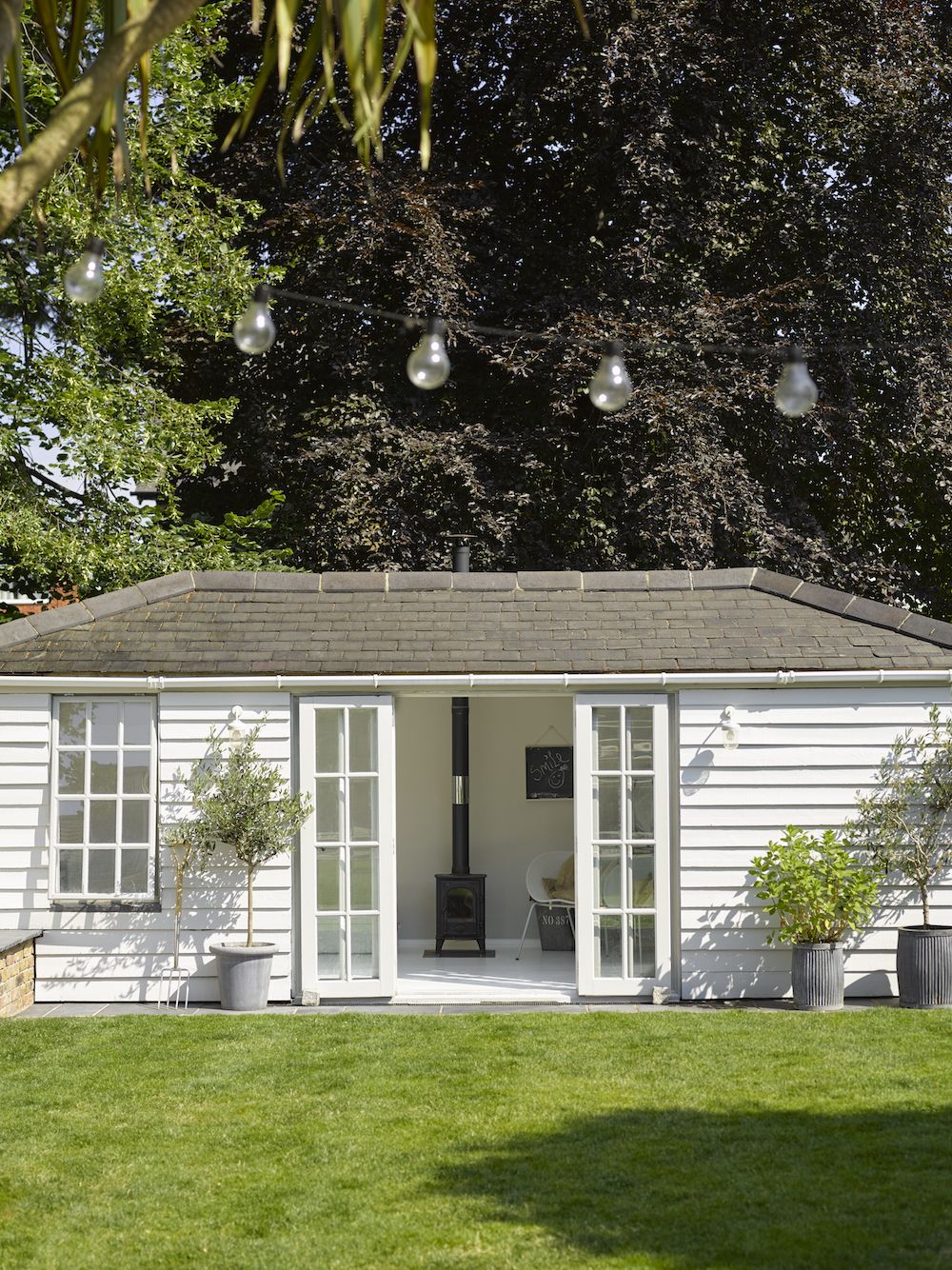 Painted in Sandtex satin in pure brilliant white, this garden room looks light, inviting and cosy, with a log burner and lounge seating. Perfect for throwing the doors open during warmer days, blurring the line between outdoors and in, but also cosy on cold, wet days, as a mini back garden retreat.
In this garden, a permanent canopy provides shelter from rain and sun, while the lack of walls blend this lounge area with the outdoors. Ideal for warmer countries. You could also attach a pull-down screen and install a projector for large summer outdoor open-air film screenings.
This cosy log-cabin style shed has it's own dining area and log burner, making it the perfect hide away for passion projects and even romantic dinners.
This tiny 64.5-square-foot (6-square-meter) pavilion in Hampshire was built by the founding partners of TDO. It nestles between the dark drama of the forest and the bright calm of the water. The small timber frame structure, finished in plywood, is cantilevered over a pond in a 9,418-square-foot private family garden in Hampshire. It's used as a space for meditation and a children's den. The construction period took twenty days.
Short on floor space in the garden? Suspend your project in mid air, nestled between the tree tops. Ideal as a fun guest house or kids' space. Buy this pinecone-shaped treehouse through o2treehouse.com or get one made bespoke.
Got an outdoor pool? Then a pool house is a must; a place to store cushions and towels, serve lemonade and snacks, and for lounging by in the sunshine. We love Jonathan Savage's design for the Pool Pavilion at the Kips Bay Decorator Show House Palm Beach.
In this extension design by SHH Architects, a heated indoor pool and spa area were bolted onto the side of the house, so that they could be accessed via both the garden and the main house – making it perfect for both summer days and cold winter nights.
Created by Paradise Tiny Homes in Hawaii, this portable 'tiny home' is a self-contained guest house on wheels. Way chicer than your average caravane.
Short on space? A tea house style garden house could still provide enough space to build a small home office, or breakfast spot. In the winter it can be used to store and pack away garden furniture and cushions, keeping items dry until next year. Installing some roll down fabric blinds on the inside would keep mess out of sight from the main house.
We love this garden office design by Trevor Brown Architecture. Keeping the space completely separate from the main house will help make it feel more like you're 'going to work', separating home life from work life.
This garden office project by Norwegian Log Buildings in Hampshire feels more like an extension of the main house and garden, especially when the doors are fully opened. Practical for easier access to the loo or for grabbing a cup of tea from the kithchen.
Another project by Norwegian Log Buildings, this outdoor living room has everything you need, from comfy seating to a little heater lamp.
If you've got a Georgian style property, it makes sense to create the garden house in the same style, like this pretty garden villa. Lovely even just for drawing the eyes out to the back of the garden, and for adding a bit of grandeur. Located in the heart of Bath's famous Royal Crescent, the five-star hotel is home to one acre of secluded gardens that have been lovingly landscaped by Head Gardener, John Bennett and his team. Gently winding lavender paths lead to privately tucked away walled gardens, before reaching the 250-year old Grade 1 listed Garden Villa.