Poppy Okotcha says these 8 tiny jobs are all you need to do in the garden in December
By doing these eight small gardening jobs you'll be set up for 2022 says gardens expert Poppy Okotcha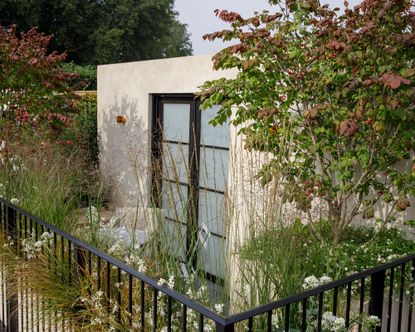 (Image credit: RHS/Sarah Cuttle)
The Livingetc Newsletter
For style leaders and design lovers.
Thank you for signing up to LivingEtc. You will receive a verification email shortly.
There was a problem. Please refresh the page and try again.
Winter solstice is on 21st December, the shortest day and longest night. With limited light and lots of cold, plants are slow to grow if they grow at all. Arriving at solstice it can be tempting to look ahead to the growing light levels and start sowing seeds, but taking note from wilder landscapes I hold back and wait till I start to see the plants stirring and seeds germinating in the hedgerows and beyond. Then I know the time is right and plants are ready to get growing again. February is a good time to consider sowing.
In the past, I have excitedly sown tomatoes in December just after the excitement of Christmas has died down, keen to give them a headstart and give me something garden related to do that's not muddy. But they never fail to grow weak and leggy with too much warmth and too little light, while plants sown in March catch up and outperform them.
One mud-free activity that is always a success is collecting branches of evergreens like ivy, bay, myrtle, rosemary or holly and decorating the house with them, and not just for use in your Christmas wreath ideas. An age-old practice of people in the northern hemisphere to remind us that the green will return and to bring some nature close to us, which warms our homes.
In fact, there are just eight small jobs I'd recommend you do this month, in preparation and anticipation of a fruitful year ahead.
1. Make sure you have the right garden set up
Take this time to work on infrastructure like compost station, water butts, and paths. Do they serve you well enough to ensure you have everything you need and can move around the garden - with a wheelbarrow if you use one - with ease? Admittedly this could turn out to be a slightly bigger job than everything else on this list, depending on the scale of what you actually need.
2. Plant bare-root trees
As the ground isn't frozen or water logged, this is the exact time to plant bare-root trees and shrubs. These could include fruit trees such as cheery, peach, pear, apple or plum, or rose bushes.
3. Plant Spring-flowering bulbs
There is still time to plant crocuses, though it's good to be quick as you don't have too much longer to get them in the ground. These include tulips, daffodils, crocuses and hyacinths.
Amazon has a comprehensive selection of Spring-flowering bulbs here.
4. Prune apple and pear trees
Now is the perfect time to prune apple and pear trees if you have any. The trees are dormant now, so won't react to any chopping. It's good to get them in shape - get rid of any branches are that rubbing other ones, or growing in an odd direction. It means the tree will channel its energy only into the places you want it to come Spring.
5. Harvest winter greens
By just removing as many bottom leaves as you need, you can keep winter greens growing while enjoying the fresh produce. Chard, collard and kale should all provide you with ample iron and Vitamin C this month.
6. Order seeds
If you don't have any winter greens but are now wishing that you do, now is the time to think about your growing goals for 2022. Order vegetable and flower seeds and make sure you have the right pots and soils to hand (their packets will tell you what they need) so that you are have them ready to sow as the months begin to get a little warmer.
Amazon has a comprehensive selection of seeds to start you off here.
7. Grow micro-greens indoors
Grow micro greens on a bright, south-facing windowsill. If you don't have that then growing sprouts is a lovely way to grow some food without soil or sun.
8. Look back to think ahead
Take stock of how the previous growing year went, think of any changes you'd like to make, experiments that did or didn't work. Did you attempt too much? Did some plants not take because the soil conditions weren't right? What were the easy wins, that you can perhaps do even better next year? Is now the time to take up no dig gardening, if you haven't already? That's the beauty of gardening - you always have another chance.
For style leaders and design lovers.
Poppy Okotcha is Livingetc's gardening columnist, and a trained horticulturalist living in Devon. She has appeared on Gardener's World and is also a presenter on Channel 4's The Great Garden Revolution. She specialises in regenerative growing, and studied with the RHS at Regent's Park in London. She once lived on a houseboat, growing herbs and vegetables in flowers in containers, before moving to take on a bigger plot of land.