'It's 50/50 human and robot' – behind the inspiring furniture trend where time-old techniques meet cutting-edge technology
The interior trend for softly sculpted marble furniture might be a labor of love – but clever technology is making it less labor intensive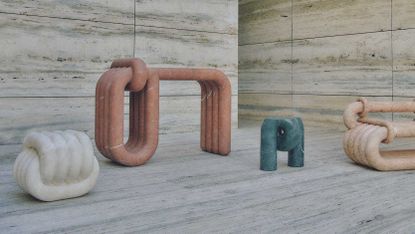 (Image credit: Kelly Wearstler)
The Livingetc Newsletter
For style leaders and design lovers.
Thank you for signing up to LivingEtc. You will receive a verification email shortly.
There was a problem. Please refresh the page and try again.
Modern furniture design has undergone its own body-positivity revolution. There's no doubt that plump, fuller designs have supplanted boxy, straight-lined pieces to become the new cool when it comes to sofas, accent chairs and more. You only have to look at the revival of the 1970s Camaleonda, the uncontested 'it' sofa right now, to see the sort of shapes inspiring interior design in 2023.
But whether it's this Mario Bellini classic, Tom Dixon's playfully named 'Fat' collection, or any other modern design that embraces more curvaceous forms, it's not a trend that's limited to the soft elements of your home's design. We're seeing it across the spectrum of product design, but there's one material where it remains a unique challenge to embrace the sinuous shapes that have become such a definable interior design trend of the decade so far. Stone.
You can imagine the challenges. We're used to seeing natural stones like marble in fine slabs, as kitchen surfaces, or pieced together for statement fireplaces or coffee tables. The idea of turning marble into these rounded forms takes it into the realms of sculpture. Michaelangelo took three years to sculpt the statue of David - hardly a compelling business model for any product designer. Fortunately, with the advent of modern cutting technology, a sculptural marble form can take as little as two days.
Hugh is Livingetc.com's deputy editor and an experienced design and interiors journalist. Here, he spoke to designers Arthur Vallin and Kelly Wearstler about their pioneering designs using natural stone, and how technology had a part to play in the fabrication.
Solid meets soft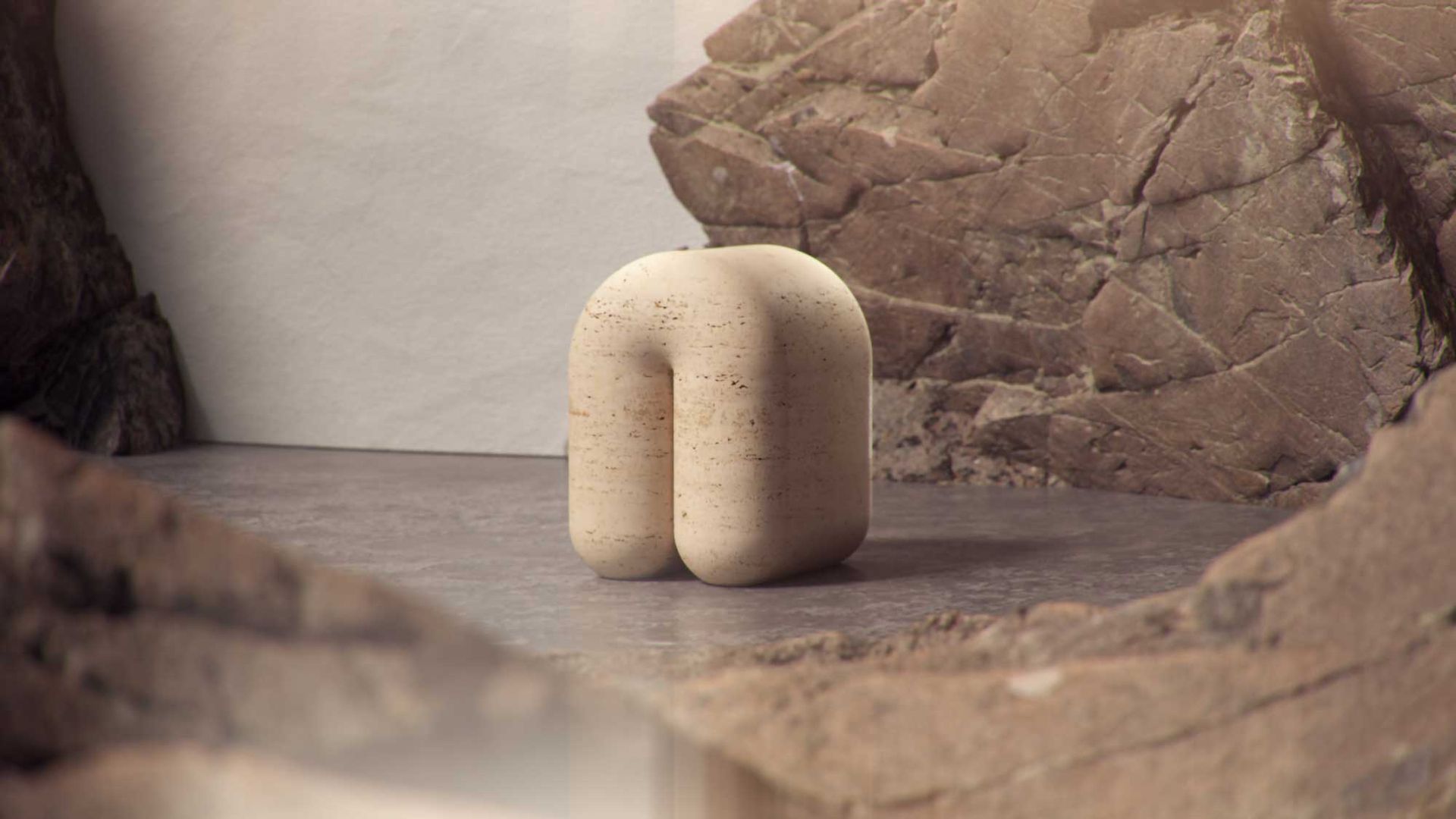 'The research of fluidity and roundness in a material as strong as stone is fascinating because it presents a challenge of working with a material that is structurally in opposition with the desired outcome,' Arthur Vallin, a New York-based designer pioneering contemporary marble furniture, explains.
His designs play on the perception of these materials, taking what we think of as solid and monolithic, and imbuing it with softness. His Chubby collection is inspired by the painter Bottero, known for his 'chubby' portraits. 'Stone is known to break and chip easily, but when the right balance is achieved, the stone veins begin to speak in a three-dimensional way through the mass,' Arthur says. 'This gives the impression that the stone becomes soft and almost foldable, making the creative process both exciting and rewarding.'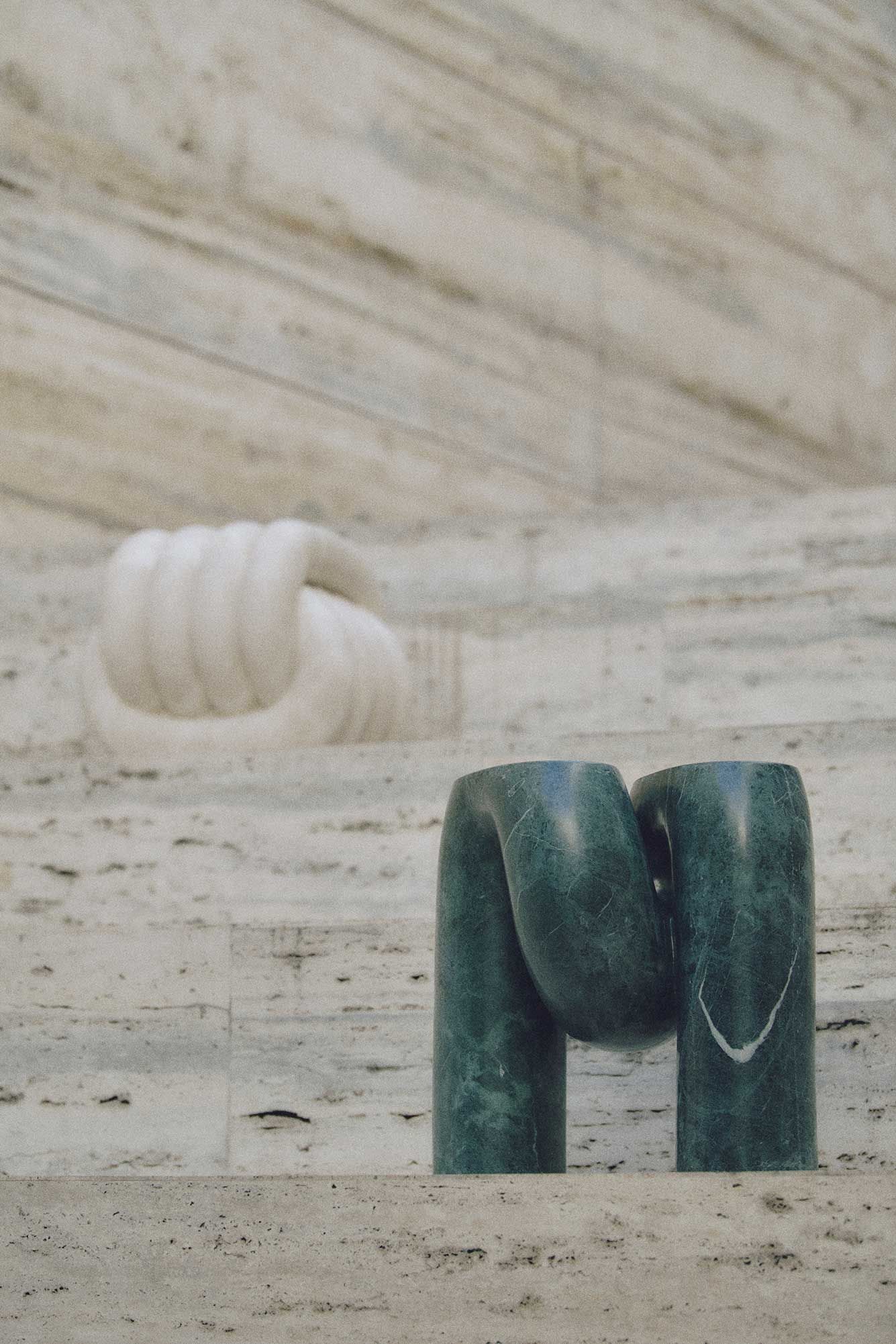 It's an idea that's inspired interior designer Kelly Wearstler, too, who has created a collection called NUDO in collaboration with natural stone purveyors ARCA, bringing her signature aesthetic to expectation-defying marble chairs and tables. 'Risk-taking aesthetics appeal to me the most,' Kelly tells us. 'Through an intricate process of experimentation, I discover unexpected combinations, which never fails to excite me. With this Collection, I was keen to explore a new potential of working with natural stone by pushing the boundaries of traditional craftsmanship. With a distinctive merger of nature, the human hand and technology, it represents an exciting use of materiality through a series of softly rounded silhouettes and knot motifs reminiscent of the ancient craft of weaving.'
The cutting edge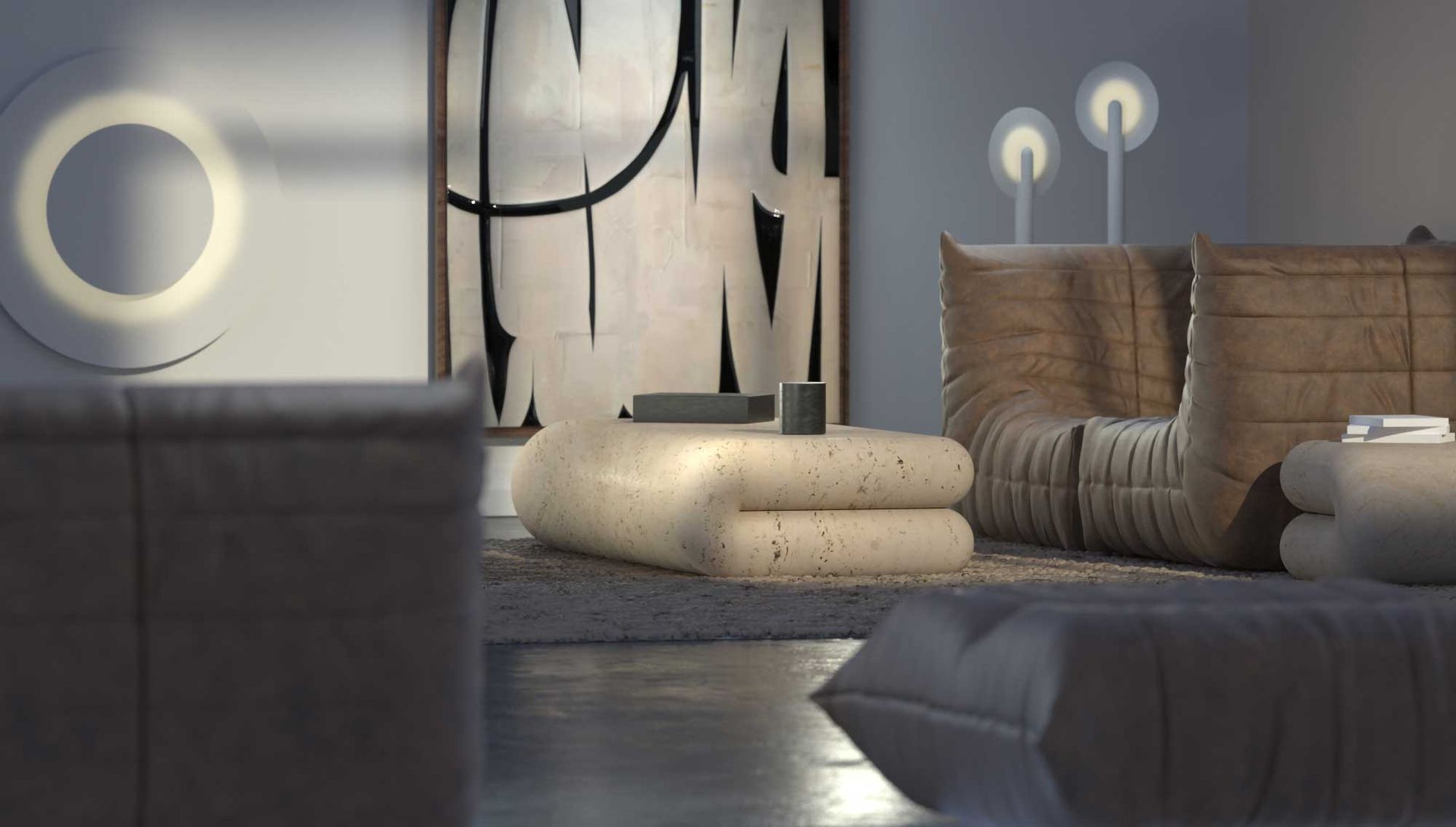 The resulting designs speak for themselves, but a peek behind the curtain of how these marble forms are made is perhaps even more impressive. While Kelly's designs were 'first conceived by a 3D rendering and then hand carved by fine craftsmen from an individual block of natural stone', Arthur's design process uses modern methods for cutting marble to make their creation far less labor-intensive.
'The manufacturing process of my pieces is using a three-axis CNC machine which involves slowly carving through the stone over a period of 48 hours,' Arthur explains. 'The design is mathematically perfect, and this technique allows the stone to take shape without being rushed, and shaped in almost any way desired. The process is both beautiful and impressive, as one can witness a giant machine in a room full of water and loud noises slowly carving a delicate piece of design.'
You might question whether this adoption of technology loses something of the majesty of hand-sculpting marble, but it's a manufacturing method that's not without the human touch. 'Using this process to carve through stone is 50/50 human and robot. While the design is created by humans, the heavy lifting is done by the machine. However, the finishing touches and subtle details require human craftsmanship. Master craftsmen specialized in marble play a crucial role in understanding the limits of each stone and how to optimize the manufacturing process while maintaining the intended design.'
These craftsmen also bring a sense of logic to these designs. 'They ensure that the piece is as lightweight as possible without compromising its strength or beauty,' Arthur explains. 'Their skill and experience make it possible to achieve a level of precision and artistry that is simply not possible with machines alone.'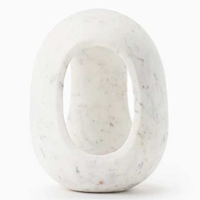 For a touch of sculptural marble, this ornament from McGee & Co is a great introductory piece of decor.
It's the human hand, after all, understands the beauty of the material, not just the process. For Kelly's collection, as an example, she worked to source a variety of stones from ARCA's quarries, from pink marble and calcite blue to rainbow onyx and rosa valencia. 'Marble is such a timeless and luxurious material - not only is it durable but possesses wide color variation and unique vein movement,' she tells us. 'I wanted to create a series of designs and motifs that complemented the natural movement of the marble.'
Is there any better example of the way in which humans and robots can co-exist in the design realm than this?
For style leaders and design lovers.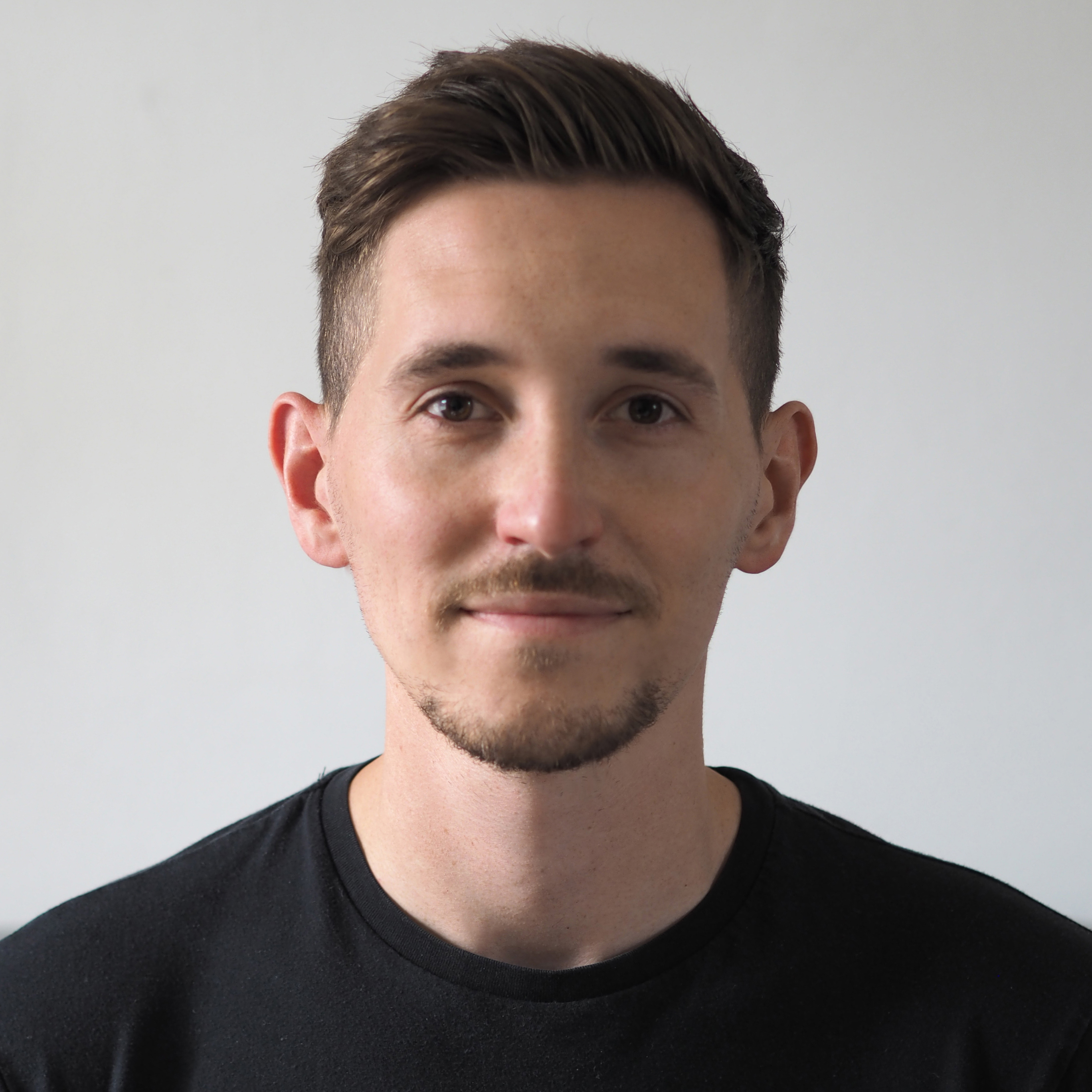 Hugh is the Deputy Editor of Livingetc.com. From working on a number of home, design and property publications and websites, including Grand Designs, ICON and specialist kitchen and bathroom magazines, Hugh has developed a passion for modern architecture, impactful interiors and green homes. Whether moonlighting as an interior decorator for private clients or renovating the Victorian terrace in Essex where he lives (DIYing as much of the work as possible), you'll find that Hugh has an overarching fondness for luxurious minimalism, abstract shapes and all things beige. He's just finished a kitchen and garden renovation, and has eyes set on a bathroom makeover for 2023.