Interior designers show how to make a statement with storage this season
The days of discreet, merely functional storage are over. Our favourite designers give their top Instagram tips on using your storage as a home decor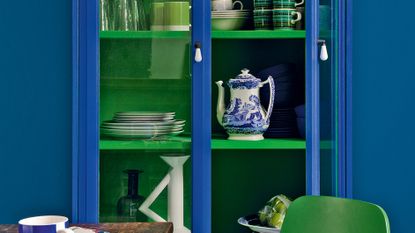 (Image credit: Future)
The new trend for statement storage is looking for design accent opportunities in places where we usually find only function. While stylish storage ideas are always 'in', the typical approach to storage is that it is very much the background to whatever objects it is housing, whether it's books, children's toys, or bed linen.
However, we've spotted quite a few of our favorite interior designers rebelling against this tradition, setting both freestanding and fitted storage center stage. Here are their top Instagram tips for making your shelves truly stand out.
1. Bathroom alcove storage is back – but not as you know it
Justina Blakeney is one of our favorite designers with an eye for the nearly infinite potential of vibrant color, but it turns out she's also the queen of...bathroom alcove storage. And while alcove shelves is time-tested and in itself, an entirely ordinary bathroom storage idea, the way that Justina has executed them in her home is stunning and fresh.
These alcove shelves have the opulence of Moorish arches, thanks to the elaborate tiled finishes in both bathrooms. They are fully functional, housing toiletries and bathroom plants, but these alcoves also add depth and an exotic look to Justina's bathroom design.
2. A laundry cabinet can be transformed into a hallway or kitchen highlight
Laundry cabinets are to be tucked away in utility rooms, correct? And kitchen cabinets should blend into the rest of the kitchen decor, correct? Perhaps, but a truly beautiful cabinet can and maybe even should be given a prominent spot elsewhere.
Actually, cabinets can become standout centrepieces, especially if they are bespoke-painted. The tip to take away from this is: don't neglect storage units that house mundane objects like towels: they can, too, become one-of-a-kind design elements in your home.
3. Storage is another name for a collector's display
If you are blessed with a separate dressing room, or if you are a collector, then open shelving is the perfect opportunity for creating a one-of-a-kind display. However, steer clear of plain, nondescript shelves – they won't let your collection sing.
The way to do collectible displays in 2021 is the way Kit Kemp has been doing it – that is, by paying as much attention to the storage unit itself as to the display items in it. Is this the year you will invest in a gothic kitchen dresser? Why not!
4. Traditional bookcases are out, bookcases-as-art are in
We do love a book-lined room, but if you want an on-trend look, then take your cue from Charlotte Rey of Campbell Rey, who is admiring books displayed in the iconic Carlton room divider. This is book storage as modern art – perfectly balanced in shape and structure, and easily the talking piece in any room.
Having one made bespoke is probably easier than chasing one of these – the point is that you'll have a bookcase that deserves to be positioned in the centre of your living room.
Anna is a professional writer with many years' experience. She has special interests in architecture, photography, and high-end interior design. Her work has appeared in Homes & Gardens, Gardeningetc, and many other publications.