How to design your home to suit your emotional needs
Do you want your home to make you happy? Or relaxed? Or energised? Or all three? These experts explain how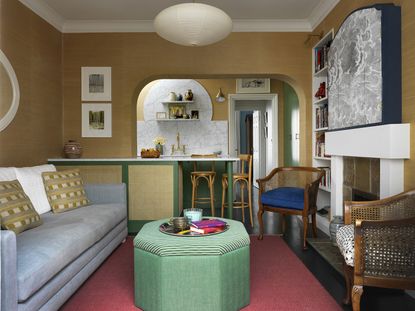 (Image credit: Rizzoli)

"One of the key things to come out of spending so much time at home in the last year," the interiors blogger Kate Watson-Smyth says, "is that people have really begun to understand the relationship between their surroundings and wellbeing. They suddenly realised, 'Actually, this room is making me feel miserable. Now they're beginning to choose their decor in a way that makes them feel supported mentally."
Given that we're talking about the art of home-making, listening to our emotions makes perfect sense. Interior designer Nicola Harding observes that clients are increasingly seeking "some kind of connection with design - in the same way that we do with food. It's about being led by feeling rather than logic."
Arguably the most direct way into emotional design is through color. Over the pandemic, demand for deep blue and the best green paints - the tones of sea and sky, meadows and pasture - has soared as people have sought colours that soothe and relax. But key to getting color theory right, Watson-Smyth says, is working out what you actually want your favourite colors to do for you. "So if you love deep teal, but that makes you feel energised, put it in your kitchen not the bedroom. If you want a dining room for wild parties, pick colours that make you feel wild and happy."
Admittedly, identifying the visual representation of our emotions can be a nuanced task. Harding will ask new clients to think of a perfect Friday night: "Do you want to come home to a bright, airy space? Or cosy, nurturing and sumptuous?" Or, "What does Christmas look like? What does a holiday look like?" Ask someone what their favourite color is, she adds, "and they might say something they'd seen in a magazine. But when you dig a bit more, you get to what color brings up that feeling of their granny serving them their favourite pie."
Yup, sentimentality, for so long dismissed in design, is now something of a goal. "Creating a sense of sentimentality in a space is the most intimate and emotionally engaging part of building a home - and yet too often it is neglected," writes the London-based Swedish interior designer Beata Heuman in her new book, Every Room Should Sing (Rizzoli, £32.13), Adding layers of emotion needn't cost anything, she adds: "It's about being thoughtful and free in your expression. It's about giving special attention to ordinary things. It's about being inspirational, not aspirational."
For the "design psychology coach" Rebecca West, emotion-led design is as much about eliminating the things that provoke negative feelings as putting those special pieces that spark joy - the art pieces, the heirlooms, travel keepsakes, trinkets - front and centre in your house. "Design is about what will make you happy."
West believes it's time to loosen our grip on the design rule book, and instead follow our hearts. "I can't tell you how many people let others dictate what their home should look like," she says. "My job is often just to grant people permission to connect to what they really wanted to do in the first place."
SIX EASY EXPERT WAYS TO CREATE A MORE EMOTIONAL HOME
"Get rid of everything that makes you feel guilty, brings back bad memories, or that you simply hate," advises West.
Conjure happy childhood memories around the house with nostalgic scents.
"It's key that every single room features something vintage," Watson-Smyth says - "ideally, your Granny's old chair, but you can still add character with something off Ebay that belonged to someone else's gran."
If you're renting and can't paint your walls, consider introducing evocative colours through rugs or bedding.
Seek design inspiration below stairs at National Trust properties, where it's cosier and less formal, advises Harding.
Hang a picture of a beautiful landscape that is your happy place.
Fleur Britten is a well-respected journalist who for years was the Senior Features Editor at Sunday Times Style. She is known as one of the smartest lifestyle journalists around, revered for being able to decode trends and report on new zeitgeists as they happen. She now writes for the Telegraph, Livingetc, Vogue, The Times, Harper's Bazaar and the Guardian.