"Go for this over white!" 6 beautiful kitchens with black sinks that will convince you to switch up your design
Designers discuss why this dark and dramatic hue is the secret to a stunning kitchen scene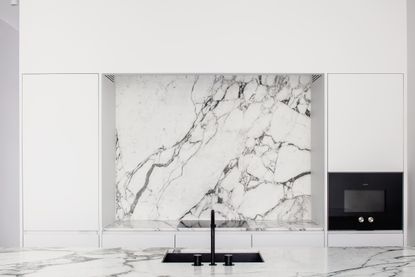 (Image credit: am designs)
Black is more than a staple when it comes to our language of design, it's an entire school in and of itself. The inviting and enigmatic depths of this dramatic hue make it an easy winner when it comes to your kitchen cabinets or flooring, but it can also bring your kitchen sink back to life too.
Sophisticated and striking, black sinks are beginning to eclipse their pristine and perfect white counterparts in the modern kitchen. Not only are they more resistant to staining, but the elegant addition of an onyx or charcoal sink can help your kitchen design feel more cohesive and considered.
On the surface, it might seem like black sinks can only be beautiful when seen in a coordinating kitchen, but this is not the case. When encased with white marble, a black sink becomes a focal point for your kitchen. Alternatively, when paired with neutral and natural materials, a black sink can offer a sophisticated and practical solution for its family.
To offer you some inspiration, we've spoken to a variety of interior design experts from across the globe and taken a closer look at how they bring out the best of black when it comes to kitchen sinks.
1. ADD A TOUCH OF BLACK TO A TRADITIONAL SINK
Black might seem like it belongs solely to the minimalists and makes of only the most contemporary schemes but that couldn't be further from the truth. This traditional Butler sink feels elegant yet classic in its charming black shade. The bronze fixtures complement the sink and accentuate the depths of its inky hue.
'Black sinks are a versatile fixture, they can add contrast and boldness to a space, but they can also be used in a more subtle manner depending on the installation,' says says the Australian interior designer and founder of The Simple Collective, Emily Evans. 'This particular kitchen at our Prestwick project has a dramatic monochromatic palette, the large butler's sink is a feature but also blends in and complements the black timber cabinetry and honed granite benchtop, allowing the bronze English Tapware faucet to pop.'
If you're also leaning towards a more traditional kitchen but still want to create a space that feels striking, following in the footsteps of Evans by introducing a more classic design in black may prove to be a simple yet effective design decision.
2. CREATE A SLEEK AND SOPHISTICATED SINK
This contemporary kitchen design imagined by award-winning interior designer; Greg Natale showcases the timeless appeal of black when it comes to not just your sink but your entire kitchen.
By opting for a black sink, the kitchen design envelops you and there are no harsh lines or clashes of color. The designer himself advocates for charcoal-colored kitchen sinks as a rejection of the obvious and underwhelming and a celebration of the sleek and striking. 'A kitchen sink is such a mundane thing that most people may not notice or necessarily consider until they see a black sink,' says Greg. 'They're slick and contrasting. When I work with black sinks, I most often use ones made out of quartzite, which brings this element of modernity to a kitchen. Depending on the scheme, you can either have them blend into a darker benchtop or stand out against a lighter one – both create an impact.'
3. MAKE A BOLD STATEMENT WITH BLACK STONE
Beguiling stones are no strangers to kitchen designs but you can also take advantage of their natural beauty when it comes to your sink.
Created by Swiss kitchen specialists, AHC Atelier Haute Cuisine, this all-black kitchen features delicate striations of white dancing across its countertop and sink. Not only does this connect the surfaces but it gives the sink a weighted feel and elevated finish. 'The handcrafted spelt sink seamlessly blends with the kitchen countertop, both made from the same material, creating a perfectly elegant overall kitchen design,' says David Gurtner from AHC. If you're worried about durability, consider resistant stone solutions like quartz or composite stones for your table top and sink.
4. PAIR A NATURAL SCHEME WITH A SABLE-COLORED SINK
If you're envisioning a lighter and brighter space for your dream kitchen, this calming space created by Sophie Burke Design makes the case for a sable-colored sink to add contrast and functionality to your design.
'In this kitchen, the black sink blends nicely into the honed kitchen countertops and its matte finish doesn't reflect light like a white or stainless-steel finish would,' shares Sophie Burke, founder of Sophie Burke Design. 'The black finish also echoes the other black accents in this kitchen and is practical for a young family. It's a modern compromise between a traditional porcelain sink and the more industrial stainless steel.'
Burke's design proves that a black sink isn't just for those seeking an all-black kitchen design but can actually prove to be a soft and serene addition to lighter and brighter spaces too.
5. CREATE CONTRAST WITH BLACK & WHITE
This architectural and minimalist kitchen designed by Belgian design collective, am designs is rooted in contrast. The black sink isn't blended into the rest of the kitchen but rather a focal point in the center of the marble kitchen island.
'The interior is characterized by white minimalism in combination with Carrara marble. The black sink is a subtle reflection of the black finish of the Vola taps and Gaggenau oven,' says Romy Van D'huynslager from am designs. The faucets and oven emphasize the smart aesthetic of the sink and highlight the grey striations of the marble, bringing the entire kitchen design together. The white and black make this kitchen design that much more impactful and let the black sink be the star of the show.
6. GO FOR AN ALL-BLACK LOOK
Black covers this contemporary and refined kitchen from kitchen specialists Atelier Haute Cuisine. The charcoal tones of the cabinets and grey countertop are wonderfully complimented by the jet-black tone of the sink.
'The black kitchen's sink complements the dark design seamlessly, offering both functionality and style as it blends with the overall aesthetic of the space,' says David Gurtner from AHC. The white walls and expansive windows work to temper the depths of the kitchen and sink, showcasing that an all-black kitchen will always be an effortless yet rewarding choice.
The Livingetc newsletter is your shortcut to the now and the next in home design. Subscribe today to receive a stunning free 200-page book of the best homes from around the world.
Writer and design expert Faaizah Shah is the founder of The Interiors Consultancy. She has worked with designers such as Staffan Tollgard and design houses such as Sanderson to help them understand and communicate their narratives. She is known for crafting engaging stories and imaginative content, and understanding great decor from her years alongside some of the best creatives in the industry. She is also a contributor to Livingetc.