A small London home is reimagined as a series of intimate nooks
These are the lessons in styling small and intimate spaces we'll take from this boldly redesigned end-of-terrace house in London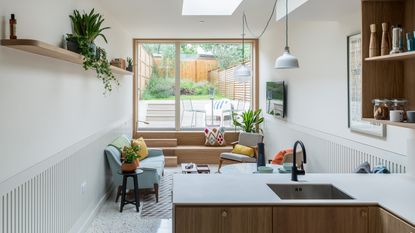 (Image credit: The Modern House)
This London home has had a new lease of life thanks to a bold redesign – and we admire the way it pays attention to the quiet power of nooks to transform a small space.
Many modern homes in cities lack space, but this house proves that where square footage is lacking, imagination can help create extra spaces in unexpected places.
The home is part of the Ghost Houses project by the architectural developers Fraher & Findlay. There are three homes in a single terrace, and two have been sold. The design was inspired by the Japanese Pencil Houses, which work with the challenges of narrow plots that is common in Japanese cities.
Rather than attempting separate spaces in the small and narrow two-bedroom home, the architects have opted for creating a series of flowing, semi-open-plan configurations that use every opportunity to utilize corners, alcoves, and floor space to create intimate nook areas.
In the living room, the short staircase leading up to the garden has had a seating area built into it, creating a cosy conversation area. Where small living room ideas are concerned, the space around the window is often the most neglected; here, it's been put to full use.
Another challenge the design overcomes brilliantly is an L-shaped kitchen. L-shaped kitchens are traditionally perceived as awkward space, especially if they sit within an open-plan layout. However, in this case, the back of the L-shaped counter has been transformed into a stylish breakfast area.
The padded corner bench is a sleek solution to the 'problem' of this space. It has created an opportunity for relaxing dining where previously there would've been an unused corner.
In a similar vein, a hallway alcove has been transformed into a cosy nook that can be used for reading or working (the additional of a plug is a handy and thoughtful detail). We really like the line of thinking here: why choose between hallway storage ideas and an additional comfy seat when you can have both?
Working from home is with us to stay, and this house demonstrates that however small your house is, there will be an area that can be converted into a workspace. All you need is a window. In the Ghost House, a narrow space right behind the home's main staircase has become a secluded study area overlooking the garden. Waste not want not.
Ghost House II (opens in new tab) is on sale for £835,000 by The Modern House.
Anna is Consumer Editor across Future home titles. She contributes to Livingetc, Homes & Gardens, Ideal Home and Real Homes, and she has a background in academic research. She is the author of London Writing of the 1930s. Not just an expert in consumer shopping trends, she has also written about literature, architecture, and photography, and has a special interest in high-end interior design.