Christmas decorations - the biggest trends for 2020
Christmas decorations this year are big, small, glitzy and eco - here's how to get them right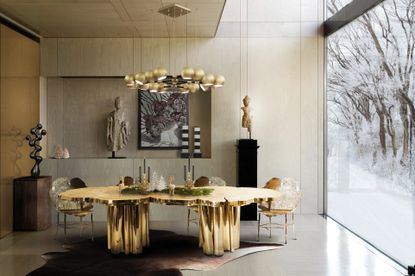 (Image credit: PR/Boca do Lobo)
Christmas decorations are the most fun part of Christmas, the bit where all the interiors rules and ideas we've been using all year go out the window....or do they?
For this year's Christmas decorations fit neatly into the trends that have defined this year, the key looks and modern decor ideas that have categorised what we've seen emerging throughout the months. From the high-shine glitziness of gold (used a lot this year as a kitchen surface) to the eco principles that have persuaded many of us to shop differently, from maximalism to minimalism, there is something here to suit everyone.
See also: Table ideas for Christmas
MINIMALIST
As this quiet corner shows, a little goes a long way, and these minimalist Christmas decor ideas don't feel any the less warming or inviting for being so sparing. These small garlands from Garden Trading are hung at varying heights to create the illusion of abundance, without taking over the whole space.
Decorating like this is a very calming approach to the Christmas season, but provides enough cheer to still make a difference to how the room will make you feel.
AUTUMNAL COLORS
With this year having passed in a blur, it's perhaps only natural that we still want to cling to the rich colors of Autumn. Burgundy, mustard and rich, russet reds are sumptuous and opulent, but a modern take on the classic Christmas decorations scheme. Pair these objets, all from Rose and Grey, with dried flowers in deep shades for a look that is truly elegant and, with its deep color tones, feels pretty luxurious too.
See also: Fabulous festive table ideas
GOING OVER AND ABOVE
A clever way to get a lot of Christmas decorations into one space, though without seeming cluttered, is to use your vertical space. Here, the curtain of foliage sings against the wall painted in Old White by Annie Sloan, extended from a silver birch branch which itself is hung from the ceiling by invisible wire. Just remember to leave enough space so diners can see through the curtain to be able to talk to each other.
See also: Ideas for elegant entertaining at home
GOLD LEAF
Tablescapes have dominated Instagram this year, as people at home have found new ways to make their meals feel special, or to bring a sense of occasion despite not going out anywhere near as much as before. Christmas decorations are no different, and layering up your dining table is an easy way to bring joy no matter how many - or few - people are coming to dinner. These gold chargers from Rockett St George help to elevate the setting.
See also: Festive finishing touches
SMALL SPACE LIVING
No space for a real tree? No problem! The wall tattoo by MYK sticks to the wall and manages to feel almost like the real thing. It's removable, and can be used year after year, plus it doesn't drop any needles, of course. Small space Christmas decorations are a big thing this year, as many younger renters may not be returning home for the season, and there is much you can do in only a little space.
See also: Christmas decorating trend - the circus
SUPER SIZE ME
That said about small spaces, maximalism is as big this Christmas (if you'll pardon the pun) as it has been all year. Why have a regular sized star on top of your tree when you can have a giant one from Lights 4 Fun?
ALL THAT GLITTERS
Of course, this gold dining table from Boca do Lobo is pretty opulent by itself, but the trend for gold being used on kitchen surfaces and tables all years translates brilliantly when it comes to Christmas decorations. But if you don't have a gold table, don't worry - gold candelabra, gold baubles and gold plates have almost the same effect.
See also: How Skye McAlpine does Christmas at home
MOODY BLUES
Blue has been a big color all year - from the light shade of the sky to the rich royal hues, and it's continuing into Christmas decorations. Make like Cox and Cox, and pair sophisticated peacock blue baubles with gold and lots of twinkly lights, for a look that is pure glamour.
See also: how to keep your tree looking fresh all Christmas long
NATURAL GARLANDS
While many of us have appreciated nature more than ever this year, our love for it is continuing into our Christmas decorations. Take inspiration from Marquis and Dawe to create garlands that run down the center of the table, pair with low pink candles (though not low enough they might burn your leaves) and richly burnished baubles. It's traditional, but not as you know it.
QUIRKY CHRISTMAS DECORATIONS
In among all the serious orb-shaped baubles and twists of foliage, it's important to remember that Christmas is about having fun, too. A few peeks of personality from between the fronds of your tree go along way, and this spaceman bauble from Cox and Cox is the perfect, out-of-this-world addition.
Shining a spotlight on the now and the next in home design and decor, Livingetc is the UK's best selling high end and contemporary home design magazine. As a brand, Livingetc showcases the world's very best homes, breaks and makes the trends, and has access to leading international designers for insight and ideas. It was first published in 1998, and is currently edited by Pip Rich.