5 things to do in the garden that make you happy
Gardening makes us happy – it's a given. But you can add to the happy quota by focusing on a few special things that will make time spent in your garden doubly soothing.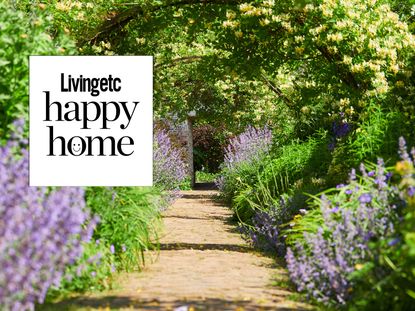 (Image credit: Alamy)
The Livingetc Newsletter
For style leaders and design lovers.
Thank you for signing up to LivingEtc. You will receive a verification email shortly.
There was a problem. Please refresh the page and try again.
Whether it's using your outdoor space to switch off from work and destress by simply being creative in nature, nurturing seeds and plants, or feeding your inner plant hunter by kicking back with a seed catalogue, your garden is your happy place.
It represents that moment of disconnection from everyday life, rewarding us with peace as we recharge and celebrate screen-free time. It could be taking five minutes out to watch the bees and butterflies or listen to the bird song.
Maybe it's seeing something you planted a year ago and had forgotten about suddenly unfurl into the prettiest flower. Or using a brand new shiny trowel for the first time, to help coax young plants gently into the ground. Either way, it's all about celebrating life's simple pleasures.
The pace of life in the garden is perfect, and we all need to get outside more. Not like we need an excuse to slow down and get more nature in our lives. Read on to discover 5 more reasons why your garden can make you happy and turn to our feature on no dig gardening for more inspiration.
1. Sow some oriental poppy seeds
Fluttering in the breeze, with bees getting busy over their gauzy ruffled petals, a mass of poppies gladdens the heart always. The oriental variety come in every paintbox colour from deep crimson and coral to mustard and burnt orange, often with velvety black splotches at their heart.
Sow the seeds (our current favourite supplier is Franchi) directly in the ground in spring or early summer, scattering thinly over the soil at random to create natural looking drifts. Stagger your sowing and you will get a continuous show of poppies. Choose a sunny spot with good drainage for best results.
After the main show the stunning seed heads add an architectural note to the autumn garden. They look good in dried flower arrangements too if you want to bring them indoors.
For more flower inspiration, Arthur Parkinson's ideas for turning a small space into a floral haven is a great place to start.
2. Give in to your David Austin obsession
Did we mention how much we love browsing the David Austin Roses catalogue? It's the perfect antidote to Zoom fatigue. The only problem is, with page after page of glossy blooms to choose from, it's hard to stop at just one.
Make this the summer you plant a fragrant rose. What better than 'Gertrude Jekyll', often described as the quintessential rose fragrance. One of the first English roses to start flowering, with perfect scrolled buds opening to densely packed crinkled rosettes, it will flower twice if you remember to snip blooms as they fade as it's what's known as a repeat flowerer. It works in a pot too if space is tight.
Perfect pink roses drenching the air with fragrance right through summer. What could be more of a feelgood moment than that?
3. Design a painterly border
Channel your inner Gertrude Jekyll (clearly we're having a Gertrude moment here) by creating a planting scheme that looks like a subtle wash of watercolours. No matter what the size of your garden you can create a border (or raised bed) with a tumble of luxuriant and romantic planting that will give you a buzz every time you look at it.
Planting schemes like this featuring soft waves of colour became synonymous with Jekyll's style. Start by choosing cottage garden plants like roses, lavender and tall spires of lupins, foxgloves and hollyhocks, and weaving them together to create romantic drifts of colour.
Take five minutes to look at the colour wheel for inspiration. A little planning will reward you with many moments of colour-infused magic in return.
4. Plant your own wisteria to walk through
Marking the transition from spring to summer with its exuberant clusters of blossom that sends Instagram into a frenzy every year (#wisteriahysteria), think about planting your own. The anticipation of waiting for those buds to burst open and create tumbling waterfalls of flowers in palest mauve will become a soothing distraction from more pressing cares.
You don't need a lot of space (a side return could work depending on the aspect, preferably a sunny one) and your wisteria will soon wrap itself over a wall or flop through a trellis as it's vigorous. Although it's easy to grow you will have to be patient as it can take a couple of years for your new plant to blossom. In the meantime the lime green foliage is a feature in itself.
It will be so worth the wait. Taking in those stunning pendants dripping with scented flowers will be an uplifting daily treat.
5. You can never have enough (free) plants
Your garden is brimful of plants, yet you want more. But when multiplying them yourself is so easy there's no excuse not to 'make' your own. It's one of the most fulfilling things you can do and you'll have lots of happy moments nurturing your baby plants.
There's several ways you can do it. You can lift and divide them to turn one plant into two (or more), take cuttings for propagation, or collect seeds for next year. Or all three!
If you're new to the propagating game now is a good time to start with some easy lavender cuttings from this year's new growth. Simply pull several side shoots away from the main stem leaving a thin strip of bark attached. Strip off any lower leaves to get a good section of stem and insert a few into a pot of gritty compost, positioning them around the edge. Cover the pot with a plastic bag and put in a warm, shaded place until well rooted, then pot up individually, before planting out to fill your garden with colour and scent.
Happy gardening!
For style leaders and design lovers.
Lifestyle journalist Sarah Wilson has been writing about gardens since 2015. She's written for Gardeningetc.com, Livingetc, Homes & Gardens, Easy Gardens and Modern Gardens magazines. Her first job on glossy magazines was at Elle, during which time a visit to the legendary La Colombe d'Or in St-Paul-de-Vence led to an interest in all things gardening. Later as lifestyle editor at Country Homes & Interiors magazine the real pull was the run of captivating country gardens that were featured. Having studied introductory garden and landscape design as well as a course in floristry she is currently putting the skills learned to good use in her own garden where the dream is establishing a cutting garden.