This small backyard has a clever idea that elevates its pool and turns it into a sensory garden all at once
A designer reveals how he elevated the pool in this modern landscaping project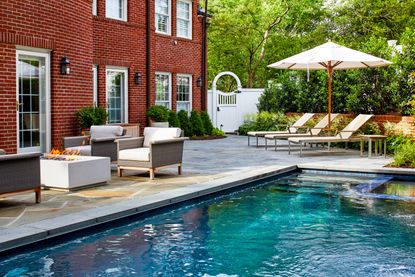 (Image credit: Stacy Zarin-Goldberg. Design: Richardson & Associates Landscape Architecture)
The Livingetc Newsletter
For style leaders and design lovers.
Thank you for signing up to LivingEtc. You will receive a verification email shortly.
There was a problem. Please refresh the page and try again.
Yes, pools are a wonderful feature in any backyard but they can be a little boring. Don't get me wrong, pool design has come a long way in recent years, with some amazing modern pool ideas out there but they are usually pretty similar and don't add much of a focal point to your space.
Pool scuppers are not something we had heard of, and don't sound particularly interesting either. But once we saw the result of this Kenwood project by Richardson & Associates Landscape Architecture we suddenly became very interested. The simple water system can be added to almost any pool, providing functionality and a water feature that instantly elevates your pool.
If you are looking for a way to modernize your outdated pool check out this addition, and see what it did for this beautiful yard.
What are pool scuppers?
Although they don't sound very appealing they actually have a utilitarian and structural beauty to them. "Scuppers" originated from boats, but slowly became adopted by pool designers for their functional role helping water circulation. They also serve as decorative elements that release a smooth flow of water. Not only is this visually appealing it also boasts the benefits of your average water feature creating soothing sounds for a sensory garden.
Their striking design provides a focal point out of an essential pool function that could never be described as boring.
This backyard is very tight to the property, and when dealing with limited space it is important to establish your non-negotiables. Depending on how you might wish to use your space this could be an outdoor kitchen, a fire pit, or in this case a pool.
'The site posed a few challenges being a corner lot and having a tight backyard,' says Jordan Clough, the Associate Principal at Richardson & Associate Landscape Architecture. 'We knew from the start the clients wanted a pool, and taking into consideration the grades, a retaining wall was going to be required to create ample entertaining space and room for the pool.'
Having a tight backyard means that every area is visible from the home, and there is nowhere to hide. It also means that every element must be considered and intentional, every aspect of this project was thought out and made into a feature.
'With the pool being close to the back of the house and the main visual feature of the yard looking out through the back doors, we began looking for opportunities to create more interest, which led us to using the stainless steel scupper that returns water to the pool and doubles as a water feature,' explains Jordan.
The pool is the center of the backyard but doesn't feel like it overwhelms the space, perhaps due to the clever positioning of the furniture that doesn't close off any area. We love how sociable it feels and how it promotes a blend of indoor and outdoor living. If you can't enjoy complete 'borderless living', having doors that open from your kitchen to a patio is the next best thing.
What are the advantages of pool scuppers?
Other than design aesthetic there are some great advantages of pool scuppers. The first is how customizable they are. Whilst most pools look the same this feature is a way to put your personal stamp on it and use it to enhance your existing backyard theme. They come in all sorts of shapes and sizes they're are options for every style.
The second benefit is their auditory function. If you live in a busy area or a nearby road often disturbs you this could be the perfect solution for drowning out annoying and distracting noise.
The circulation function also helps to regulate the temperature of your pool, keeping it cooler in the process. This is a big plus for the summer when your pool is naturally heated by the sun.
Are there any drawbacks?
Despite all their benefits, there are a couple of things to look out for. They can be costly. It is important you discuss the construction work with your pool engineer to determine a cost as they may add a few thousand dollars to your bill. Although with all those benefits you might feel it is worth it.
Another slight drawback is the maintenance. although it is no more than your average pool it is something to be aware of. You will want to clean your scupper regularly to avoid the accumulation of bacteria and algae. this can be a particular issue on cuppers made from natural stone where they build up quicker.
For style leaders and design lovers.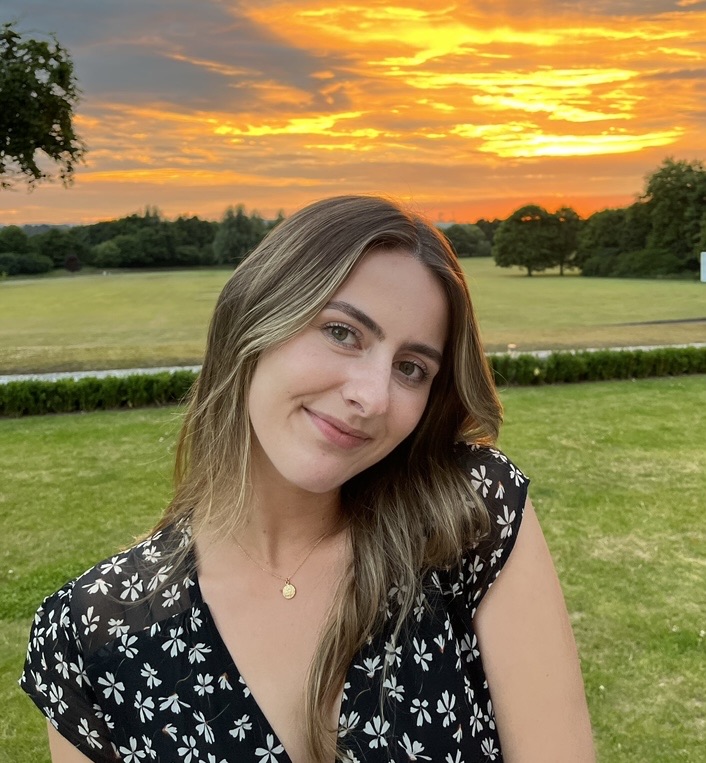 Amy recently completed an MA in Magazine Journalism at City, University of London, with experience writing for Women's lifestyle publications across arts, culture, and beauty. She has a particular love for the minimalist aesthetic mixed with mid-century furniture, especially combining unique vintage finds with more modern pieces. Her previous work in luxury jewellery has given her a keen eye for beautiful things and clever design, that plays into her love of interiors. As a result, Amy will often be heard justifying homeware purchases as 'an investment', wise words to live by.