How to have a lush garden even when the temperature's soaring - 10 plants that like full sun and heat
These hardy plants that like full sun and heat will bring the bloom to your backyard garden all the way through summer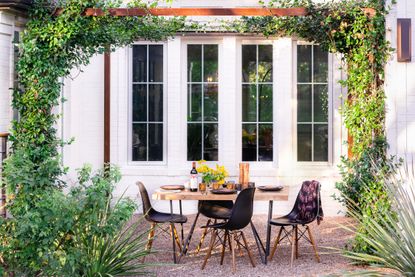 (Image credit: Eden Garden Design/Greg Thomas)
The Livingetc Newsletter
For style leaders and design lovers.
Thank you for signing up to LivingEtc. You will receive a verification email shortly.
There was a problem. Please refresh the page and try again.
If you're lucky enough to live somewhere that's blessed with sunny days for most of the year, you'll know there is one thing that doesn't always appreciate the intense heat - your plants.
However, by sowing heat-tolerant plants, including a mix of hardy annuals and perennials, you can be one step ahead of the weather and enjoy the blooming beauty even through a heatwave.
So whether you're looking to create a beautiful vine-covered pergola for summer or give your flowerbeds a boost, these expert tips on plants that like full sun and heat will see you through.
Plants that like full sun and heat
Not sure what to plant for a beautiful bloom all summer long? Our experts reveal their favorite plants that like full sun and heat to steer you in the right direction.
'First and foremost, always choose plants that are native to your area,' advises Amy Hovis, Principal/Owner of Eden Garden Design and Owner of Barton Springs Nursery.
She continues: 'Always purchase from an independent local nursery and make sure you choose plants that are specific for the sun conditions of your planting area (sun vs. shade).
'These are some of my favorite dependable superstars (below).'
1. Blanket flowers
'Blanket Flowers produce vibrant blooms and showcase an array of intriguing colors,' says Andrew Gaumond, horticulturist and editorial director at Petal Republic.
'They'll happily tolerate hot and dry conditions, as well as exposure to bright, direct sunlight throughout the majority of the day.
'Plant in a location with full sun exposure, ideally in well-draining soil, as they particularly dislike saturated or soggy grounds.'
Blanket flowers would work perfectly as part of your modern garden border.
2. Lantana
Lantana is a stunning heat-tolerant plant that loves full sun and well-drained soil.
Andrew Gaumond says: 'Lantana will thrive in full sun for the majority of the day but will appreciate some partial shade in the afternoon if available. They flourish in open locations in well-draining soil bases but will also grow happily in large containers or pots.
'These sweet, fragrant plants are also a haven for beneficial pollinators in the garden, being one of the best flowers for bees and also butterflies.'
Amy Hovis, Principal/Owner of Eden Garden Design and Owner of Barton Springs Nursery, agrees it's a heat-tolerant favorite. She says: 'Lantana is a versatile perennial that produces colorful flowers in a variety of shades.
'It's highly drought-tolerant and attracts butterflies. Trim it back in early spring to promote bushier growth. I love white lantana for a front yard; it's hardy and elegant.'
3. Zinnia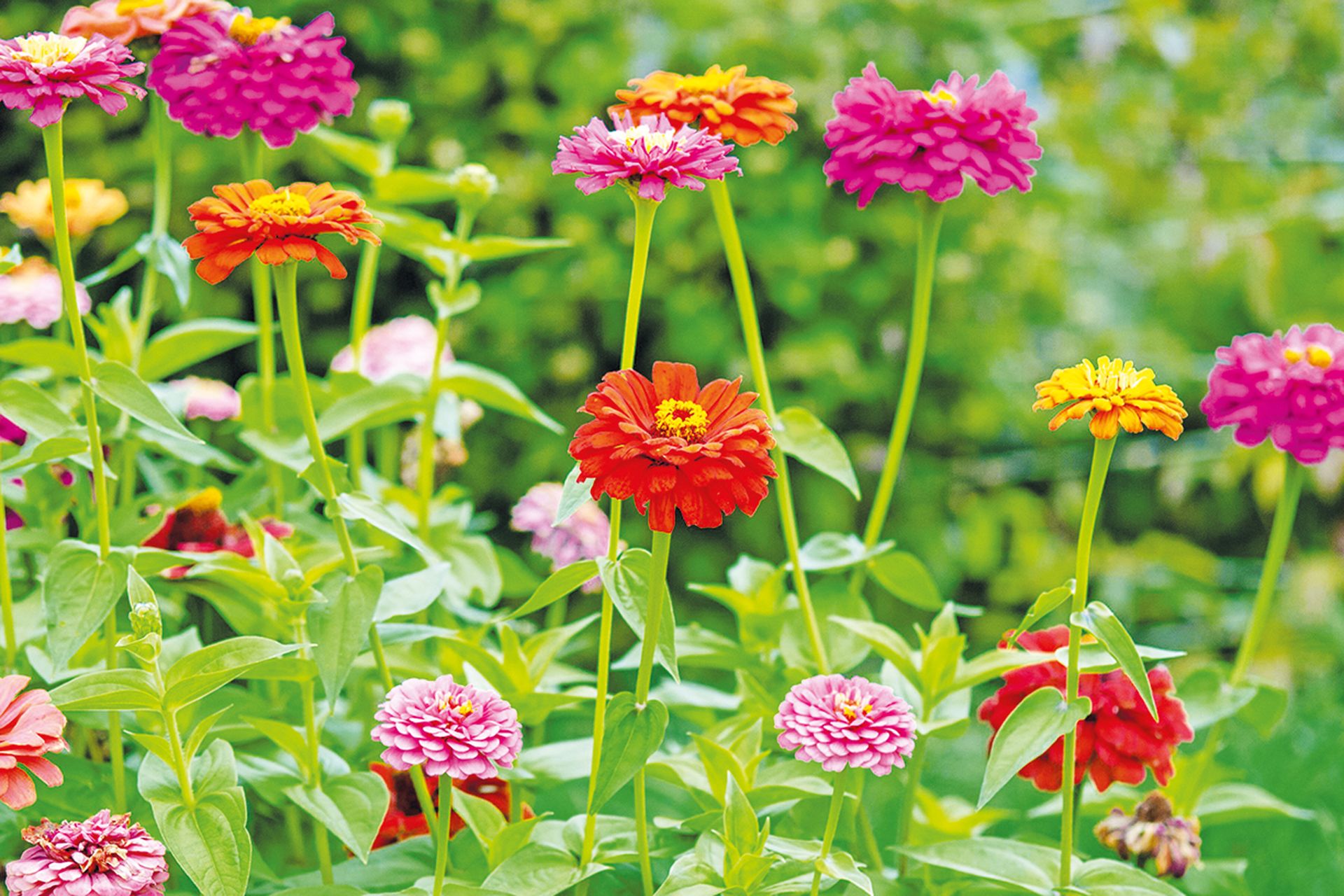 Love a pop of color? Add zinnia to your full-sun plant lineup.
'Zinnias produce exquisite blooms and love hot, dry, and humid summer conditions,' confirms Andrew.
'They thrive best in full-sun exposure and should be planted in rich, fertile soils supplemented with plenty of organic matter. Honey bees, in particular, are drawn to their brightly colored petals and easy-to-reach nectar.'
4. Blackfoot daisy
Blackfoot Daisy (Melampodium leucanthum) is an ideal full-sun choice if you want to add delicate flowers to a landscape.
'This low-growing perennial has cheerful white flowers and can withstand extreme heat and drought,' says Eden Garden Design's Amy Hovis.
'It's a great choice for rock gardens or as a ground cover plant. Deadhead spent flowers to encourage more blooms.'
5. Texas sage
Choose Texas Sage (Leucophyllum spp.) if you're looking to add prettiness to your privacy screens.
Amy Hovis says: 'These shrubs are drought-tolerant and have beautiful purple or white flowers. They are very hardy and require little water once established.
'Prune them lightly in late winter or early spring to maintain their shape. They will flower just before and after a rain.'
6. Agave
Add sculptural, evergreen structure to your garden with Agave (Agave spp.).
'Agaves are succulent plants that thrive in full sun and require very little water,' says Amy.
'They come in a variety of sizes and shapes, adding architectural interest to the landscape. Just make sure to plant them away from foot traffic due to their spiky leaves.'
Spot how the lantana makes a pretty softener next to the sculptural agave at the bottom center of the garden above.
7. Red yucca
Hardy, sculptural, with a pop of color in spring: Red Yucca (Hesperaloe parviflora) is a tough and attractive plant with slender, arching leaves and tall flower spikes.
Amy says: 'It's highly tolerant of heat and drought. Prune the flower stalks after they have finished blooming to maintain a neat appearance.' As the project above by Eden Garden Design shows, red yucca is ideal for enhancing pavers, pathways and borders.
8. Lavender
Inject a Mediterranean vibe into your backyard or garden with lavender. As a native of sunny climes in Europe, it's grown used to heat and drought, and thrives in full sun and well-drained soil.
It's a herb that works beautifully garden borders and boasts purple spiked flowers with a shrub-like form. It's also one of the best plants for an outdoor dining area as it has such an enticing scent.
Lavender thrives when planted on slopes, mounds or raised beds, and it's a good idea to use rock or stone instead of organic moisture-holding mulches.
9. Four-nerve daisy
Four-nerve daisy (Tetraneuris scaposa) is a hardy little perennial that softens a landscape with its delicate yellow flowers.
'They are drought-tolerant, and hardy in heat and cold,' says Amy Hovis. 'They have done well with the changes in weather the last two years. When I go back to a job they are always thriving.'
As well as being pretty and heat-tolerant, these sturdy flowers that thrive in well-drained soil are resistant to deer, long-blooming, and are a top choice for anything from ground cover to flowerbeds and borders, rock gardens or containers.
10. Star jasmine vine
Who doesn't love a vine-covered pergola that looks pretty and offers a little shade while enjoying lunch alfresco?
'Star jasmine vine Rachelospermum jasminoides is a fast growing hardy vine known for its fragrant white blooming flowers,' says Amy Hovis. 'It's great for attracting bees and wonderful as a vine creating an outdoor living room or dining space.'
How do you care for heat-tolerant plants?
Need a little guidance to keep your heat-tolerant plants thriving? Amy Hovis, of Eden Garden Design, shares her top tips.
'Plant them in well-draining soil and add a layer of mulch around the plants, which helps them to retain moisture and suppresses weeds.
'In terms of maintenance, water newly-planted plants regularly until they become established, and then reduce watering to match their specific needs.
'Keep an eye out for pests or diseases, but these heat-tolerant plants are all generally pretty resilient.'
She adds: 'Fertilize periodically with a slow-release, low-nitrogen fertilizer formulated for drought-tolerant plants.'
[Top tip: It's a good idea to check your USDA Hardiness Zone to see which perennials are also likely to survive the winters in your location.]
For style leaders and design lovers.
Ruth Doherty is a lifestyle journalist based in London. An experienced freelance digital writer and editor, she is known for covering everything from travel and interiors to fashion and beauty. She regularly contributes to Livingetc, Ideal Home and Homes & Gardens, as well as titles like Prima and Red. Outside of work, her biggest loves are endless cups of tea, almond croissants, shopping for clothes she doesn't need, and booking holidays she does.