14 home office ideas for him - stylish spaces to get work done
Home office ideas for him that don't come across as stereotypically 'masculine'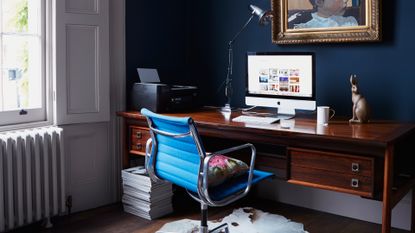 (Image credit: Sarah Hogan)
The Livingetc Newsletter
For style leaders and design lovers.
Thank you for signing up to LivingEtc. You will receive a verification email shortly.
There was a problem. Please refresh the page and try again.
Home office ideas for him don't fall into any steretypical style. They embrace colour, pattern, style and creativity.
Whether it's simply a space to Zoom or a full-blown desktop, it's important to get the design right.
Although this list is called home office ideas for him, anyone can adopt these sophisticated looks. Read on for some inspiration.
1. Personalise the space with artwork
'There's this new wave of home offices where people are adding colour and life to make an environment that inspires you and your work,' says interior designer Enass Mahmoud of Studio Enass.
Mahmoud suggests adding artwork to your home office, making it a space that you are proud to show off.
2. Go for a neutral colour scheme
'Men typically like to go for neutral tones in their office spaces,' says Enass Mahmoud. 'So I would choose super dark furniture such as dark wood or black but then accessorise the space with hints of colour to make it pop.'
3. Opt for soft furnishings
Enass Mahmoud suggests adding soft furnishings such as velvet stools or a soft bench to a home office. 'I think it's important to have a little corner in your home office where you can step back from your laptop and relax for a moment.'
4. Add a built-in desk for maximum efficiency
'Desks built into storage joinery are excellent space-savers and work for a more discrete look in a multipurpose room,' says Henry Miller-Robinson, Co-Founder of K&H Design.
'Planning electrical and furniture layouts together means the bespoke storage and desk design will perfectly hide all ghastly sockets and wires.'
5. Go for a sophisticated look with wood panelling
This sophisticated design makes the perfect home office for him. The wood panelling creates a traditional yet warm feel with a colour scheme that is sure to motivate.
If you want the rustic look then add wooden furniture and keep to darker tones.
6. Get creative with a gallery wall
If you want to personalise your home office then a gallery wall is the perfect way to do that. Adding some artwork can bring different colours and textures to your office while creating an inspiring space tailored to your tastes.
A gallery wall is also ideal for small spaces and if you fancy a change then you can easily switch out old pieces for new ones.
7. Go modern with an eclectic style
If you are the sort of worker that needs inspiration in a creative space then an eclectic home office may be the best option for you. Pair different textures and colours, mixing vintage furniture with contemporary elements to create an energising space.
8. Opt for a formal look
Why not recreate your work office at home with a formal and sophisticated look. Stick to neutral tones and make the desk the centrepiece of the room.
Add desk decor such as paper weights, books and ornaments to personalise the room while keeping it professional.
9. Let the light in with a window desk
If you're opting for darker tones then a window desk is a great way to let some natural light in.
Grey walls and dark furniture can be complemented by natural lighting from a large window. Simply add some lamps to the room for extra lighting.
10. Keep it simple with a black and white colour scheme
If you like to keep it clean and simple then you can't go wrong with a black and white colour scheme.
With all-white walls and furniture, the design is versatile and can easily be rearranged if you fancy a change of scenery. Simply add some personality with desk decor.
11. Add a rug for a warmer feel
If you want to make your home office feel cozy and welcoming, then adding a rug is a simple way to do that. It's also a great way to add some colour and pattern into the room and can be easily swapped out if you fancy a change - this works well as part of small home office ideas.
12. Go big with bold colours
'Home offices are spaces where we need focus but also frequently the best spaces to experiment with colour and pattern,' says Ruth Mottershead, Creative Director of Little Greene. 'Bold, bright colours such as 'Phthalo Green' will create vibrant impact, making sure you feel energised and productive.'
13. Make an impact with deeper tones
'A combination of deep tones with softer colour highlights on woodwork or skirting boards can be very impactful, without feeling too distracting,' says Ruth Mottershead.
'For a contemporary look, you may wish to choose a more muted hue such as 'Castell Pink' for your base, combined with warmer, earthier tones such as 'Nether Red' or 'Arras' on the woodwork or doors, which is a great way to colour-block and use colours with similar undertones, resulting in an inviting and grounded scheme.'
14. Save space with a curved desk
'Using a curved desk is a space-saving solution and makes a practical piece of furniture extremely beautiful in a study,' says Katie Glaister, Co-Founder of K&H Design.
The curved desk in this space was beautifully designed by K&H Design and features tapered legs, cable management and neat inlay.
For style leaders and design lovers.
Nicky Morris is a freelance journalist specialising in interiors and design. Covering everything from staircase lighting ideas to Ikea hacks to outdoor kitchens to tips for hiding radiators, she writes for Livingetc and Homes & Gardens and has previously written for Tempus Magazine. She also covers TV writing, and has written for Hello! magazine.