9 color palettes for minimalist bedrooms - instantly make your space calmer and more relaxing with these shades
Color palettes forminimalist bedrooms can be cozy and inviting. Discover leading designer's favorite schemes and tips for nailing the look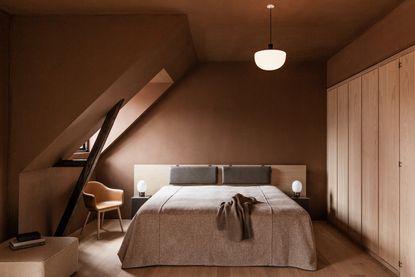 (Image credit: MENU)
Minimalism might have once been associated with all-white, monastic spaces, but all that is changing. Today, soft minimalism combines living with less with natural materials, layers of texture and a broader color palette of warm neutrals. Afterall, minimalism is more about a mindset than a definitive 'look'.
"Minimalism is less so a 'style' but more an approach or a philosophy," explains Lina Galvão, Principal Designer at Curated Nest in Cos Cob, CT. "If you feel good in a minimalist space, you can make it work in any home with a heavily edited design. Less is more in this case."
Lending itself to welcoming and cozy interiors, the new wave of soft minimalism works beautifully in bedrooms.
9 color palettes for minimalist bedrooms
Keep reading to discover nine color palettes that will help you achieve a soft minimalist vibe and a great night's sleep.
1. Charcoal, pale yellow and white
Minimalist bedrooms spaces should feel cohesive, rather than draw the eye to any one particular feature. That doesn't mean you can't use contrast – it just needs to be applied with care. The image above by Studio Zung in New York is a great example of how you can use contrast in a minimalist way. By using the same shade of charcoal on the feature wall and the sideboard, the room retains a cohesive feel.
Lina Galvão at Curated Nest shares her thoughts on choosing a minimalist color scheme: "I would probably stick with lighter, muted colors. You want something that's easy on the eye and doesn't compete for attention. That being said, minimalism can still be moody, so depending on what you are going for, darker tones may work. It depends on the other elements in the room and the function of the room."
For Studio Zung's Principal Designer Tommy Zung the best way to select a minimalist color scheme is by looking for inspiration in nature. "The hues of white, cream, and grey on a white-out day in Colorado," says Zung. "The hues of sand on a blue Hawaiian beach, when the sun has just risen."
$90
2. White and beige
Just as in color palettes for minimalist living rooms, white is a classic shade. But it needs to be a warm white, like Farrow and Ball's Tallow, and it helps when it's paired with beige to create a softer-feeling scheme. In the room above by Buttrick Projects in Oakland, CA, the layering of natural textures with the wooden bedstead, wicker chair and linen drapes adds further coziness.
Principal Architect Jerome Buttrick says that white might be the "obvious choice" for minimalist walls. "But in a natural setting, a warm dark neutral makes a wall recede and becomes a great place to hang art," he adds.
3. Charcoal and wood
Drenching a room in a single hue is a simple way to create a cohesive, minimalist color scheme. Choosing a single, dark shade like charcoal can be a brave but effective choice, as illustrated in the above example by MENU.
"I love creating moody sleeping spaces, so the first palette that comes to mind [for a minimalist bedroom] is one centered around a deep charcoal, such as Sherwin Williams SW7069 Iron Ore," says Jessica Earp, Interior Designer at Cushing Terrell in Seattle. "That particular color offers a nice warmth to it, which helps to create a cozy feeling. Bedrooms are an opportunity to go really monochromatic and apply the same color to the walls and the ceiling. This move evokes a sense of being wrapped in a cocoon. The second palette that comes to mind is still dark and dramatic, but one centered around a forest green as opposed to charcoal. Selecting a dramatic but dark palette always feels elevated and luxurious."
4. Terracotta and wood
Another less intimidating option for a monochromatic palette is terracotta. Pairing terracotta-painted walls with wooden features in a similar tone, as per the image by MENU above, can feel surprisingly neutral.
"Minimalist interiors are often monochromatic – that doesn't mean you can't use color," says Kathleen Glossa, Principal Designer at Swivel Interiors in Seattle. "Consider shades of the same color, for example a light gray wall paired with a dark gray sofa. You can also consider texture. Plaster and lime washed walls are very popular in minimalist designs, both traditional and modern. When considering texture it is important to keep things monochromatic as much as possible."
5. Shades of ink, beige and white
The bedroom above by Seattle-based Studio AM layers various inky shades of charcoal, dark blue and dark green to create a moody yet calming vibe. Studio AM's Principal Designer Danielle Krieg recommends "earthy neutrals with texture" for color palettes for minimalist bedrooms.
"Finding simplicity with form, finishes and colors was important in the large, open bedroom [pictured]," says Krieg. "The active backdrop of Lake Washington was the drama around the space, so creating a sense of calm within the bedroom was enticing. The warm neutral color pallet creates a feeling of serenity and simple beauty. The added textural layering of the grasscloth wallpaper, sculptural lamp, and angular formed nightstand adds depth yet accentuates the minimal, uncluttered space."
6. Shades of grey, white, wood and orange
You can get away with sprinkling a stronger color in your minimalist bedroom if the rest of your color palette is neutral, as the room above by Swivel Interiors demonstrates.
"Neutrals are ideal for minimalist bedrooms – they help create a serene, calm aesthetic, perfect for quality sleep and relaxation," says Kathleen Glossa at Swivel Interiors. "That doesn't mean color can't be considered, but it works best in a scaled back application like tinted plaster or light wood paneling. These dimensional materials also add a dose of organic texture which reduces as minimalism can sometimes feel cold or stark. The rift oak paneling in this modern bedroom [pictured] added an organic welcoming vibe to the space."
7. Black, white and cream
A color palette of black, white and cream can feel chic and luxurious. Cream can soften the use of contrasting black and white, making it an excellent shade for a calming, minimalist bedroom. "In the prime bedroom of the Big Wood House [pictured], the four-poster bed of black oak floats within a room with a white pine wood ceiling, black side tables and colorations of architectural whites," explains Mark de Reus, Founding Partner of De Reus Architects.
8. White, blue and wood
The restrained use of color in the above bedroom by De Reus Architects allows for a room that's rich with texture. "Cultivating simplicity with minimalism results in a limited palette of finishes, textures and colors," says de Reus. "There is a Zen or calming effect to this approach, and coloration can enhance this calming effect."
9. White, grey and wood
There's something innately calming about the materials, textures and colors found in nature, which is why designers are increasingly including natural materials in minimalist spaces. Wooden wall cladding and bedding made from natural fabrics can give your bedroom a mood-boosting quality. When it comes to deciding on your minimalist color palette, it's worth starting by considering how you can bring natural materials into your space. Let those textures and colors be the heroes of your scheme, using neutral tones alongside to create a zen-like cocoon.
The Livingetc newsletter is your shortcut to the now and the next in home design. Subscribe today to receive a stunning free 200-page book of the best homes from around the world.
Kate Hollowood is a freelance journalist who writes about a range of topics for Marie Claire UK, from current affairs to features on health, careers and relationships. She is a regular contributor to Livingetc, specializing in reporting on American designers and global interiors trends. Based in London, Kate has also written for titles like the i paper, Refinery29, Cosmopolitan and It's Nice That.