Sponsored
Don't touch! Why this could be the best home purchase you make all year for you, your family and friends
The touchless hand sanitiser dispenser you didn't need last year... but now you really do, this year and beyond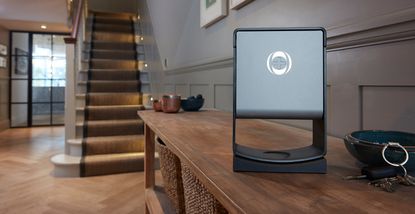 (Image credit: INEOS)
We know that modern kitchen design increasingly uses hands-free technology; from taps that turn on as you approach them, to fridge doors that swing open on command - tech developments have focussed on convenience and as little contact as possible.
In light of COVID-19, it makes sense more than ever - designers have always responded to changing circumstances and good design is about a considered response to the way we live now.
This is why the INEOS touchless hand sanitiser dispenser could be the most valuable purchase you make for your home this year. It's a nifty device that brings together precise Swiss engineering and stylish design with hospital grade sanitisation protection; a complete package that makes perfect sense for the home.
It certainly seems to have become the norm to carry a bottle of sanitiser in handbags, coat pockets, or to keep close to the front door to use as soon as you get home. After all, it's good to know your hands are clean before embracing loved ones or touching internal door handles - and when receiving parcels or welcoming guests.
The touchless technology and quality of the sanitiser used by the INEOS dispenser means it looks great and delivers highly effective hospital grade hygienics that you can trust, giving you, your family and visitors the confidence that you are doing all you can to keep your home safe.
Available in a variety of colours - silver, cream, black and red - and with both freestanding and wall-mountable options, INEOS Sanitiser Dispensers are a modern, sleek and stylish addition to your home. In addition, it's a - pardon the pun - handy reminder to protect yourself against viruses and bacteria. The rechargeable battery lasts for up to six months, and it's a simple system you can use to help ensure safety for the whole family.
Browse the range and buy an INEOS hand sanitiser dispenser here.