Best knife sharpeners 2021: our top five sharpeners for your kitchen knives
Banish blunt blades by investing in the best knife sharpeners, with sharpening stones, steel rods, and pull-through knife sharpeners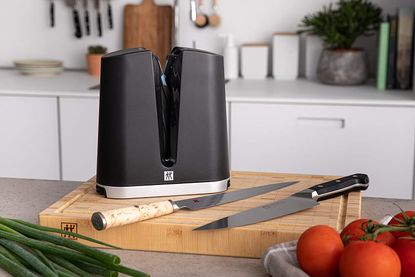 (Image credit: Zwilling)
The Livingetc Newsletter
For style leaders and design lovers.
Thank you for signing up to LivingEtc. You will receive a verification email shortly.
There was a problem. Please refresh the page and try again.
The best knife sharpeners are here to keep your favorite kitchen tools in top shape. Whether you're chopping, slicing, carving or dicing, a kitchen knife is an essential tool-but keeping them sharp is the key. With people spending more time at home this year than usual, everyone has had to embrace cooking. Whether you've been rustling up meals in-between childcare or prepping gourmet extravaganzas for your household, it is fair to say that kitchens are getting a good workout. It probably doesn't come as a surprise that the best kitchen knives are often the most used tool in a kitchen, so using a knife sharpener and keeping them in tip-top condition is important. Sharp knives will not only help with your food preparation but it also means that dull blades no longer need replacing, just sharpening. Nobody likes a blunt blade, and after all, a sharp knife is a safe knife.
A good knife sharpener can keep your prized paring knife as sharp as the day you bought it, or turn a budget-friendly chef's knife into a chopping champion - but with so many different options on the market how do you choose? From hand-held whetstones to ceramic wheels we have narrowed it down to the best user-friendly household kitchen knives sharpeners to keep you slithering and slicing.
The best knife sharpeners
1. Zwilling V-Edge Sharpener
Best knife sharpener - a good all rounder suitable for both European and Japanese knives.
Specifications
Type: Pull-through
Materials: V-shaped ceramic stones
Suitable for: Fine sharpening, polishing, coarse sharpening.
Reasons to buy
+
Suitable for both European and Japanese knives
+
Sharpens dull knives and keeps them sharp without removing metal
+
Angle adapter for different blades
Reasons to avoid
-
Bulky
-
Not suitable for serrated
If you are looking for an all-rounder when it comes to knife sharpeners to help keep your entire block of blades finely tuned then the Zwilling V-Edge Sharpener is for you. Hone standard knives as often as necessary to maintain a sharp edge or polish your finest blades including Japanese knives to achieve an extremely smooth razor-sharp edge.
The sharpener comes with four color-coded ceramic rods for fine and rough use. These are easily switched in and out, and can be kept in the base of the sharpener to save space in your kitchen.
2. Miyabi 2-Stage Diamond/Ceramic Sharpener
The best handheld knife sharpener
Specifications
Type: Hand Held Ceramic Wheel Sharpener
Materials: Ceramic wheel and solid plastic handle with weighted non-slip base
Suitable for: Plain edge kitchen knives
Reasons to buy
+
Comes with a clear plastic guard to protect the replaceable ceramic wheel
+
Easy to use and has a weighted non-slip base.
+
Limited lifetime manufacturer's warranty
Reasons to avoid
-
Expensive for a handheld model
Whilst specifically designed for use with the Miyabi range of kitchen knives, this hand-held knife sharpener can also be used to maintain and sharpen other plain edge kitchen knives.
The Miyabi 2-Stage Diamond/Ceramic Sharpener is quick and easy to use. It has a diamond roller which will grind rougher edges, and a ceramic side for finer use and finishing up. It's covered by a limited lifetime warranty and has a safety grip and clear plastic lid to make the job even easier.
3. Sharp Pebble Premium Whetstone Knife Sharpening Stone
The professionals choice - the two in one super stone sharpener
Specifications
Type: Knife Stone
Materials: Whetstone
Suitable for: Plain edge kitchen knives
Reasons to buy
+
2 in 1 combination sharpening stone that can sharpen and smooth your blade to a razor edge.
+
Achieve a professional finish
+
Angle blade included
+
Excellent quality
Reasons to avoid
-
Tricky to store
-
Unconventional for some
This 1000/6000 Sharp Pebble Premium Whetstone Knife Sharpening Stone brings the Japanese art of knife sharpening to your kitchen. The country is famed for its meticulous craftsmanship and sharp knives, so you can trust that it will give your knives a perfect finish.
A blunt knife is a drag and makes the entire cooking process a chore but after sharpening your knives on this stone you'll wonder how you ever managed without it. The combination stone has two sides - one which is 1000 grit and another which is a smooth 6000 grit. It is advised that you apply water throughout the sharpening process for the best results. Although we adore the professional end results, it can take a bit of practice to achieve the optimum angle but as they say, practice makes perfect.
4. Wusthof Precision Edge 4 Stage Knife Sharpener
The best cheap knife sharpener
Specifications
Type: Handheld knife sharpener
Materials: Crossed ceramic stone with a plastic grip
Suitable for: Japanese and European blades
Reasons to buy
+
It repairs and sharpens damaged edges
+
Suitable for sharpening and honing
+
It has a crossed ceramic stone for final edge honing
+
Rubberized grip
Reasons to avoid
-
Not suitable for all blade types
This compact and efficient sharpener may not be suitable for all knives but it proves to be a fantastic option for those on a budget. The steel sharpener revolves around the plastic housing to revive your dull blades. Unlike other options, this little knife sharpener is not only perfect for those on a budget, it is also ideal for small spaces and can be neatly tucked away when not in use.
The Wusthof Precision Edge 4 Stage Knife Sharpener comes with four draw through slots that provide a fast and precise sharpening. The diamond surface slot repairs damaged edges whilst the tungsten steel slot creates that perfect 'V' edge to the blade. The final stage is the crossed ceramic stone for the final polishing. As a bonus, it has an ergonomically designed soft grip handle and a non-slip base proving a steady platform when in use.
5. Miyabi Sharpening Steel
Best sharpening rod: The traditional knife sharpening method
Specifications
Type: Hand Held Steel Rod
Material: Steel
Suitable for: A variety of knife sizes
Reasons to buy
+
Suitable for all knives
+
Ergonomically designed non slip handle with an excellent grip and finger guard
+
Efficient, simple to use and effective
Reasons to avoid
-
Will take some getting used to
Designed in Japan, the Miyabi Sharpening Steel ends up on top when it comes to the traditional hand held steel rod sharpener.
Although not technically a sharpener, the strokes of the steel against the knife help to straighten out the very edge of the blade and realign it, in turn giving the knife a cleaner cut. This particular steel rod has a soft grip handle that is comfortable to hold and also comes with a finger guard to protect your digits.
How often should I sharpen my kitchen knives?
Typically speaking, kitchen knives only need sharpening every few months. However, if you find that your knife is under-performing it may be worth sharpening it and seeing if that makes a difference.
In general, high quality kitchen knives need to be sharpened less regularly than cheaper alternatives, but some suggest that you hone them every few weeks.
Honing vs sharpening knives
What is honing, you ask? Not all kitchen knives sharpeners are designed for honing, because this process isn't about removing bluntness but instead maintaining sharpness. Doing this removes any roughness from the blade and keeps it slicing smoothly. It's easier to do this using a whetstone or steel rod because you can angle your blade more intentionally.
How much is a knife sharpener?
If you've invested in a flashy set of kitchen knives, pairing them with the best kitchen knives sharpener is a smart move. It doesn't have to be an expensive one though, and you can find some perfectly good sharpeners for under $20. Prices can climb up to as much as $100 for a seriously smart knife sharpener though. These sharpeners are usually capable of handling all sorts of knives including serrated and Japanese models, so if you've invested in a high quality knife set it's definitely worth pairing it with a sharpener that's designed to match it.
For style leaders and design lovers.