6 unexpected places you can paint to increase your house's curb appeal, according to experts
Experts reveal how you can create a good first impression with a lick of paint and increase your curb appeal at the same time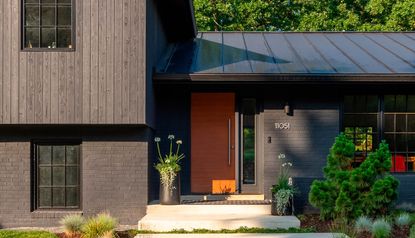 (Image credit: Richardson & Associates Landscape Architecture)
The Livingetc Newsletter
For style leaders and design lovers.
Thank you for signing up to LivingEtc. You will receive a verification email shortly.
There was a problem. Please refresh the page and try again.
Curb appeal is something a home is either built with, or it's something that's been maximized in retrospect. And in today's property-obsessed world, where access to thousands of beautiful modern homes is available at the scroll of your fingertips, curb appeal is something that we're all searching for.
Some of the best ways to boost your curb appeal include painting your front door, potting some plants or switching out your window dressings. Statement lighting is another bright idea for enhancing your home's exterior, while getting your front yard landscaping ideas right is key to first impressions. But if you've tried all the usual roots, why not consider using the power of paint in some unexpected places to beautify your front?
'Fresh paint will brighten up the house and feel lighter,' Amy Dalrymple, creative director at Dalrymple Studio explains. 'It can improve the brickwork and exterior of the home which then reduces any issues in years to come. It will also stand out next to neighbors' houses,' Amy adds. 'Although it's always key to book the decorators ahead of time as exterior works can only be done in the summer in a limited timeframe.'
So, to increase your home's curb appeal with inspiring paint ideas, look this way. We spoke to experts in the field to find out some top tips on all the unexpected places to paint that you might not have thought of.
1. Paint your windows and/or shutters
Helping to let light in and frame views of the outdoors, windows serve an important functional purpose in any home. But with a fresh lick of paint, your windows can also serve as a focal point, as can painting your shutters.
'Painting windows and shutters boost curb appeal no end,' says Alicia Meireles, associate director of interior design at OWN LONDON. 'It's a small detail that can create a big impact and makes the whole exterior look harmonious,' she adds.
If you're planning on giving this a go, just remember to use paint that's specifically made to stand up to the elements, like the best exterior paint for doors and windows
2. Paint your floors
External flooring is something that can often be overlooked when it comes to curb appeal. But if given some thought to, it can change the whole look and feel of your exterior. Maybe you're working with some tired-looking brickwork? Perhaps you have cracked tiles in the lead-up to your home?
Or have you got wooden floors that have seen better days? If that's the case you could consider varnishing your floors or adding a coat of paint to help protect them against environmental factors and general wear and tear, while creating the most stylish welcome to your home.
'Floors, whether it be a patio, steps leading to the door, or porch tiles — if they look tired, lift them with a lick of paint,' Alicia recommends. 'This is an easy way to give old material new life by having a floor painted or stained, which is surprisingly efficient.'
3. Give your gutters and downpipes a lick of paint
Just because they're there to serve a very important and practical purpose, doesn't mean your gutters and downpipes can't have an aesthetically pleasing feel.
'Gutters and downpipes are often neglected nor considered,' Alicia says. 'But painting these will keep things fresh.' But what color should you choose?
'A tip is not to paint them in a contrasting color, Alicia says. 'They are not a feature, so paint them in the same color as the walls if rendered. If the house is brick or cladded, a neutral color would be recommended,' she adds. 'This will keep them tidy and not distracting to the eye.'
4. Paint your porches and pillars
Make your home stand out, by sprucing up your front porch pillars with a coat of paint. Of course, this tip will only be applicable to those with a certain style of home as not every home will have pillars. But either way, they shouldn't be missed off the list. 'Porches or pillars, depending on the period of the house, painted in a contrasting color to the façade will give a uniform finish,' Alicia explains.
A fresh lick of trusty white paint can work wonders at boosting the curb appeal of your front. Or if you're feeling adventurous, why not match your pillars to the color of your front door? If you're in need of some inspo, just look to the best porch decor ideas.
5. Paint your fence
Helen Shaw, director of marketing at paint brand, Benjamin Moore, says you could take your chosen paint shade one step further, by adding finishing touches to other unexpected areas of your exterior. 'A new coat of paint for your fence and front gate can make all the difference,' she adds.
6. If all else fails, paint your front door
One of the easiest ways to create a real impact? By giving your front door a lick of paint. Helen says, 'There are a host of simple and effective ways to spruce it up, the most effective is to freshen up your front door. It will add instant impact as you walk into the home and offers an opportunity to add color and create character.'
Of course, you could choose a tone that's in the style of keeping of your home. Dark greens and onyx blacks seem to be real favorites and can give off a sophisticated feel. But, as seen in this design, a bright and beautiful hue can add some interest and add a pop of unexpected color.
For style leaders and design lovers.
Becks is a freelance lifestyle writer who works across a number of Future's titles. This includes Real Homes, Top Ten Reviews, Tom's Guide, TechRadar and more. She started her career in print journalism at a local newspaper more than 8 years ago and has since then worked across digital and social media for food, fashion and fitness titles, along with home interior magazines. Her own interior style? She's big on creating mindful spaces in every corner of her home. If it doesn't spark joy or happiness, it has no place here. When she's not writing, she's reading and when she's not reading, she's writing.