Don't use hardwood flooring in a bathroom without reading this expert advice for long-lasting boards
From timber species and sealants to board types, simple steps to having sensational hardwood flooring in a bathroom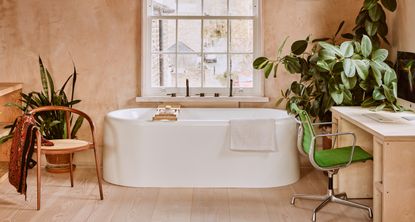 (Image credit: Havwoods)
The Livingetc Newsletter
For style leaders and design lovers.
Thank you for signing up to LivingEtc. You will receive a verification email shortly.
There was a problem. Please refresh the page and try again.
Is your heart set on hardwood flooring for a modern bathroom project? It's a stylish choice. However to ensure those boards stay looking beautiful, there are certain caveats to be aware of. In order, to make the best selection for your scheme, we've asked the experts what you need to know when using hardwood flooring in a bathroom.
'Modern bathrooms can feel clinical because of all the hard surfaces, so it's good to introduce visual softness and warmth where possible, and wood is a great way to do that,' says Sheena Murphy, co-founder of Nune, an interior design studio based in New York and London.
'I love the visual interest and character timber flooring can add to a space, the warm tones, natural beauty and it feels good underfoot. An important thing with hardwood flooring is to ensure the finish is durable enough to withstand the level of traffic and activity it's likely to be exposed to.
'I wouldn't ordinarily suggest using hardwood flooring in a children's bathroom but it can work beautifully in a primary bathroom, guest bathroom or powder room. There is a level of care required, but as long as you're aware of that, it can be as long (or longer) lasting as many alternatives.'
What to know when using hardwood flooring in a bathroom
1. You'll need the best timber species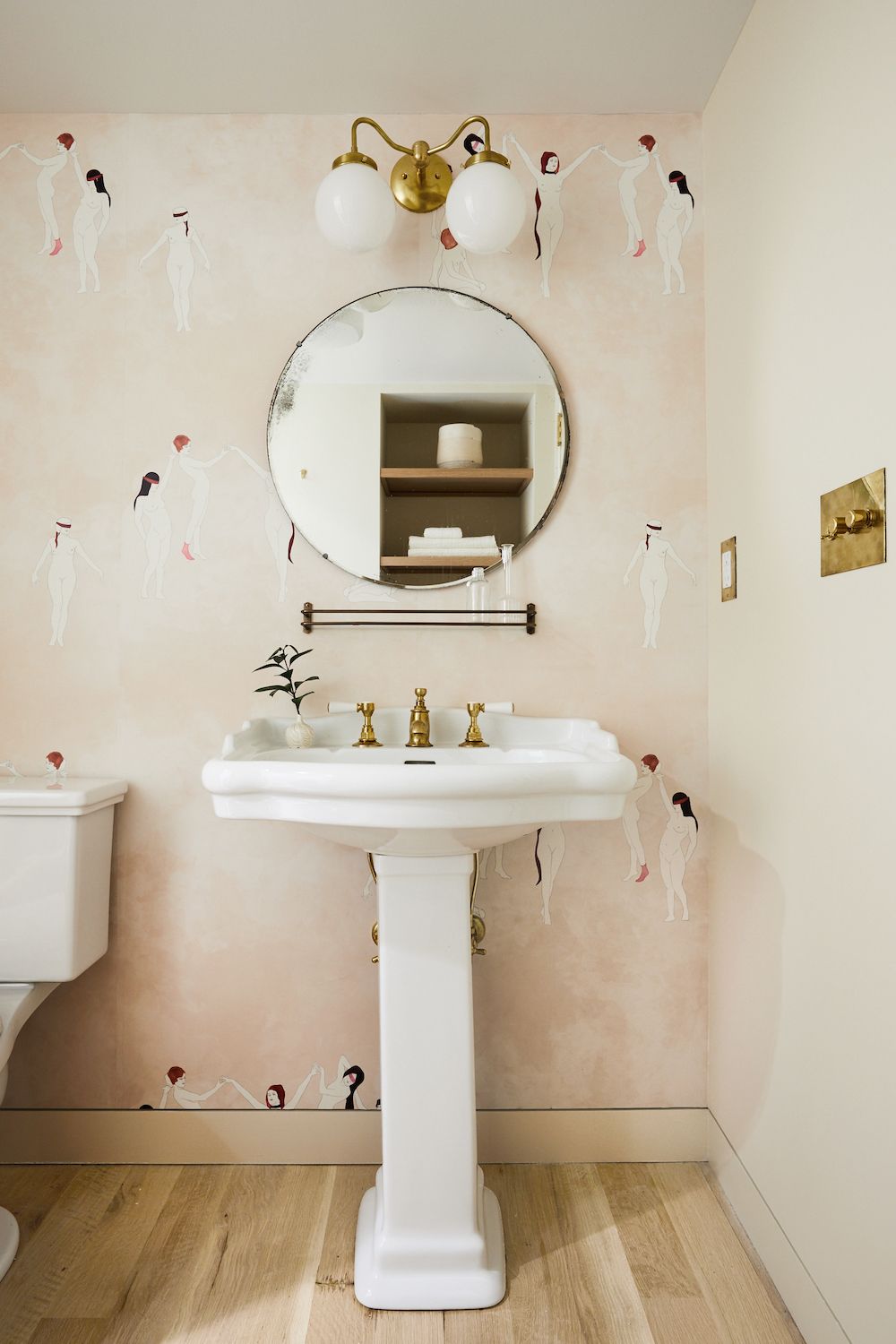 As always, selecting FSC timber is important, and often domestic species make a good choice due to the variety of tones, beauty and traceability. But which are best for bathroom flooring?
'Stable species such as cherry, maple, ash, red oak, or walnut would be better selections than some of the less stable species such as beech, hickory, or birch.' says Brett Miller, VP, Technical Standards at the National Wood Flooring Association (NWFA).
'With any of those timbers, going with a riftsawn and/or quartersawn cut would be ideal for what we refer to as less stable environments, such as bathrooms. Generally speaking riftsawn and quartersawn cuts of wood are twice as stable as plainsawn cuts of wood.'
'We use a lot of oak in our projects,' says Sheena Murphy at Nune. 'It's natural color has just the right depth to provide a very complementary backdrop to so many spaces.
'It's also very hard wearing and can be stained. We use oak from sustainable sources but have also used woods including douglas fir and ash, which are also very hardwearing and fast regenerating, making them a more sustainable choice.'
2. Conditions are important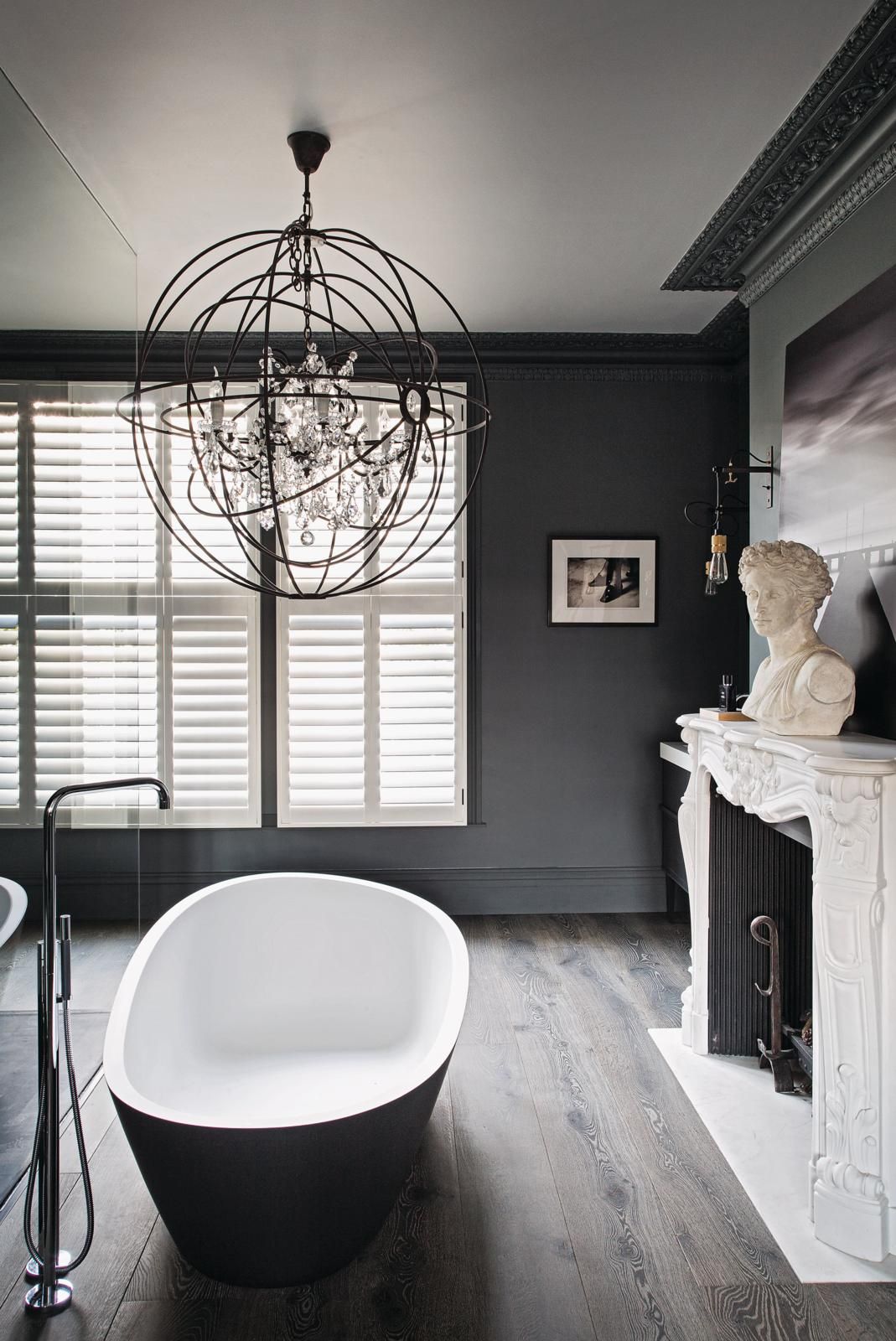 Aesthetics play a large part in putting a room scheme together, but in a bathroom, the practicalities are high on the agenda too.
'Both solid and engineered wood floors are good options for bathrooms,' says Brett at NWFA. 'Both types of flooring will perform best when the temperature and humidity levels are maintained consistently year-round.
'Engineered wood flooring is more tolerant to fluctuations in temperature and humidity, than solid wood flooring, which is why we suggest only engineered wood flooring be installed if your bathroom is "below-grade" ie. ground level or in a basement.'
'We generally recommend engineered planks in a bathroom,' says Sheena Murphy at Nune. 'Some people hear the word "engineered" and assume it's not real wood; it is, it just has layers of plywood under a top layer of oak or ash for example, which makes it more stable with elements like under floor heating and humidity.
'Solid wood is more prone to movement in environments where temperature and moisture fluctuations are at play, such as bathrooms.
'If you're working with engineered boards, getting a top layer of wood that is 1/8 inch or more will allow the flooring to be sanded at least three times. That means that, should it look worn over the years, you have the option to sand and refinish it, and have it feel brand new.'
3. You'll need a suitable sealant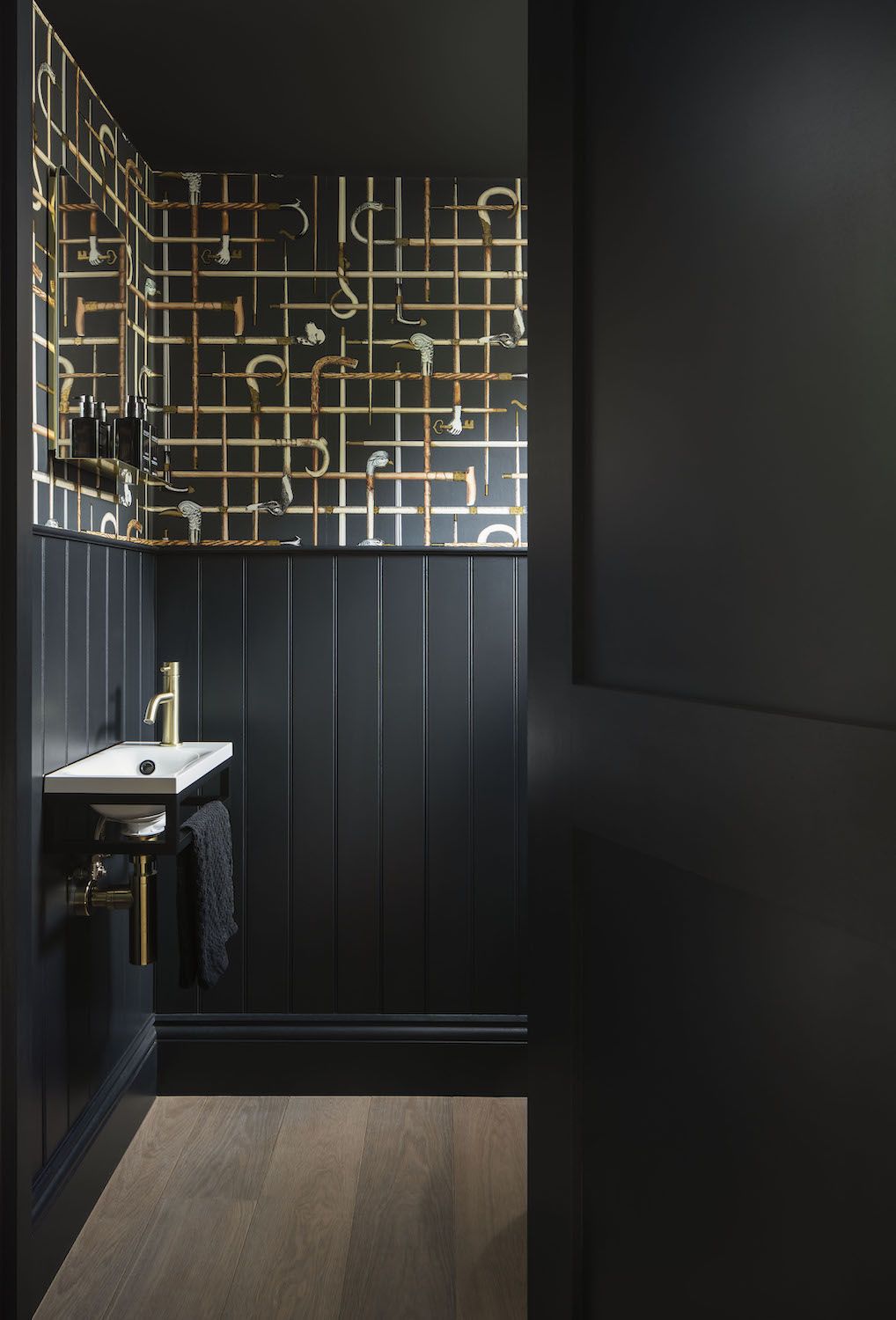 Timber flooring is generally sealed with oils, wax or varnish-like finishes. According to Brett at NWFA these finishes are generally separated into two categories; film-finishes, and penetrating finishes.
'In a bathroom, where standing water is a frequent occurrence, it is best to use a film-finish, such as a waterborne urethane, oil-modified urethane, UV-cured urethane, or aluminum oxide finish,' says Brett. 'Natural oils, waxes, and other penetrating finishes, can work well, but can sometimes exhibit water-spotting in wet environments.
'When maintained properly, any of these finishes can last the life of the floors. It is normal for wood floors to be recoated periodically. Recoating every 3-10 years, depending on traffic is sufficient. With natural penetrating oils, a simple deep clean and reconditioning every year is all that is normally required.'
'As wood is naturally absorbent, any contact with liquid can result in the material plumping or staining, so choose a surface finish that will maximise longevity,' says Edward Eagle, Director at Havwoods. 'A polyurethanine-lacquered coating works to cover any pores in the wood's surface, protecting it from dirt and moisture ingress.'
Always ensure you have seen the sealant or finish on timber samples, before ordering your boards, as the tone is likely to be different to that of the raw timber.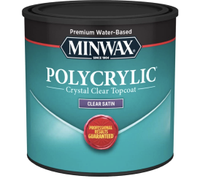 4. Warping and water damage is preventable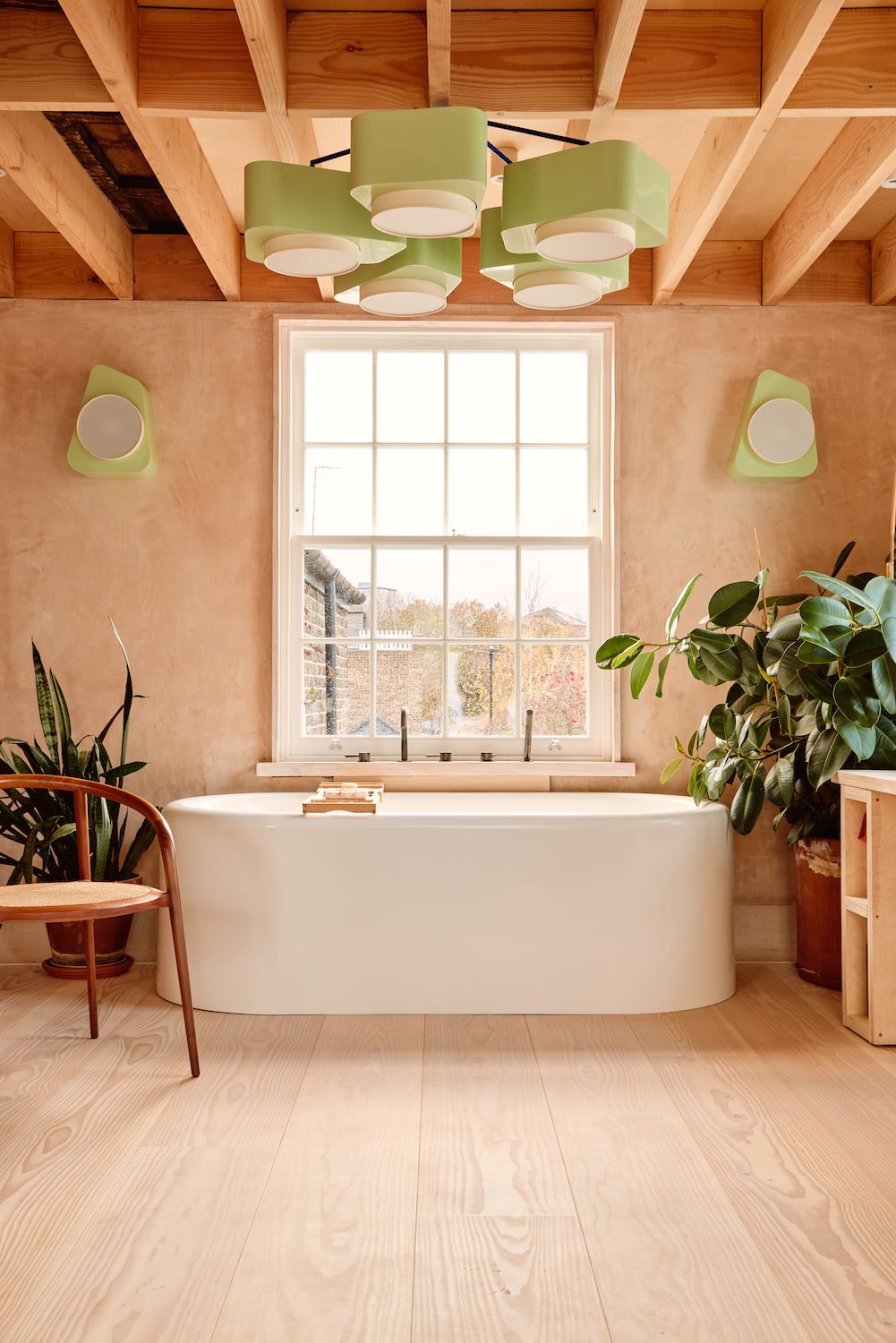 Some people are cautious about laying hardwood flooring in a bathroom, due to concerns about water damage and durability. However, this can be averted.
'Due to their multi-layered construction, engineered boards are far less likely to warp in high-moisture rooms, meaning despite the temperature, the floor is less likely to shrink or swell,' says Edward Eagle at Havwoods. 'However, we recommend only using timber in well ventilated rooms and to avoid standing water to ensure the longevity of your floor.'
'The best way to stop water damage is to avoid allowing water to sit on the floor for any period of time,' says Brett at NWFA. 'Warping, cupping, bucking, are all the result of excessive moisture left on a wood floor. This is easily prevented by wiping up spills immediately to avoid damage.'
To maintain a 'consistent environment', ensure you have adequate ventilation in your bathroom, such as a motorised fan, and open windows after showering or bathing.
5. A professional installer is essential
Laying a hardwood floor may look simple but there are factors, that you may not be aware of, to consider.
'The flattening of a subfloor is a normal process for all installers,' says Brett at NWFA. 'During the installation process, a qualified wood flooring professional should flatten the subfloor to within 3/16" in 10 ft (in general). Grinding high spots, and filling low spots to achieve these flatness tolerances are not only best practice, but also required by all flooring manufacturers.'
Finally, if you're considering under-floor heating, check with the supplier, which floorboards will be most suitable.
For style leaders and design lovers.
Jacky Parker is a London-based freelance journalist and content creator, specialising in interiors, travel and food. From buying guides and real home case studies to shopping and news pages, she produces a wide range of features for national magazines and SEO content for websites
A long-time contributor to Livingetc, as a member of the team, she regularly reports on the latest trends, speaking to experts and discovering the latest tips. Jacky has also written for other publications such as Homes and Gardens, Ideal Home, Red, Grand Designs, Sunday Times Style and AD, Country Homes and Interiors and ELLE Decoration.