If you get this right, your houseplants will thrive. Experts explain the secret behind a happy indoor garden
Flatter your plants and let them flourish with the right planter according to this expert advice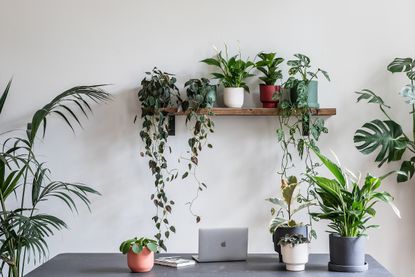 (Image credit: Leafy Envy)
The Livingetc Newsletter
For style leaders and design lovers.
Thank you for signing up to LivingEtc. You will receive a verification email shortly.
There was a problem. Please refresh the page and try again.
House plants thrive in the right conditions. What's more, a profusion of greenery can make a spectacular style statement in your home. However, this can be dependent on how you pot your plants. The right container will not only enable your plant to flourish, it will flatter your space.
'There are so many remarkable plants to bring into your home,' says author and indoor garden expert Hilton Carter in his latest book, Living Wild published by Cico. 'So many variations in color and size, foliage and flowers, and growth patterns.
'But sometimes a plant can't do all the heavy lifting on its own. It needs a little extra sauce to show off its flavor. What I'm hinting at is finding the perfect planter.'
Knowing what to look for in an indoor planter is one of the keys to success when it comes to indoor gardening - and styling plants in your home.
Interior designer, plant expert and author Hilton Carter received his BFA at the Maryland Institute College of Art and a MFA in film from Art Center College of Design. He is a regular in Livingetc, sharing his advice on styling with plants and how to look after them. He lives in a plant-filled space in New York.
What should I look for in an indoor planter?
'Quite frankly, there is no true styling of a plant without providing it with the perfect planter,' adds Hilton. 'The planter is to the plant as the shirt is to the pants or as the dress is to the shoes. Both are great on their own, yes, but when the two come together, styled as one single outfit, they produce perfection.'
1. Consider the best material for your plant
Of course, aesthetics are important but what your plant needs has to come first, when choosing the best planter. If you intend to remove your plant from its grower's pot and plant it straight into an attractive planter, find out whether it prefers to sit in dry or moist soil, as the pot material can impact this.
According to Hilton, plants like succulents or Ficus like their soil to dry out after being watered. So they prefer porous containers made of terracotta, clay or concrete. Conversely, those like Peperomia prefer their soil on the damp side, so would do well in a glazed ceramic, metal or plastic pot, as those materials will retain moisture.
'This is one of the basics of plant care and once you have that established, then you can have fun with styling,' says Hilton. 'Believe me, there is no fun in styling a beautiful new plant in an incredible planter just to have the plant die because you didn't place it in the proper light or your planter was made from the wrong material.'
2. Ensure the planter has drainage
Plants need to be able to drain well and grow, and all trending pots for indoor gardens need drainage holes. This allows excess water to drain away.
'The most important factor is that the container has a drainage hole,' says Lisa Eldred Steinkopf, The houseplant guru and author of Bloom from Cool Springs Press. 'If your container doesn't have a drainage hole, it's an easy thing to remedy with a diamond-tipped or masonry drill bit. These two types of drill bit allow you to drill into almost any type of material, so you can have drainage.
'Alternatively, use the pot as a "cachepot" (French for hide a pot). Keep the plant in its grower's pot, "hide" it inside the cachepot and take it out to water, allow it to drain and return it to the cachepot.'
3. Choose the right size and shape
If you are potting your plant directly into a planter, pay attention to its shape and size as well. This allows room for the roots and growth.
'The most common container is called a standard size pot,' says Lisa. This means the diameter at the top of the pot is the same as the height. You will also see Azalea pots, which are three-quarters as tall as the diameter of the pot.
'Azalea pots are recommended for plants that don't have extensive root systems such as cacti and succulents. Although, choose a planter that you like, as well as one that is appropriate for your plant.'
The planters Lisa would avoid are bulbous pots, where the middle is wider than the top and bottom, as it becomes difficult to re-pot your plant when it grows. 'Trying to get a plant out of a bulbous pot is an almost impossible task,' she says. 'The roots often need to be cut away to remove the plant.'
4. Decide on contrast or coordination in your space
The planter that you choose will obviously offset your chosen plant in a particular room. So consider the setting and what surrounds your plant, as well as its appearance.
'Once I've figured out the light situation and decided on the type of plant, I consider the colors and textures of the pieces nearby and pick a planter that vibes well with the plant,' says Hilton.
'You can choose either to mimic the texture or color of the plant or to create a cool conflict between the two. For example, the smooth, leathery foliage of a rubber tree (Ficus elastica) in a fluted terracotta planter feels like a perfect combination.
'Or imagine a Madagascar palm (Pachypodium lamerei) in a Japanese nerikomi-style planter. The coupling of the layers of colored clay with the thorny plant would be divine.'
The most stylish plant pots to buy now
For style leaders and design lovers.
Jacky Parker is a London-based freelance journalist and content creator, specialising in interiors, travel and food. From buying guides and real home case studies to shopping and news pages, she produces a wide range of features for national magazines and SEO content for websites
A long-time contributor to Livingetc, as a member of the team, she regularly reports on the latest trends, speaking to experts and discovering the latest tips. Jacky has also written for other publications such as Homes and Gardens, Ideal Home, Red, Grand Designs, Sunday Times Style and AD, Country Homes and Interiors and ELLE Decoration.