5 clever ways to hang indoor plants - bring your home to life with these lush layering techniques
From wall-mounted murals to plant curtains, experts offer fresh ways to hang foliage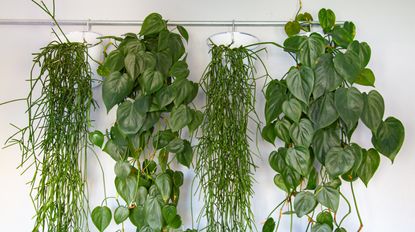 (Image credit: Getty)
The Livingetc Newsletter
For style leaders and design lovers.
Thank you for signing up to LivingEtc. You will receive a verification email shortly.
There was a problem. Please refresh the page and try again.
Houseplants are in vogue, they bring a home to life and add vibrant color. However, many of us are running out of surface or floor space for our foliage. This is where hanging plants at different heights can be a clever way to display them. It not only provides additional space, it can create a lush, layered jungle-effect too.
'My go-to when styling a space is to use lots of different levels,' says Hilton Carter, author of Living Wild by Cico and an indoor garden expert. 'This mimics the way that plants grow in nature, placing them at ground level, eye level, and higher.'
'Being laissez-faire about plant styling can be as much of an energy sponge as painting your living room a cold, clinical, bright white,' continues Hilton. 'When using the styling method of layering, you're utilizing the color, shape, and pattern of foliage to create a certain look and feel within a room.'
5 clever ways to hang indoor plants
1. Make mounted plant wall murals
When it comes to everything you need to know about hanging plants, Hilton Carter is your man. His favored ways to hang foliage is to create mounted plant wall murals. Much like you'd display art or create a gallery wall, they can be displayed individually, in pairs or in groups.
'Mounted plants add great depth to a room,' says Hilton. 'There is nothing like seeing a staghorn fern (Platycerium) mounted on a board and displayed on a gallery wall. Whether it's one single plant or an entire wall of them, it's a showstopper. Epiphytic plants that typically grow on trees in the wild are especially well suited to being mounted. The best options are orchids, air plants (Tillandsia), fishbone cacti (Epiphyllum anguliger), ferns, hoyas, bromeliads, and mosses.'
Your mounting options for hanging plants indoors are varied, too. 'You can mount these plants on pieces of perfectly cut cedar boards in nice frames or on pieces of reclaimed wood that have a live edge showing,' Hilton says. 'You can cover the roots with cork or wrap them in sheet moss (Hypnum curvifolium) and sphagnum.
'After that, the eye for design is going to show itself in how you arrange the plants on the wall. The only downside to creating a living wall in this way is that mounted plants will need to be take down once a week to be watered, unlike an irrigation or propagation wall that allows you to care for the plants right at the wall. But as they say, "nothing worth doing is easy."'
2. Hang wall planters
If making a mounted plant wall mural is a step too far for you, there are easier ways to create a similar effect. Wall planters allow you to display plants in the way you would an artwork in a frame.
This way you can hang trailing vines, frothy fronds or other favored foliage on vertical surfaces and at different heights. It can be trickier to care for plants on vertical surfaces. So start with low-maintenance plants that don't require too much attention, such as Devil's ivy or a Philodendron.
'The power of a vertical display of plants to transform a space and bring the outdoors in is just remarkable,' says Hilton. 'Whether it's a built-in living wall with its own irrigation system or simply a wall styled with a selection of mounted plants, the "wow" factor is instant.
'When it comes to styling a space with plants, wall planters help you do just that too. Like mounted plants, they can hold their own alone or with many planters arranged on the wall together.
'Just as your options for floor planters can feel endless, the pool of wall planters out there is deep. However, making the decision on which planters work best for your aesthetic is important.
'Another thing to consider when designing a living wall of planters is that most of them don't have drainage holes, which means you'll have to be mindful of your watering and go the extra mile to tilt the planters over a sink from time to time to drain out any excess water.'
3. Suspend baskets from the ceiling
The best indoor hanging plants make a space feel lush and alive. Exposed beams make a great place to suspend hanging baskets. If you don't have exposed beams and you want to create the same effect, ensure you drill your hooks into the rafters and not just the plasterboard. It goes without saying, make sure the hook is appropriate for the weight of the plant, planter and wet soil too.
'In one project I wanted to add hanging plants that would cascade down and grow outward,' says Hilton. 'I selected four large black metal hanging baskets with coconut liners—the typical hanging baskets that you find in an outdoor garden.
'But when it came to the plant selection, I decided to be a little atypical. In most situations like this, give a designer a hanging basket and they'll place a Boston fern (Nephrolepis exaltata) in there without giving it a second thought. While I love that look, I wanted a plant that felt airy and is seldomly utilized—the asparagus fern (Asparagus setaceus). Once they were potted and hung around the center of the room, these ferns really started to give the room life.'
4. Train vines over a doorway
Much as you'd train a vine outside to climb over a pergola or garden wall, indoor plants can be trained to climb too. In one of his projects, Hilton Carter trained a potted Monstera adansonii to climb around a doorway. Once it reached a certain growth point over the doorway, it was able to trail down and hang over the other side.
'With a vine plant like a Monstera adansonii, you can train the vines to climb the wall using hooks or small staples until the nodes of the vines grab onto the wall,' says Hilton. 'Over time, the vines will grow up and along the wall, becoming one with the space.'
5. Create a plant curtain
For windows that look onto a backyard, a plant curtain can be a fun way to connect indoors and outdoors. Just make sure you choose plants that are suitable for the amount of light they will receive.
Most plants will suffer if they are in direct sunlight most of the day. So in a south-facing window, choose desert dwellers, such as succulents. East or west-facing is suitable for most plants, while north will suit those that can tolerate lower-light conditions.
'Why hang fabric curtains when you can hang a plant curtain?,' says New Yorker, Kamili Bell Hill, @plantblerd, author of Happy Plants, Happy You. 'One of my favorite ways to style plants is to hang a group of them in front of a window.
'Use a clothing rod instead of a curtain rod. It extends out farther from the wall, allowing room for more plants. Add S hooks and hanging plant holders. Opt for macrame hangers for a boho vibe or minimal leather hangers for a clean, modern look.'
For style leaders and design lovers.
Jacky Parker is a London-based freelance journalist and content creator, specialising in interiors, travel and food. From buying guides and real home case studies to shopping and news pages, she produces a wide range of features for national magazines and SEO content for websites
A long-time contributor to Livingetc, as a member of the team, she regularly reports on the latest trends, speaking to experts and discovering the latest tips. Jacky has also written for other publications such as Homes and Gardens, Ideal Home, Red, Grand Designs, Sunday Times Style and AD, Country Homes and Interiors and ELLE Decoration.