'Plant shelves' are trending as a simple way to bring your home to life - these are the 3 steps to perfecting them
For a curated display of flourishing foliage, this is what experts suggest for creating the perfect plant shelf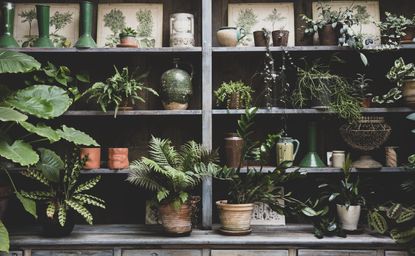 (Image credit: Getty)
The Livingetc Newsletter
For style leaders and design lovers.
Thank you for signing up to LivingEtc. You will receive a verification email shortly.
There was a problem. Please refresh the page and try again.
Most indoor gardeners or plant parents will be familiar with trying to perfect a plant shelf. That effortlessly elegant, foliage-filled surface that's brimming with life, and easy to maintain, is possible with some simple steps.
In pursuit of the perfect plant shelf, many of us have learnt the hard way. Shuffling plants around your indoor garden to find out where they are happiest–and where they look best. The two are not always the same.
Where you would like your fern or calathea to sit on your plant shelf may not be where it will thrive. To prevent crispy brown leaves, wilting fronds or worse, it's worth doing a little planning upfront.
How to perfect the plant shelf in 3 easy steps
Here's how to create the ideal plant shelf in three easy steps, according to our green-thumbed experts.
1. Consider the aspect of your shelf
Before choosing the foliage for your plant shelf, work out which way it faces and where the light falls. This can help you choose plants that will thrive, rather than those that will struggle because the conditions aren't right for them. Just like how to turn your windowsill into an indoor garden, the direction matters.
Most plants are happiest in an east or west facing aspect, as they will get the strongest sunlight for part of the day. If your shelf faces south it is likely to receive a lot of light, so opt for cacti, succulents or species that can handle the heat of the midday sun. Plants that can adapt to lower light levels, such as an Aspidistra, Sansevieria or ZZ plant, will cope best on a north-facing shelf.

'When creating a plant shelf it's ideal to group plants together that have similar care requirements like lighting and watering,' says Paris Lalicata, plant expert at The Sill. 'This helps to make the care routine more seamless without one of the shelf mates going too long without water, getting too much, or even being scorched by the sun.'
'When decorating shelves, choose plants that work with the amount of light you have to offer,' says Lisa Eldred Steinkopf, the houseplant guru and author of Creative Houseplant Projects. 'If the light you have isn't enough for your plants, purchase a small clip-on or hanging grow light to add light to your shelf.' This affordable clip-on grow light from Amazon is perfect.
2. Choose a variety of leaf shapes, heights and habits
Once you've identified plants that are appropriate for the light levels on your shelf, it's time for the selection. Go for a mix of plants with different leaf shapes, from spiky to round or fenestrated.
Mix different tones of green and a variety of sizes (although not wildly different), as well as plants that grow upwards and those with vines that trail to make an interesting display.
'Adding plants with different heights and growth habits helps to make the plant shelf feel more natural while also creating dimension,' explains Paris Lalicata. 'A mix of cascading vines and plants with taller stalks that reach toward the ceiling will create a lush effect.' Take a look at our guide to what plants are best for a lush indoor garden for more inspiration.
3. Select pots and planters
With your plant selection sorted, and the sizes and shades decided upon, you can focus on the pots and planters to display them in.
'Whatever you call it, it will hold everything together and show off your personal aesthetic at the same time,' says plant expert and stylist Hilton Carter. 'Quite frankly, there is no true styling of a plant without providing it with the perfect planter.'
'When I'm styling my own space, I'll most likely choose the plant for a particular area first, thenselect the planter that it will be styled in.' Our guide to trending pots for indoor gardens will help you here, but for an interesting display think texture, think terracotta, think concrete and think a mix of shapes.
The 3 best plants for a plant shelf
Price: $52
Care: Keep in indirect light and water to keep the soil moist
Perfect for a shelf because: Trails beautifully and is happy out of the sun
Price: $29.95
Care: Thrives on neglect - water whenever you remember
Perfect for a shelf because: It provides some compelling shape and structure
For style leaders and design lovers.
Jacky Parker is a London-based freelance journalist and content creator, specialising in interiors, travel and food. From buying guides and real home case studies to shopping and news pages, she produces a wide range of features for national magazines and SEO content for websites
A long-time contributor to Livingetc, as a member of the team, she regularly reports on the latest trends, speaking to experts and discovering the latest tips. Jacky has also written for other publications such as Homes and Gardens, Ideal Home, Red, Grand Designs, Sunday Times Style and AD, Country Homes and Interiors and ELLE Decoration.