Should I paint my wall trim white? The pros and cons to painting your molding
Do you paint your wall trim white, go bold with color, try a monochromatic scheme, or bare all with original wood? We speak to the designers to find out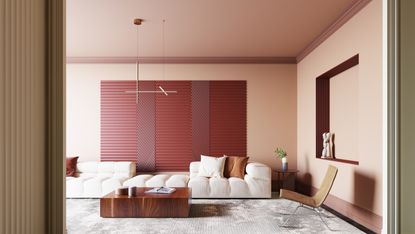 (Image credit: Orac)
The Livingetc Newsletter
For style leaders and design lovers.
Thank you for signing up to LivingEtc. You will receive a verification email shortly.
There was a problem. Please refresh the page and try again.
Trim is without doubt an overlooked architectural detail. It goes unnoticed in the home as homeowners fail to see its potential for color, pattern and playfulness. In fact, trim offers so much more than a surface for a lick of white paint.
It can give your space real impact, help highlight your home's heritage, add a focal point and help to even narrow or widen the look and feel or a room. So the question is, how best to show it off as the architectural flourish it is? There is so much choice in terms of color, materials and gloss. 'Deciding to go all in with color on the trim is a fun design move and can have a huge impact,' says designer Molly McGinness. But on the flip side, it might be best to go simple, pared-back and classic with a traditional white trim look. 'White trim is my go-to for most homes,' says interior designer, Diana Lombord. 'White trim provides a crisp, clean, and modern look and makes a perfect accent to any paint shade, be it white, grey, or color. While colored trim is certainly fun and a great way to add a pop to your space, white trim is a classic that will never go out of style.'
To help you decide the fate of your wall trim, read on for paint ideas from the designers and experts, who help me settle the debate.
Oonagh is an interiors writer and editor, and expert at keeping up with trends. She's also a keen online shopper, with shopping baskets full of decor must-haves that reflect wider trends from the world of interior design. For this story, she's spoken to the designers to find out whether it's best to paint your wall trim white or go for color.
What are the benefits of painting your wall trim white
1. Create a crisp, all-white scheme
It has to be said, there is something classic and timeless about painting a room all white, including the trim. You'll be surprised at how a simple lick of paint can transform a room, making it feel brighter, cleaner and giving it a new lease of life.
All-white can work for a simple, minimalist decor scheme, and white on walls provides a great blank palette for decor to pop.
If you're going for the all-white look, caution against a white that is too bright and stark, warns interior designer, Molly McGinness. 'Using a white that is too bright because can often contrast too harshly against a medium or darker color,' she says. Look to Benjamin Moore's Chantilly Lace for a popular off-white. 'My favorite is Benjamin Moore OC-17 White Dove for a warm white that is not too yellow or pink,' says John Cialone, partner and vice president of Tom Stringer Design Partners.
'If you are going for a white trim, consider the other light colors in the room and select an off-white that is compatible,' advises Molly.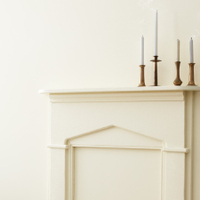 A clean and classic white shade that changes in tone in different lights. It's got an undercurrent of warmth to it and is subtly off-white which makes it great for trim.
2. Open up options for wall colors
Going for a white wood trim also means you have limitless options for the color of wall you can go for, and means that your room is flexible to design and decor changes and edits over time. White wall trim is the smart choice for those who might like to refresh their wall paint every few years.
White works as a neutral and will work against any wall color you like. 'White is perfect to add the color without being so limited in your choices,' says Mia Jung, director of interiors from Kligerman Architecture & Design.
3. Paint wall trim white to let original features shine
If you have detailed crown molding and ornate trim in your home, a white trim might be the best way to let the heritage of your home stand out.
Often, going dark coloring on your trim means that the fine details of your molding - even if it is a plain crown molding design - disappears in shadow, where a white trim might help really show them off. It's a subtle way to speak to your home's history.
Alternative ideas to painting your wall trim white
1. Embrace wooden trim for a classic feel
If you're looking to embrace the natural material of your trim and live in an historical home with a strong sense of heritage, you might want to avoid giving your trim a lick of paint. Instead, let the wood take center stage and resist painting over it.
'If it is a historic home, then we would try very hard to keep the wood grain,' say Eva Bradley and Alicia Cheung, principals of Studio Heimat. 'If it is a newer home, or there is a renovation that is not original, then it's more acceptable to paint it.'
Wood trim adds an important finishing detail to a home's interiors, but be considerate of the interior design style and architecture of the home. 'If there are no other architectural details to tie in with stained wood trim, like stained wood paneling and wall-to-wall, ceiling to floor built-ins, stained wood trim can feel dated or heavy,' says Molly. 'This is especially true if the crown molding is stained and the ceiling and walls are light-colored.'
In this space, designed by Fare Inc, the original beam and trim around the ceiling is left as exposed wood to really emphasize the history of this unique listed warehouse conversion apartment on the banks of the river Thames in London.
2. Use color to highlight architectural flourishes
While you could argue that a dark-colored wall paired with white trim helps architectural flourishes stand out, going bold and colorful can also really show off your home's finer details. There are many trim colors that will help highlight your home's architectural details with a bright pop of paint, and it's a look that is trending, says Diana.
'Colored trim is now making a major comeback,' she says. 'Colored trim is a wonderful way to highlight the architectural flourishes of a space, such as a beautiful carved door, large paned windows or decorative molding,' says Diana.
You can pick from a real range of tones for your trim too, but look to the other pieces of furniture in your room to inform your color choice. You might want to stick to your wall color family and go up or down a tone, or pick out a color that features a lot in the space. In this room by Chicago-based Summer Thornton Design, blue is the standout tone and by pairing the tone with the furniture and rug - balanced with the orange details - it helps to create a bold look.
3. Use colored trim to match playful wallpaper
Painting your trim is also a great idea if you're looking to create a space that is wallpapered in playful print. 'Trim can also be a perfect complement to a colorful and vibrant wallpaper,' says Diana. 'When a room is wallpapered in a rich pattern, colored trim provides a more seamless look next to the paper than a white or wood trim would.'
Be careful when picking the color for your trim if your wallpaper is already quite a vibrant shade. 'If you are using wallpaper, pulling a color from the wallpaper pattern can really blend the design elements together.'
The pink wallpaper in this Connecticut home was a riff on British wallpaper design and matches the light pink of the trim around the room.
4. Consider painting your trim in a high-sheen paint
If you're looking for the distinction to set the trim and the wall coloring apart, but don't want to commit to a totally different color, consider the sheen of your trim. 'Select a shade that is the same color as the wall, but in a higher sheen,' suggests Molly. 'The sheen itself sets the trim apart.'
'Trim in a slightly different sheen provides contrast and delivers a real jewel box effect,' says Diana. 'For example, the walls in an eggshell finish and the trim in a semi-gloss or satin. I love to paint an entire room including the trim in a high gloss finish, which really makes a statement! I recently did this for a client's home office in Farrow and Ball's Oval Room Blue and the effect is mesmerizing.'
5. Try the monochromatic look
Finally, if you have a small living room or bedroom, you might want to forgo painting your wall trim white, instead choosing a monochromatic color scheme. The monochromatic look is a winner for any style of room and involves painting everything in your room one color - all floor walls, the ceiling and not forgetting the trim around the door and walls.
It is a great design trick for helping a smaller room appear larger, as it creates a seamless, infinate feel, all the while feeling snug and cozy. It works for darker walled rooms as well as rooms with a neutral palette. My recent favorite is a optimistic pale blue, it has the feeling of a limitless sky and endless space.
For style leaders and design lovers.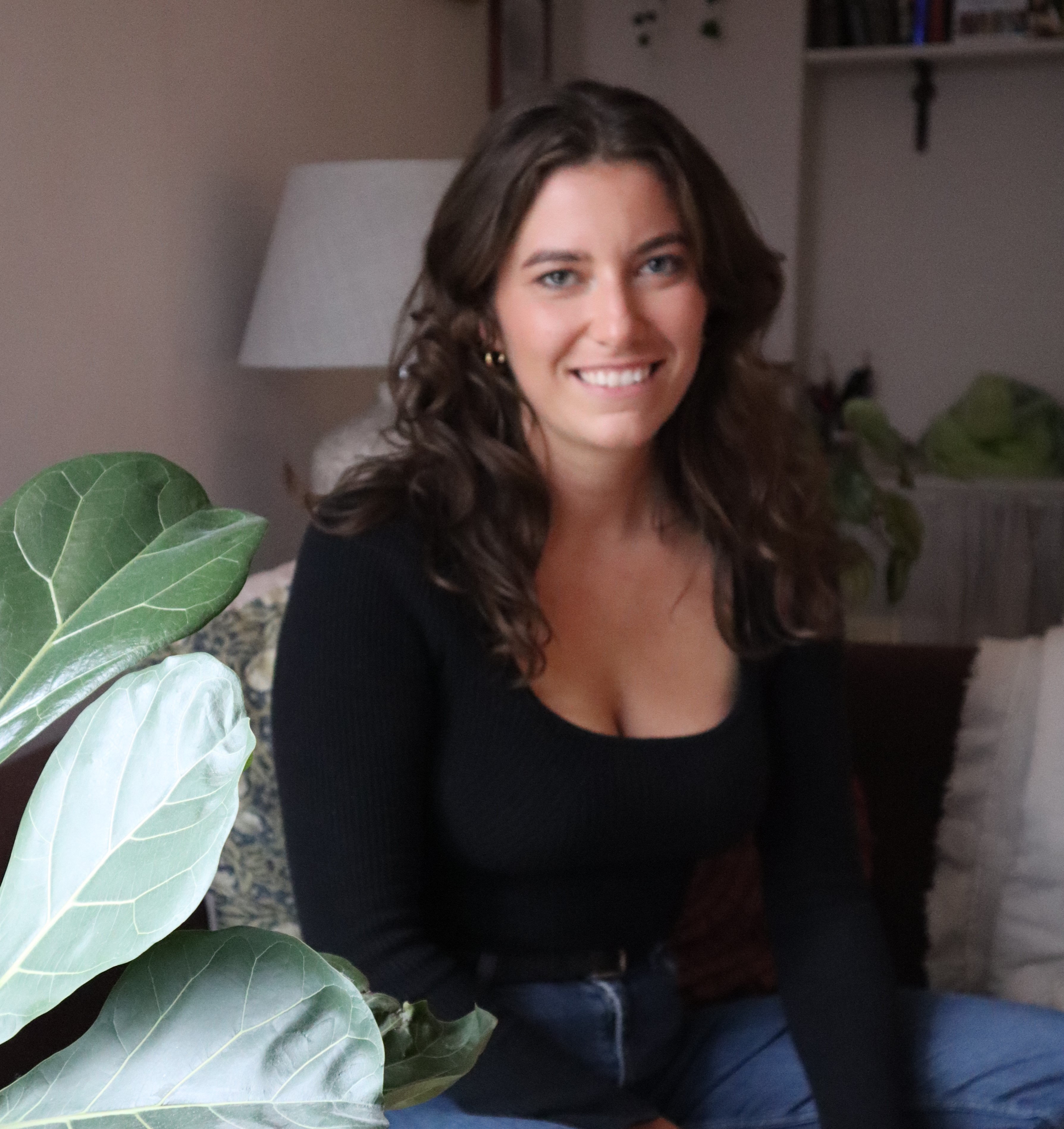 Livingetc content editor and design expert
Oonagh is a content editor at Livingetc.com. Previously, she worked on a London property title, producing long-read interiors features, style pages and conducting interviews with a range of famous faces from the UK interiors scene, from Kit Kemp to Robert Kime. In doing so, she has developed a keen interest in London's historical architecture and the city's distinct tastemakers paving the way in the world of interiors.