Securing a sliding glass door to protect against burglars – your options, explained
Follow our simple yet effective check list for securing a sliding glass door to prevent intruders from accessing your home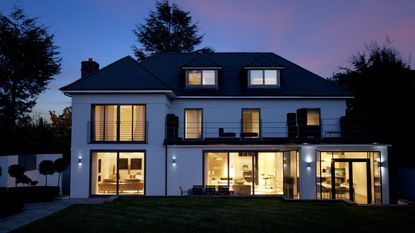 (Image credit: Lutron )
Be it for the front, side or back of the house, securing a sliding glass door is surprisingly straightforward. And it will provide much-needed protection for the rooms of the house that are seemingly more easily accessible to burglars.
If you've already considered which of the best home security systems to go for, this is an easy add-on, and doesn't mean you need to change the aesthetic. In fact, to ensure nothing interferes with the streamlined style a sliding glass door can add, we've kept these hacks easy and unobtrusive.
With a little expert planning when designing your home and a few tweaks here and there, you can lock up and leave your house feeling suitably protected. And – if you're anything like us – you'll be walking down the road with as much confidence as Starsky & Hutch having solved a case. Minus the flares perhaps...
Your options for securing a sliding glass door
1. Check the locks or latches are in working order
It's good practice to ensure the locks or latches on your sliding glass door are regularly checked, so that they stay in perfect working order. If any of the locks feel a little loose and you're under warranty, ask the company you bought them from to come over and carry out a service. Sometimes latches are used, which can make the doors particularly vulnerable.
Some companies offer a maintenance service where they can check the latch alignment and ensure all the anti-lift locking points are fully engaging on the standard locking system.
'Locked doors and windows are your first line of defence when it comes to keeping trespassers out of your home, so it's vital that you check your locks are in top condition,' says Louis McGee, glazing expert at Cloudy2Clear Windows.
'As well as a maintenance check, we can check the wheel trucks are fully functional and engaging with the anti-lift blocks at the top of the frame. This is important as it will stop anyone lifting the door out of position and gaining entry.'
2. Add heavy-duty push locks
As well as a maintenance service, you can increase the lock security of your sliding glass doors with heavy-duty push locks. These sit at the top and bottom of the door.
Push locks will not interfere with the aesthetics of your sliding doors, but offer an extra level of protection. 'They fix to the internal side of the frame and shoot a bolt into the sliding door that can only be released by a key,' says Louis McGee.
For securing a sliding glass door – and any door or window lock in fact – it's worth consulting your local MLA (Master Locksmiths Association locksmith for expert advice.
You can take a look at the association's website to find your nearest MLA-approved locksmith.
3. Add shock and vibration sensors to your sliding doors
Whether you add shock and vibration sensors as part of a complete home security alarm system, or buy them individually off the shelf and fit them yourself, these small gadgets are invaluable.
They are designed to alert you if someone is trying to break into your property, and an important extra factor if you're wondering how to protect your home with smart security.
'Shock sensors – also known as vibration sensors – from companies such as Ajax or Texecom – attach to the frame of your door,' says Michael Glarvey, ex-CID officer and security expert at Birch Security Services. 'They sound an alert and/or send a notification to your smartphone or home control panel to tell you if someone is tampering with the lock or banging at the door.'
'Shock sensors are not to be confused with motion sensors. Whereas motion sensors will alert you if someone is already in your home, a shock sensor will catch them as they are trying to break in.'
4. Set your blinds and curtains to close at night
Having large sliding glass doors makes it easy for anyone standing outside to get a clear view of your home's contents. Particularly when it's dark outside and you've got the lights on inside. What you need to know is how to make it look like you're home when you're not.
'Make it difficult for potential burglars to see inside your home at night by making a habit of closing your curtains and blinds as dusk falls,' says Michael Glarvey.
'Better still, invest in a bespoke automated system that is programmed to close your window treatments at night whether you're away from home or not. This can be set on a schedule so that lighting comes on and music plays in certain rooms as the blinds and curtains close, to give the appearance that someone is home, even when they're not.'
5. Add laminated glass protection
Consider the type of window you buy carefully. For intruders, toughened glass can be quick and quiet to break compared to other materials such as uPVC panels and methods such as prizing a window open or breaking locks, which is noisy and time consuming.
'It is possible to replace the toughened safety glass with 6.4mm laminated glass,' says Louis McGee. 'As a glazing service we see a lot of breaking and entering by smashing the toughened glass. The advantage of the laminated glass is that it doesn't shatter and allow easy entry. Instead it will break into larger pieces and stick together due to the lamination, making it near impossible to gain entry.'
'Replacing the toughened safety glass for laminate isn't a big job and takes no extra time compared to replacing any other unit. It's purely just a different specification of glass. You will need to hire a professional service to replace the glass, but it is a quick and simple job to do.'
6. Fit a security bar
Adding a clever security tool that will stop the glass door sliding open easily when you don't want it to is a quick, secure fit.
'Installing a security bar – also known as a Charley Bar – takes less than five minutes and is a really simple way to stop the door sliding open,' says Louis McGee. 'Not only does this protect you from break-ins, but it's also a good way to keep your home safe when there are young children around.'
You can find an Adjustable Security Bar Door Brace for around $25/£24 on Amazon.
How do you burglar-proof a sliding glass door?
Choose from practical solutions such as checking the hinges aren't rusting and if so get any vulnerable parts replaced.
Keeping your doors and windows locked when you are out of the house is key.
Also, close your blinds and curtains at night to ensure nobody can see in and nose around your home and its contents.
Check the locks to see if they are working properly and if not ask the manufacturer to carry out a service repair where necessary.
You can invest in shock and vibration sensors that deter any would-be intruders before they've stepped inside your property by sounding an alarm and getting alerts on your smartphone or home security control panel.
Are sliding doors worth it?
We think so. Modern sliding doors can look super stylish in an open-plan extension and help open up your interior so the garden feels like a seamless extension of your home.
Sliding doors help to give you an uninterrupted view of the garden and help to fill your home with lots of natural sunlight – and this comes in particularly useful in the winter when the days are shorter.
You can choose from contemporary aluminum frames with slim profiles that look incredibly stylish, as well as popular UPVC and timber designs.
One of the UK's most respected tech and smart homes writers, Emily Peck also covers everything from interiors style to decorating trends. She is a contributor to Wired UK, and has also had a column in House Beautiful. She has written for publications such as Grand Designs, Stylist, Shortlist, Woman&Home, BBC, Ideal Home and House & Garden. She was once the Features Editor of Ideal Home.